Enroll in One Day
Join us on campus for a Fast Start Enrollment session. Students who attend Fast Start can complete all their enrollment steps in one day.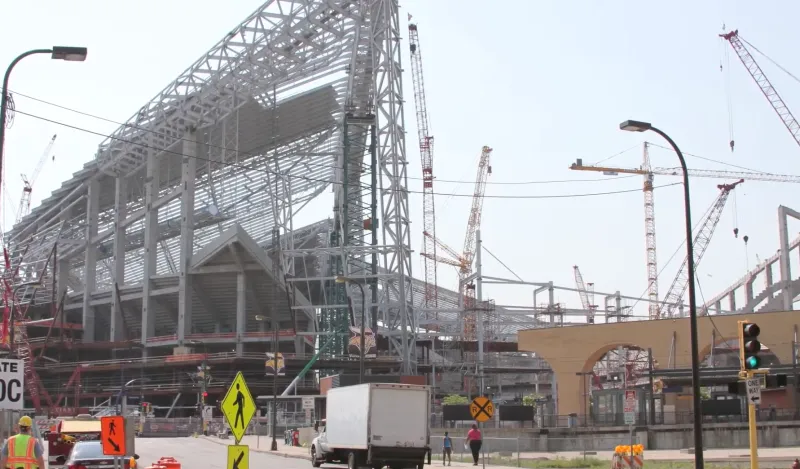 ​Program Roadmaps
Program roadmaps provide students with a guide to understand the recommended course sequence to complete their degree.
Scholarships at NHCC
One scholarship application automatically considers you for any NHCC scholarship you're eligible for. Awards range from $500 to $5,000.
Construction Management Curriculum
NHCC Residency and GPA
10 Credits must be earned at NHCC
| | |
| --- | --- |
| Total Credits Required | 30 |
2023-2024
This program will prepare students for supervisory and management positions in the construction industry. The curriculum combines basic fundamentals with key courses in applied management, engineering, design, and business that are required to manage complex construction projects. The certificate in Construction Management is designed to build upon the A.S. degree in Construction Management and articulate to the University of Minnesota B.A.S. in Construction Management degree and Minnesota State at MoorheadB.S. in Construction Management Degree.

Develop a foundation of essential knowledge about the cultural, social, and natural worlds, and individual wellbeing.
Understand and utilize information that describes and prescribes the physical basis, technical specifics and sequential process of building construction
Formulate a consistent system of actions involving the study of the construction process and the management of that process in an organized and knowledgeable manner
Develop intellectual and practical skills, including:
Develop a basic understanding of building codes and regulations
Understanding of construction documents system and organization
Be able to prepare a construction project cost estimates
Be able to prepare construction project schedules
Apply the principles of the Critical Path Method
Organize and schedule construction activities
Refine communications skills with subordinates, peers and superiors
Deduce essential data that is required to prepare cost estimates from construction drawings
Evaluate and use computer technology in estimating and scheduling
Demonstrate personal and social responsibility, including enhance personal development in:
Good work attitudes, values, and habits
Self confidence
Responsibility
Better understanding of career options
Realistic appraisal of strengths
Prepare, develop, and refine individual CPM and PDM networks in classroom exercises upon an individual and team bases
Gain firsthand experiences associated with supervisory and/or management roles in an industrial setting
Refine communications skills with subordinates, peers and superiors
Implement, develop and/or refine skills in production, management, and personnel matters
Integrative Learning, including:
Apply construction management techniques to an actual construction management project
Apply the principles, knowledge and skills learned in the classroom to on the job practices and procedures in the construction industry real life situations
Develop and refine problem solving techniques
Formulate systematic and sequential plans, monitor plans, and evaluate projects to assure that quality control goals are achieved
​Program roadmaps provide students with a guide to understand the recommended course sequence to complete their degree.
​Information on careers, including salary and employment outlook data, is available at Minnesota State and the Bureau of Labor Statistics websites: careerwise.minnstate.edu and www.bls.gov.

​If you are planning on transferring to another institution, follow the guidelines available on our transfer resources web page to help you plan the process: Transfer Information

Certificates may be earned for successful completion of courses in a specialized program of study with a minimum grade point average of 2.00 (C). A certificate shall include 9 to 30 semester credits. At least one third of the total credits required for each certificate must be completed at North Hennepin Community College.
Developmental Courses Some students may need preparatory course(s) in Math and/or English. Courses numbered below 1000 will not apply toward a degree.
Equal Opportunity Employer and Disability Access Information North Hennepin Community College is a member of Minnesota State Colleges and Universities system and an equal opportunity employer and educator. This document is available in alternative formats to individuals with disabilities by calling 7634930555 or through the Minnesota Relay Service at 18006273529.

North Hennepin Community College is accredited by the Higher Learning Commission (hlcommission.org), an institutional accreditation agency recognized by the U.S. Department of Education.
30 N. LaSalle Street, Suite 2400
Chicago, IL 60602-2504
1-800-621-7440