Transfer Options
The Theatre Transfer Pathway AFA will transfer to any of the following Minnesota State universities: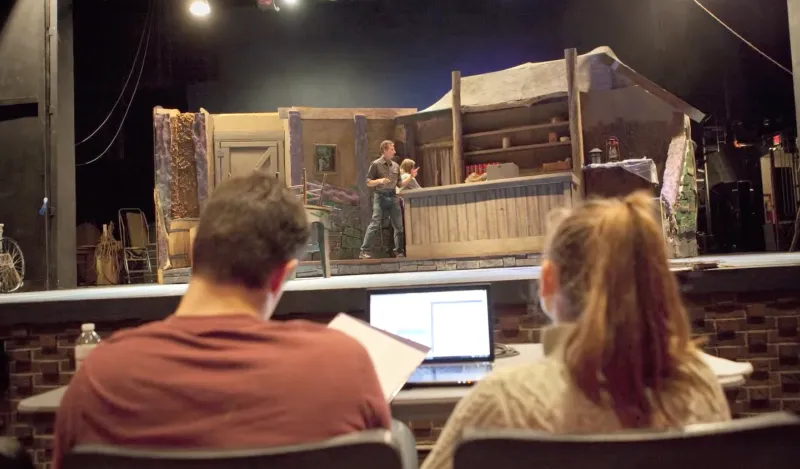 ​Program Roadmaps
Program roadmaps provide students with a guide to understand the recommended course sequence to complete their degree.
Scholarships at NHCC
One scholarship application automatically considers you for any NHCC scholarship you're eligible for. Awards range from $500 to $5,000.
Theater Transfer Pathway Curriculum
MnTC Electives
Natural Science (Goal Area 3) - 2 courses, 7 credits from different disciplines, one must be a lab course
Highly recommended: (Goals 3 10) ANTH 1020, BIOL 1160, BIOL 1200, BIOL 1610, CHEM 1000, CHEM 1010, GEOG 1010, EEVS / NATS 1100, 1130, 1150, 1160, 1170, 1180, 1200, 1210
Mathematics/Logical Reasoning (Goal Area 4) - 3 credits
History the Social Behavioral Sciences (Goal Area 5 ) - 3 courses, 9 credits from the following
 (Goals 5 8 - 3 credits) ANTH 1010, ECON 1060, GEOG 1040, GEOG 1100, HIST 1010, HIST 1020, HIST 1110, HIST 1120, HIST 2500, POLS 1600, POLS 1700, PSYC 2350
 (Goals 5 9 - 3 credits) ECON 1050, GCST 1490, GCST 1504, GCST 1505, GCST 1964, GEOG 1040, GEOG 1100, GWS 1504, GWS 1505, HIST 1230, HIST 2700, POLS 1100, POLS 1140
One Additional 3 credit course not listed above
  Environment (Goal Area 10) - 1 course
A minimum of 19 credits to fulfill Goal Areas 3, 4, 5, 8, 9, 10
NHCC Residency and GPA
15 Credits must be earned at NHCC
| | |
| --- | --- |
| Total Credits Required | 60 |
The Associate of Fine Arts Theatre Transfer Pathways includes rigorous studies in performance and production, along with hands on experience in theatre methods and practices. These studies will allow students to gain a deep understanding and working knowledge of theatre fundamentals. It will also prepare students for direct transfer to an established bachelor's degree program in Theatre. The 40 credits Minnesota Transfer Curriculum (MnTC) is completed with the AFA degree to assist the transfer to the MN State University system via the Theatre Transfer Pathways Program.
Minnesota State Universities:Bemidji State University, Metropolitan State University, Minnesota State University Mankato, Minnesota State University Moorhead, Southwest Minnesota State University, St. Cloud State University, Winona State University.
Knowledge of human cultures and the physical and natural world, including:
identifying in an historical, cultural and societal perspective the genres of theater with exemplary authors and works
Intellectual and Practical Skills, including:
analyzing and effectively communicating stylistic elements of theater pieces and significant authors, including structural parameters, language, aesthetic factors, and interdisciplinary requirements
demonstrating technical proficiency and artistic synthesis in vocal, physical and emotional development in performance
experiencing multiple modern and classical approaches to performance, script interpretation, and character formation
using a wide range of creative and critical approaches to relate theater art to society
Personal and Social Responsibility, including:
the ability to work independently and collaboratively in a high pressure creative environment
understanding cultural differences in theater practices
Integrative Learning, including:
participating in theatrical productions at varied levels including design, makeup, stagecraft, and production
demonstrating a required level of proficiency in acting and directing
investigating careers in the theater arts
Be prepared to transfer to a four year institution in this discipline.
​Program roadmaps provide students with a guide to understand the recommended course sequence to complete their degree.
​Information on careers, including salary and employment outlook data, is available at Minnesota State and the Bureau of Labor Statistics websites: careerwise.minnstate.edu and www.bls.gov.

​If you are planning on transferring to another institution, follow the guidelines available on our transfer resources web page to help you plan the process: Transfer Information

An Associate of Fine Arts (A.F.A.) degree is intended for students whose primary goal is to complete a program in a designated discipline in fine arts. The A.F.A. degree is designed for transfer to a baccalaureate degree.
Completion of an A.F.A. degree fulfills the Goal Area 2 requirement of the Minnesota Transfer Curriculum (MnTC).
Developmental Coursework Some students may need preparatory course(s) in Math and/or English. Courses numbered below 1000 will not apply toward a degree.
Equal Opportunity Employer and Disability Access Information North Hennepin Community College is a member of Minnesota State Colleges and Universities system and an equal opportunity employer and educator. This document is available in alternative formats to individuals with disabilities by calling 7634930555 or through the Minnesota Relay Service at 18006273529.
North Hennepin Community College is accredited by the Higher Learning Commission (hlcommission.org), an institutional accreditation agency recognized by the U.S. Department of Education.
30 N. LaSalle Street, Suite 2400
Chicago, IL 60602-2504
1-800-621-7440