Are you a high school student who wants to earn college credits? The Post Secondary Enrollment Options (PSEO) program allows you to do just that — and more. Through PSEO,  high school sophomores, juniors, and seniors have the opportunity to earn college credit while also using those courses toward the completion of unmet high school graduation requirements. 
Am I Eligible for PSEO?
11th Grade
All juniors are eligible with a 2.75 GPA or higher. If you do not meet the GPA minimum, you must rank in the top third (66% or higher) of your graduating class, or in the top third on a nationally standardized test (ex: ACT, SAT, etc.).
12th Grade
All seniors are eligible with a 2.75 GPA or higher. If you do not meet the GPA minimum, you must rank in the top half (50% or higher) of your graduating class, or in the top half on a nationally standardized test (ex: ACT, SAT, etc.). 
PSEO Application Deadlines
All documentation must be submitted/completed before the deadline. If placement testing is required, that must be done prior to the deadline. 
Fall 2023 Deadlines:
Priority: April 15, 2023
Final: July 1, 2023
Spring 2024 Deadlines: 
Priority: Nov. 1, 2023 
Final: Dec. 1, 2023
Other PSEO Information
There is no PSEO enrollment during summer session. If a student wishes to take courses during summer semester and pay out-of-pocket, they will need to complete a general admission application (if you have a PSEO application on file, please submit a new application - using your existing StarID - and select first time, returning, transfer student - not PSEO), pay the $20 application fee, and complete and submit the HS Non-PSEO Form along with required documents to admission@nhcc.edu.
Funding does not cover courses which have additional fees. Please review the list of ineligible courses.
Funding does not cover the registration or cost of developmental courses (courses numbered below 1000).
PSEO students cannot be reimbursed for any out-of-pocket expenses.
PSEO students cannot retake courses they have previously passed (with a grade of A-D) or classes from which they have withdrawn.
PSEO students are unable to enroll in both college-level and developmental coursework at the same time.
PSEO students cannot be visiting students and must apply to NHCC and adhere to all NHCC deadlines
PSEO students are responsible for tuition, fees, and supplies at an institution(s) to which they are not formally admitted.
PSEO students are not eligible for admission to the Nursing, MLT, Paralegal, Phlebotomy, or Law Enforcement skills program. (General education and approved pre-requisites allowed towards these programs).

Courses must fulfill student's unmet academic graduation requirements. Once a student has completed their graduation requirements, they are no longer eligible for PSEO.
Returning PSEO students must submit an updated 3-part form each semester (but do not need to reapply). There will be a hold put on the students account prior to the start of registration. Once the 3-part form has been submitted, the hold will be lifted (please allow 1 week for processing time) and the student will be able to register for classes.
PSEO students should meet with their high school counselor and NHCC advisor each semester to determine what courses to register for the next term.
All PSEO students will have a balance on their account in eServices. This does not need to be paid. The balance will zero out towards the end of the semester once billing to the state has been completed.
For PSEO students wanting to attend NHCC as a regular, undergraduate student after graduating high school, they will need to apply and complete the degree seeking or non-degree seeking admission steps.
NHCC PSEO students cannot register for classes at other colleges, unless they have properly gone through the full admission process at another institution. 
Graduating PSEO students must request their NHCC transcript be sent to all colleges/universities they're applying to and/or attending. This can be done through the National Student Clearinghouse. 
The NHCC Experience
All newly admitted PSEO students will be required to complete an online, 8-week, non-credit course, called The NHCC Experience, which will start at the beginning of the Fall semester. This course will be designed to give students the tools they need to succeed in college.
The student learning outcomes are as follows:  
1.    Goal Setting: personal, educational, and career
2.    Self-Awareness: self-reflections, personal habits, and building emotional intelligence
3.    Connection to Campus: campus resources, culture of higher education, college expectations
4.    Learning Strategies: study skills, campus technology, how to use D2L, test taking strategies
We are using PSEO students to pilot this course, which we hope to make mandatory to all North Hennepin students in the future. It was important for us to start with PSEO students, as this has been a specific ask from our high school counselors, and we know PSEO students can struggle with adjusting to college life. We want to give them the additional support they need.  

While we are stating that this is mandatory for all new, incoming PSEO students, there will be no consequence for the students who do not complete the online, 8-week course. However, there will be an incentive for students to complete this course. Any PSEO student who completes The NHCC Experience, will be able to register for their next semester PSEO classes a full week earlier at NHCC. They will maintain this early registration status as long as they are a PSEO student at NHCC.  

We will automatically register all newly admitted PSEO students to this course at the beginning of the Fall semester. At that time, student's will see the course show up in their D2L course list.
For any follow-up questions that directly pertain to the course, please contact our First Year Transitions Coordinator Erin Farley at erin.farley@nhcc.edu or 763-424-0709.
Will I have to complete assignments?

Yes, there will be assignments. This course is meant to be more experience based than a set of academically challenging assignments, so do not be concerned with the workload of this course.

Will I be graded?

There is no final grade for the course, it is more pass/fail, but will not show anywhere on a transcript. You either complete the course or you do not.

Can I complete the course right away? Or does it have to be spaced out over 8-weeks?

No, you cannot complete the course all at once. The course content and assignments will be spaced out over 8-weeks because we are trying to give you the information when you will need it. The content will align with various activities around campus that will allow you to better understand college life and the resources available to you.
"PSEO was a wonderful opportunity for me, and I really did benefit from it. All my classmates are nice here; we bond over having a hard time together and help each other through it."

- Hozea - NHCC student who started in PSEO  
Learn More About PSEO 
Our online information session gives you a thorough overview of our PSEO program and how you can benefit from it — as well as what to keep in mind before you apply. 
We'll talk through some of the following questions: 
Is the NHCC PSEO program right for you? 

Are you eligible for PSEO? 

What are some differences between high school and college courses? 
What activities can you get involved with? 

What resources are available to help you with your coursework? 
PSEO Online Information Session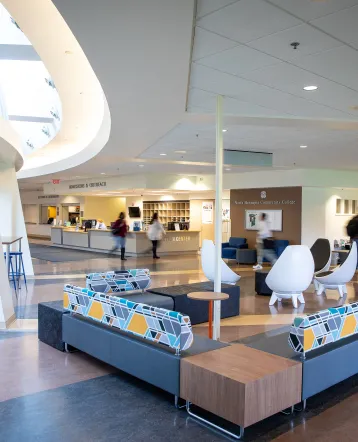 Admissions Office