NHCC Department of Theatre
Fall 2022 Main Stage Production
The Theory of Relativity is a new chamber musical (2015) by Drama Desk Award nominees Neil Bartram (composer and lyricist) and Brian Hill (book). Through a seemingly unrelated collection of songs, scenes, and monologues, The Theory of Relativity introduces a compelling array of young adult characters experiencing the joys and heartbreaks, the liaisons and losses, the inevitability and the wonder of human connection. Working with the metaphor of Albert Einstein's landmark theory "E=mc2" and also the principles that underpin Einstein's belief that "only a life lived for others is worth living," this fresh, contemporary musical is a joyous and moving journey that examines the wonders and complexities of our surprisingly interconnected lives.  
This musical features an ensemble of NHCC students.
The Theory of Relativity is presented through special arrangement with Music Theatre International (MTI). All authorized performance materials are also supplied by MTI. www.mtishows.com
Creative Team
MUSIC & LYRICS BY

 NEIL BARTRAM
BOOK BY BRIAN HILL
DIRECTED BY DR. IRMA MAYORGA, THEATRE FACULTY
MUSIC DIRECTION & PERFORMANCE PIANIST  -  MARTINOA MAYOTTE, GUEST ARTIST
SCENIC DESIGN BY LEAZAH BEHRANS, GUEST ARTIST
LIGHTING DESIGN & TECHNICAL DIRECTION BY SØREN OLSEN, THEATRE FACULTY
SOUND ENGINEER  -  MIKE MANTINI, GUEST ARTIST
MOVEMENT CONSULTATION  -  LEIGH DILLARD, THEATER FACULTY & GUEST ARTIST
STAGE PROPERTIES  -  JESS FORGA, NHCC THEATRE AFA, ALUMNA
STAGE MANAGER  -  MARTHALYN NEHWAH, NHCC STUDENT
Tickets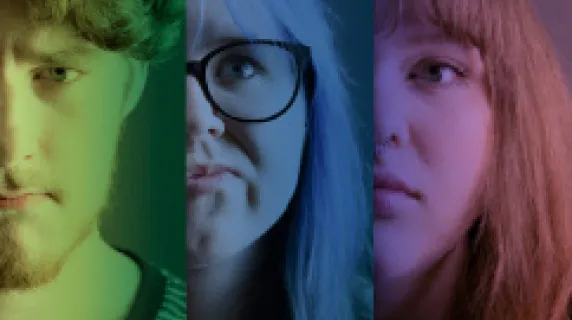 Content Advisory
mature themes not suitable for children and those in their early teens

discussions about the complexity of sexuality
We do not recommend attendance by children under the age of 14.
This production will use stage fog & flashing lights.
All NHCC students receive 2 FREE tickets.
$10 Suggested Admission | General Public and NHCC faculty & staff, or you are welcome and encouraged to pay what you can.
Reservations recommended.
You will be redirected to our MicroSoft Forms reservation system.
Please know that no one will be turned away because of an inability to pay.
Ticket sales for Department of Theater productions help to sustain the Department's creative work with our students.

General admission seating. Please look for our Box Office by the NHCC Main Theater entrance. Please plan to arrive early to the performance in order to check in, pay for your tickets, and find your seating. 
FAQs
Masks
Masks are not required on the NHCC campus, and they are not required for audience members to attend this performance.
All persons who need or require the protection that masks provide for medical conditions are encouraged to wear masks during their attendance.
Audience members will not be required to physically distance within the theater. 
Proof of vaccination is not required for attendance.
When to Stay at Home
If you or someone in your party is experiencing COVID-19 symptoms (such as fever, a sore throat, chills, cough, shortness of breath, congestion, nausea, or vomiting) on the date of your selected attendance to this performance or has been exposed to COVID-19, we strongly recommend that you stay home.
Our box office set-up will be located directly next to the Main Theatre's entrance on the day of each performance. Be on the lookout for a large table and box office personnel seated at the table. Please check in at the box office to obtain your FREE ticket or to check in for your online reservation. 
Audience members will be seated approximately 15 minutes before each performance.
We kindly request on time arrivals for each production's scheduled start time - late arrivals will be seated in the theater only when the performance allows.
All performances will be held in the Main Theater of the Fine Arts Center on the North Hennepin Community College campus in Brooklyn Park, MN. 
The Fine Arts Center is located at the intersection of 84 Ave. N. & W. Broadway Ave., Brooklyn Park, MN.
When driving, patrons are encouraged to park in the NHCC West Parking lot, located at the intersection of 84 Ave. N. & W. Broadway Ave. 
Patrons should look for exterior doors marked with the numbers "4," "5," or "21" in order to ensure they are entering the correct exterior doors to reach the Fine Arts Center.
This production will run approx. 90 minutes with no intermission.
ASL interpretation will be provided for this performance on Thursday, Nov. 17 @ 2:30PM. Please see the box office when you arrive to learn about where the ASL interpreters will be positioned in the theater.
Our theater has designated wheelchair/mobility impaired seating areas that can be reached without navigating steps.
If you have a question about attending this performance, please contact Dr. Irma Mayorga at: irma.mayorga@nhcc.edu