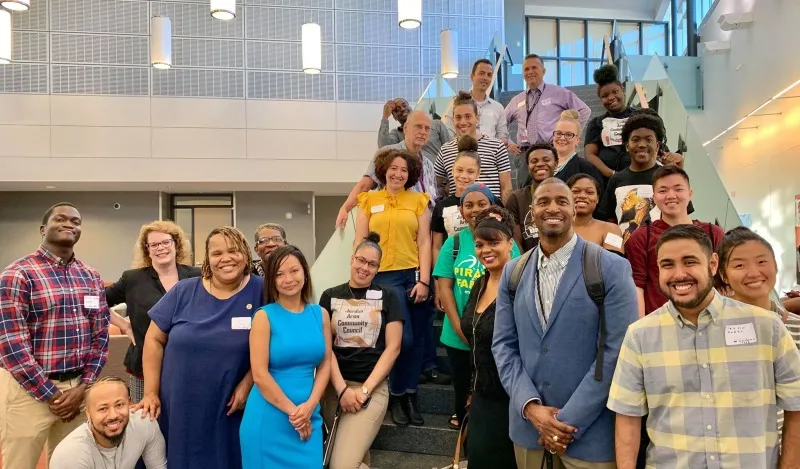 NHCC has a robust alumni relations program that is brimming with alumni ready to contribute their time, talent, and treasure back to NHCC. Alumni are an unsung stakeholder within our college community and this program is everyone's at the campus to leverage. This vibrant program can add to the bottom line for every one of us who loves NHCC and wants to excel. Here is what YOUR NHCC Alumni Relations program is doing:
The Alumni Speakers Bureau and Mentoring program: Presently 21 alums would like to come back to present on a number of subjects in classrooms, for Student Life clubs, or at campus events. Additionally, they stand ready to mentor our students one on one on a variety of personal, academic, or occupational topics.  Alumni profiles are accessible through SharePoint, and offices can interact directly with the alums and students to make connections.
The Friends of NHCC Volunteer Program: Alumni have been volunteering their time to serve at Welcome Back semester events, Student Life activities, commencement, and other broad campus events as well as volunteering with the Tutoring and Writing Centers.  Completion of a release, agreement, and FERPA training enables the alum to begin volunteering for your office immediately.
We have a new alumni website highlighting all the ways an alum can engage with the college. Additionally, it is a repository of resources for an alum including how they can go on for a 4-year degree with University Partnerships, utilize the Fitness Center, use Library resources, get a transcript, work with Career Services, or purchase swag from the NHCC Bookstore.
Did you know that NHCC alumni are interviewed over ZOOM? Called the NHCC Alumni Coffee Break thus far 86 interviews have been completed. View the videos on the North Hennepin Alumni Association YouTube Channel These interviews navigate a touchpoint for all stakeholders to learn how our alumni are changing the world. Topics include nostalgia, career updates, and even current events (like when the pandemic first hit and changed how all of us navigated life).
The BOLD Leadership Summit is in its 6th year!  Conceptualized as NHCC Alumni sharing leadership tips, testimonials, and inspirational stories, the event highlights our alums talking about leadership from all walks of life and features the Distinguished Alumni of the Year award. Our next BOLD Leadership Summit is Friday, February 24 @ 7am.
NHCC Alums have their own Facebook group! Called the Alumni of NHCC Facebook group, it boasts 600 active alums. The site features campus updates, department updates such as our theater and music department events, the NHCC Alumni Coffee Breaks, series like "Places, Spaces, Faces" that highlight photos of the campus and faculty, and staff who work here and encourage contributing comments, and memories. Content also includes Alumni Relations and Foundation programming and partnership messaging in collaboration with other offices like the Library, Fitness Center, and WIEL.
NHCC alums receive their own Campus Alumni e-Newsletter monthly. Features include NHCC in the News, Campus Happenings, Alumni Volunteer opportunities, and Alumni Engagement Opportunities.
The Alumni Relations program has an active presence at all Commencement events. Staff and alumni greet newly minted alumni at a stand-alone alumni table and staff give a dedicated address to the graduates, encouraging them to connect with alumni programming while their experiences, memories and passion for NHCC is still at its most vibrant.  Branded NHCC swag is offered to help the NHCC brand be front and center. Past swag has included business card holders, functional lightened key chains, and NHCC alumni car decals.
A Paralegal Reunion is being planned for Spring 2023 in partnership with NHCC professor, Mary Fenske.
We invite all departments, divisions, offices, college leadership, individual faculty and staff, Student Senate and Student clubs and organizations to engage YOUR alumni relations program to help meet the needs of your respective areas and the students you serve!