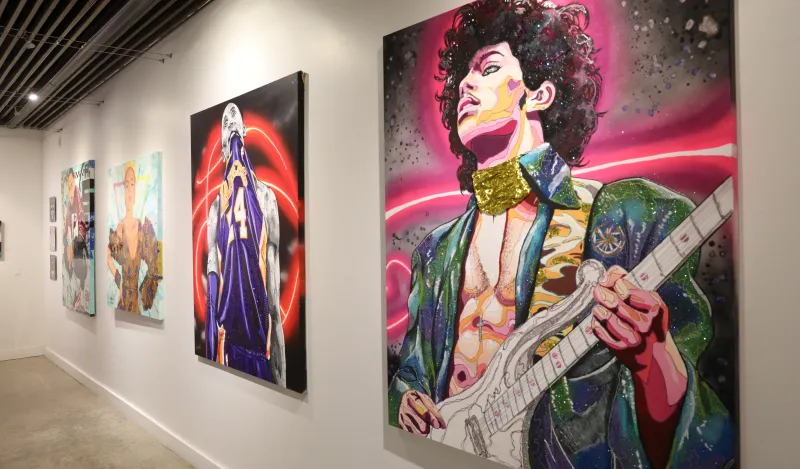 Many exciting events have happened on campus this spring! Catch up on the Stages of Equity Festival, NHCC+, the Spring Creative Writing Capstone event and more in the link below!
First Ever NHCC+ Event Celebrates Scholarly Work
40+ research posters, extremely knowledgeable students and academic videos were just a few of the things you'd find at the first ever NHCC+ event. This event was walk-about style throughout the gym. Student presenters shared their research and poster details to guests who stopped by. Several faculty members were also present, including Daniel de Moraes, Tamara Mans, Heidie Lish, and Debra Matchinsky, among others.
Stages of Equity
From April 28th through 30th, NHCC's Fine Arts department hosted their 2nd annual BIPOC Visual & Performing Arts Festival, Stages of Equity. This art festival continues to raise up the powerful work of BIPOC artists in the North Hennepin Community College campus and greater Brooklyn Park community. View this link to see photos taken at the event,
www.facebook.com/media/set/?vanity=NorthHennepinCommunityCollege&set=a.5478113965555986
Transition Fair for Young Adults with Disabilities Held at NHCC
In collaboration with NHCC's feeder school districts, we hosted a transition fair last month for young adults with disabilities and their families. NHCC is a member of the Community Interagency Transition Committee (CTIC), who along with our K12 partners, made this event possible. There were 60 young adults from our feeder school districts and their families who attended this event to meet with community providers. NHCC Director of Access Services & Tutoring, Tom Lynch added, "I heard from both the families and the providers how grateful they were that NHCC was willing to host this event. Special thanks to Facilities, IT and Public Safety for all of their support."
Introducing the Studio Arts Capstone Exhibition 
NHCC Fine Art faculty, Gina Dabrowski taught this semester's Studio Art Capstone class. The work of six NHCC students was hung up in the display cases near the library in the Learning Resource Center (LRC). The Capstone exhibit ran through May 5, 2022. To see the student art, visit this link, https://www.nhcc.edu/news/introducing-studio-arts-capstone-exhibition.
Spring Capstone Event Celebrates Creative Writing Students
On May 5, students about to complete their Associate of Fine Arts in Creative Writing met to share their portfolios. They read their works-in-progress and talked about their different approaches to creative writing. Director of Creative Writing, Brian Baumgart adds, "While every year we have an amazing group of writers making their mark in the program—and into the literary community beyond—I want to introduce you to this crew, as we have some intriguing variety and notable successes."
Roy Humlicek-Spindler is a PSEO student, in addition to soon-to-be AFA graduate, who hit the ground running, already publishing a short story in a national literary journal just after completing his first fiction-writing course in college. Pictured below on top. 
Les Fieldman is a returning student, a retiree making a massive shift from his previous professional life in business and the military, to experiment with something new—creative writing—which he's taken to with a passion (and has co-presented at a regional conference regarding this transition in life). Pictured below in center. 
Teresa Weber, also a returning student who has made a separate career, took the pandemic as an opportunity to pursue what really excites her—and, yes, that she has quite the talent for—because she sure has stories to tell. Pictured below on bottom.