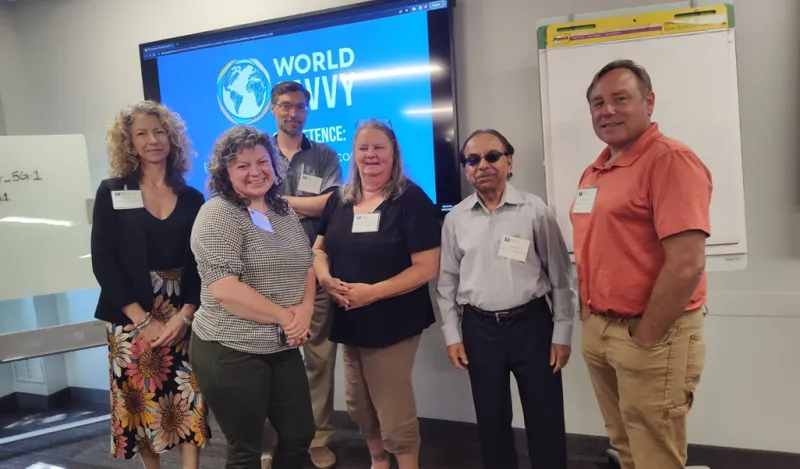 The successes and accomplishments of our NHCC faculty and staff help us to be more vibrant as a community. In this issue we highlight the accomplishments of Mark Larson, Eugene Gazelka, Brittany Kiser, Tamara Mans, Marina Haworth, Said Shaiye, and more! 
A Summer Well Spent - Sharing Aikido With The World
To say Mark Larson Shihan [the highest title awarded to an instructor in aikido from the Aikikai World Headquarters, Tokyo, Japan—equivalent to a PhD in academia] had a busy summer 2023 would be an understatement. He was in five countries on four continents over a period of just 9 weeks and four days between June 11 and August 17, delivering volunteer workshops, seminars, and lectures on Language and Aikido—a traditional Japanese martial art.
Find the full story here! 
English faculty member has writing published in the Avalon Anthology
On September 14th, English faculty, Eugene Gazelka had poetry published in the Avalon Anthology! An announcement about Gene's feature in Avalon Anthology can be found here, 
(the link seems to work best using mobile data) and an Instagram introduction can be found here. Congratulations to you, Gene! 
NHCC Representation at the 2023 Educator Externship
Faculty and staff from North Hennepin Community college joined teachers from area high schools to the Minneapolis Area Chamber of Commerce's 2023 Educator Externship last July 31st to August 3rd. Representatives from NHCC met with business leaders in Business, Information Technology, Engineering and Manufacturing, Human Services and Healthcare.  Educators toured two companies each day and discussed employers' skill-set needs during the tours.  It was a great opportunity for staff and faculty to meet with industry leaders to build connections! 
The Painting Returns to the Suite
NHCC alumni and Executive Assistant within the Foundation and Marketing & Communications departments, Brittany Kiser posed next to her watercolor, painting titled, "Everlasting." In 2008, Brittany took Lance Kiland's Illustration class and painted this piece. Later that spring, she was notified that the college wanted to purchase it for their permanent art collection. In the past four years, while switching out paint colors and doing a wall renovation, art work was temporarily removed in the ES Admin Suite. But Brittany's painting was recently put back on display!
We love to see it! 
Good News from Biology faculty, Dr. Tamara Mans 
Dr. Tamara Mans, biology faculty, has some publications in the works or already published. One publication is for her work with the Genomics Education Partnership (cited below).
Croonquist P, Falkenberg V, Minkovsky N, Sawa A, Skerritt M, Sustacek MK, Diotti R, Aragon AD, Mans T, Sherr GL, Ward C, Hall-Woods M, Goodman AL, Reed LK, Lopatto D. (2023). The Genomics Education Partnership: First Findings on Genomics Research in Community Colleges. SPUR, 6(3):17-2 (doi: 10.18833/spur/6/3/1)
Additionally, she has an article in CourseSource! that was just accepted for publication. The article, co-authored with Betsy Martinez-Vaz from Hamline University, is about using teaching tools and strategies for student research collaboration across institutions (cited below).
Martínez-Vaz BM, Mans TL, Callahan KP, Peterson CN, and Bell E. (2023) Fostering Student to Student Collaboration Across Institutions in a Protein Centric CURE. CourseSource (in press)
Finally, Dr. Mans is also writing a chapter for a forthcoming ACS e-book by Betsy Martinez-Vaz and Ellis Bell. Dr. Mans's contribution is about teaching with CUREs (Course-based Undergraduate Research Experience), and is co-authored with Dawn Marin at Gaston Community College. It centers on using CUREs in the community college setting.
NHCC Art faculty, Marina Haworth becomes Dr. Haworth next month 
In August, NHCC art faculty, Marina Haworth successfully defended her PhD dissertation
(via zoom): Desiring Athletes: The Meaning of Athletic Imagery on Red-Figure Athenian Symposium Pottery for a doctorate in Classical Archaeology, from Harvard University Classics Department.
The degree will be official in November, and then she will officially be Dr. Haworth! Congratulations! 
NHCC English faculty featured on WCCO
Said Shaiye is a new adjunct faculty at NHCC in the English department. To help introduce him to everyone at NHCC, he would like to share some recent news. "I was interviewed in August by WCCO about my approach to teaching creative writing with neurodivergent students in mind. I'm ND myself (Autistic + ADHD) and didn't get a diagnosis till much later in life (2 years ago lol)."
View his interview here and his diagnosis journey essay here. 
NHCC English faculty receives an Artist Learning Grant and has poetry published
In August, NHCC English Instructor and Director of Creative Writing, Kelly Lundquist was awarded an Artist Learning Grant from the Central Minnesota Arts Board and McKnight Foundation, and in September she had a poem published in Whale Road Review, a literary magazine out of San Diego! Here is the link to the poem. 
Thank you to the faculty and staff who shared their recent accomplishments with us!