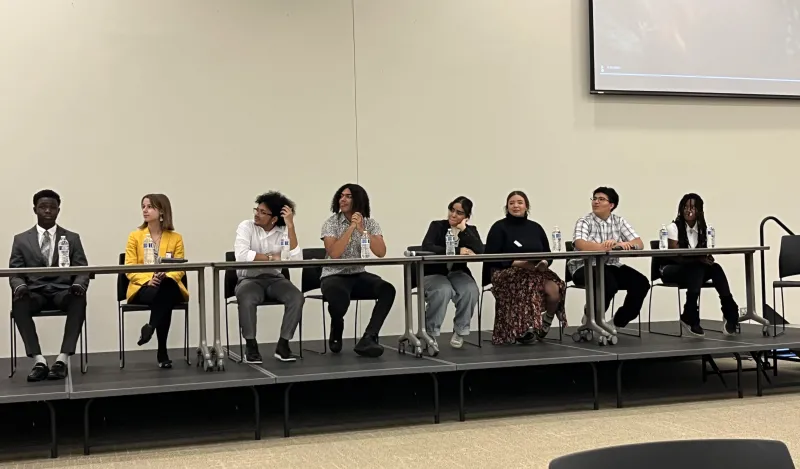 Last week at NHCC, students from our Environmental Justice and Nature Immersion class (GCST 1970), screened the premiere of their documentary titled, Belonging. This documentary follows students from NHCC and participating local high school's on their nature immersion experience in Babbit, Minnesota. The authentically warm and heartfelt commentary from students illustrated the impact of this outdoor immersion experience. Students shared their experiences during their five-day nature immersion at YMCA Camp Northern Lights, where they learned about wolves, mining, outdoor career opportunities and more. This event also featured a performance from the Gakaabikaang Native American drum and dance group!
In addition to screening the documentary, GCST students shared the songs they created at YMCA with their mentor, Dahlia Jones, and shared the climate justice stories they developed with Jothsna Harris, from Change Narratives at the Eastman Nature Center. It was an evening of student storytelling and a chance to honor our vibrant community connections.
In 2022, NHCC launched their first cohort of Global and Cultural Studies 1970: Environmental Justice and Nature Immersion, a new class for college and high school students at YMCA Camp Northern Lights, in Babbitt, MN. Students from NHCC and five partner districts, Brooklyn Center High School, Anoka Hennepin American Indian Education Program, Robbinsdale Area Schools, Edina Public Schools and Mounds View Public Schools American Indian Education Program took part in the program this year. 
Enjoy these event photos and view the documentary, done by local nonprofit media production company, BairStories, here.