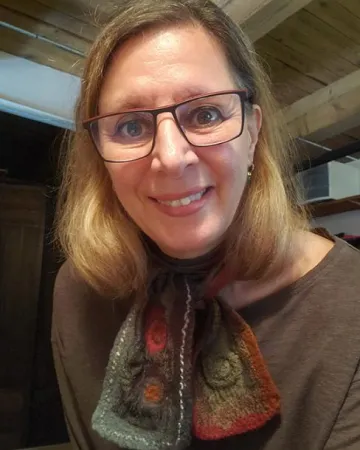 FAC 112
Education
AA, North Hennepin Community College
BA, University Of Minnesota Twin Cities
MFA, California Institute Of the Arts
MA, University Of Rochester
CERT, Minneapolis Community and Technical College
Education
MFA, Photography and Video - California Institute of Arts
MA, Cultural Studies - University of Rochester
BIS, Marketing, Film, and Photography - University Of Minnesota
Certificate in Graphic Design - Minneapolis College
As an artist and educator Gina Dabrowski has been teaching at NHCC since 2011. Check out the courses that she teaches:
Black and White Photography (ART 1101)
Digital Photography (ART 1270) 
Digital Video Production Online (ART 1270 and TFT 1270 )
Art Appreciation (ART 1040)
Art Museum Tour (ART 1010)
Fundamentals of Color (ART 1340)
Foundation of Digital Imaging (ART 1050)
Studio Arts Capstone Practicum (ART 2900) 
Gina has also taught a number of Studio Art Workshops, like Alternative Processes (ART 1810), as well as Honors Seminars, for example: Video for Social Media (HONR 1000), Comic Book Superheroes in Film: Looking at Gender and Race (HONR 1000), and Exploring Class, Race, and Gender through Film (HSEM 1000).
Biography
Gina uses photography to explore class and gender in contemporary culture. She has received numerous awards of support, including two from the McKnight Foundation Artist Fellowship for Photographers, the Jerome Foundation, and three Minnesota State Arts Board grants. For the McKnight Fellowship, Gina gave a presentation on her Landfills project at the Walker Art Center in Minneapolis. Her work has been collected and exhibited by museums including the Tween Museum of Art in Duluth, Minnesota Museum of American Art in St. Paul, and the Cedar Rapids Museum of Art. She has a book forthcoming on photographic portraits at women only music festivals.