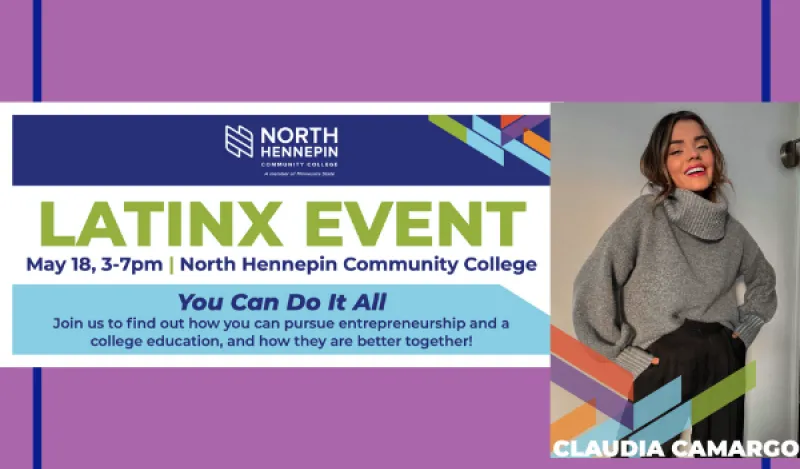 The NHCC Admissions department is hosting a Latinx Event on Wednesday, May 18th from 3-7pm that is open to current and potential students and their friends and family. There will be breakout sessions, a guest speaker, and dinner.
Latinx Event
May 18, 3-7pm | Center for Business & Technology (CBT) Room 195 North Hennepin Community College
The theme of this event is, 'You Can Do It All.' Join us to find out how you can pursue entrepreneurship and a college education, and how they are better together!
Schedule of Events: 
Workshops, 3–5pm
Admissions
Career support
FAFSA/DACA lab
Financial planning
Guest Speaker, 5–6pm
Claudia Camargo
Influencer, associate creative director, first generation Colombian. Instagram @Miles.And.Smiles
Claudia will present on the intersection of entrepreneurship and college. Basically how students can make both work meaning you don't have to choose one or the other or give up something you're passionate about to go to college and vice versa. She will also be speaking to her experience as a Latinx immigrant from Colombia.
Dinner, 6–7pm
RSVP BY 5/16/22
This event is FREE, but advanced registration is encouraged!
QUESTIONS?
Contact Jamilka Leon, Admissions Representative (hablo español) Jamilka.Leon@nhcc.edu, 763-493-0515