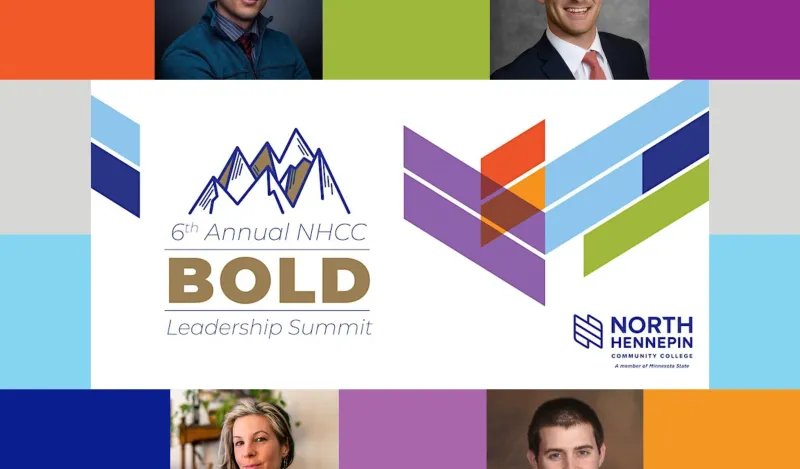 Are you interested in developing leadership skills but don't know where to start? North Hennepin Community College's 6th Annual BOLD Leadership Summit is the perfect opportunity for you! Be inspired by NHCC alumni as they share their personal, professional and career journeys, giving TED-talk style presentations on leadership.  
You're invited to the BOLD Leadership Summit on Friday, February 24, 2023, taking place from 7:00-9:00 am in the Grand Hall at NHCC.
Morning Schedule:                                                                                                                                             7:00 - 7:30 am Registration & Networking
7:30 - 9:00 am Speakers and Distinguished Alumni presentation
This event is free and open to students, alumni, employees, and community members. A continental breakfast will be provided. Please RSVP to help us determine seating and food preparation.
Meet the 2023 BOLD Leadership Summit Guest Speakers below!                                                           (Fun fact, all of them are former NHCC students!)
Chris McSweeny - BOLD Leadership Summit Guest Speaker
Currently, Chris works as an Investment Reporting Analyst for Finance of America. In this role, he is responsible for assigned monthly reporting, remitting and reconciliation for investors including GNMA, GSE, Private Securitization, and also special servicing for Traditional, Reverse or Commercial Loans. While previously working for Radisson Hotels Group Americas and Wells Fargo, Chris gained experience in consolidations reporting work and in trust trade management.
Chris is passionate about empowering individuals through education and loves seeing the spark it ignites in others.
He has volunteered as a Certified GED Tutor for the American Indian Opportunities Industrialization Center (OIC) and regularly assists Keystone Community Services in St Paul.
Chris is on the Board of Directors at Peter's Hope, a Minnesota based nonprofit, in partnership with a Kenyan primary school and women's empowerment center. Chris got involved with Peter's Hope because he is committed to serving and supporting the empowerment of others through education and believes in making a greater impact from the ground up.
Chris resides in Dayton, Minnesota with his four-year-old son.
At the BOLD Leadership Summit, Chris will speak on selfless leadership.
Shane Wolden - BOLD Leadership Summit Guest Speaker
Currently, Shane works as an Advisor in the Wealth Management division at NFP (formerly known as National Financial Partners Corp). Shane takes an active role in managing investments for families and providing holistic planning to the clients of NFP. Additionally, he works as a 401(k)-corporation consultant, overseeing assets in retirement plans and conducting regular reviews with investment committees.
Shane has worked at NFP since 2015. He started as an intern and then became an Associate, prior to assuming his role as an Advisor. Shane also works as an Education Specialist, providing participating groups and individuals with information on their qualified, or non-qualified retirement plans.
Shane spent his first two years of college at Saint John's University, before graduating from Augsburg University with a B.A. degree focused on Finance. Shane is currently in grad school, studying for his master's degree in personal financial planning.  
When Shane's not working, you can find him traveling, spending summer days at his cabin, or coaching the Maple Grove High School hockey team.
At the BOLD Leadership Summit, Shane's speaker topic will be finding leadership within oneself.
                                  Sam Goracke - BOLD Leadership Summit Guest Speaker
Sam is an NHCC nursing alumni, who earned his ASN degree in December of 2015. After graduating from NHCC, Sam continued to pursue his education. He received a BSN degree from the University of Cincinnati and is close to finishing up his MSN degree from Bradley University with an interest in family practice as a nurse practitioner.
As a nurse, Sam has worked at several organizations in the Twin Cities area including, Presbyterian Homes, Allina Health, and Region's Hospital. Transitional care units, surgical units, intensive care units and emergency medicine are just some of the areas he has worked in.
While working as a bedside nurse, Sam had the opportunity to grow as a leader within multiple advanced positions. He worked as a Charge Nurse, a Resource Nurse, A Preceptor/Clinical Instructor and joined a Unit Practice Council. Sam is also certified in several areas that interest him such as: emergency medicine, critical care, and stroke care. At Bradley University, Sam belongs to the Sigma Theta Tau chapter for academic excellence as well as the Emergency Nurses Association, the American Association of Critical Care Nurses, and the American Association of Neuroscience Nurses.
When he's not working, teaching, or studying, Sam spends his time with his family travelling, seeking out new adventures and enjoying the outdoors.
At the BOLD Leadership Summit, Sam's speaker topic will be Healthcare Leadership: leading through a pandemic, flexing, and not breaking.
The 2023 Distinguished Alumni Recipient is Dr. Robbyn Weaver!
Robbyn Weaver, PhD., is a North Hennepin Community College graduate, who currently works as a senior molecular biologist within the Core R&D Biology department of Cargill, Inc. For the past several years, her focus has been on developing molecular tools to engineer novel microorganisms that sustainably ferment commercial products. Recently, she has also supported projects in the growing space of alternative protein as a subject matter expert in cellular biology.
For Dr. Weaver, the pathway to a career in science was not always clear. She liked to dabble in art and thought eventually she would become an illustrator. Until one day, at NHCC she attended a seminar on the use of human stem cells in therapeutic applications that her passion was ignited. With the support of NHCC's biology department, she leapt at the opportunity to participate in their undergraduate research program. It was then that Dr. Weaver became enthralled with bench science and was supported by several scholarships, including the PDL BioPharma Undergraduate Research Scholarship and the NHCC Foundation Biology Scholarship. After earning an A.S. in Biology, Dr. Weaver furthered her education through the joint program between NHCC and MSUM Moorhead. This partnership allowed her to receive a B.S. in Biochemistry and Biotechnology without leaving NHCC's campus. Most importantly, this permitted her to continue working within the biology department and their research program.  
During her entire undergraduate career, she could never shake that original stem cell seminar from her mind. Dr. Weaver was determined to pursue a career, like the stem cell researchers, who could generate life-saving therapies. During her junior year at MSUM, Dr. Weaver was accepted into a highly competitive summer undergraduate fellowship through the Mayo Clinic. The rewarding work she performed in bone degeneration affirmed her interest in therapeutics, and she resolved to attend their graduate program. In 2010, Dr. Weaver was admitted to Mayo Graduate School's Biochemistry and Molecular Biology program. She celebrated many successes in graduate school, including publishing multiple articles and presenting at the annual Minnesota Academy of Sciences. After working on several projects that centered around the influence of tumor suppressors and mitotic proteins on cancer and aging, Dr. Weaver subsequently earned her doctorate in biomedical sciences. Once she defended her thesis, Dr. Weaver left academia to work for Cargill, an industrial company that focuses on sustaining and nurturing the world.
In addition to her scientific achievements, Dr. Weaver is also a fierce advocate for the next generation of scientists. To this end, she has directed interns and new scientists in their studies and was selected as a recurring panelist for Trailblazers Women in STEM, to encourage and coach young women interested in STEM careers.
Dr. Weaver is a Minnesota native, who enjoys trekking through the frozen landscape looking for snowy owls, artistic creativity, attending concerts with her husband and taking thousands of photos of their two cats.
At the BOLD Leadership Summit, Robbyn's speaker topic will be the power of a positive work culture.
Have a question about the BOLD Leadership Summit? Email the NHCC Foundation Office at foundation@nhcc.edu.