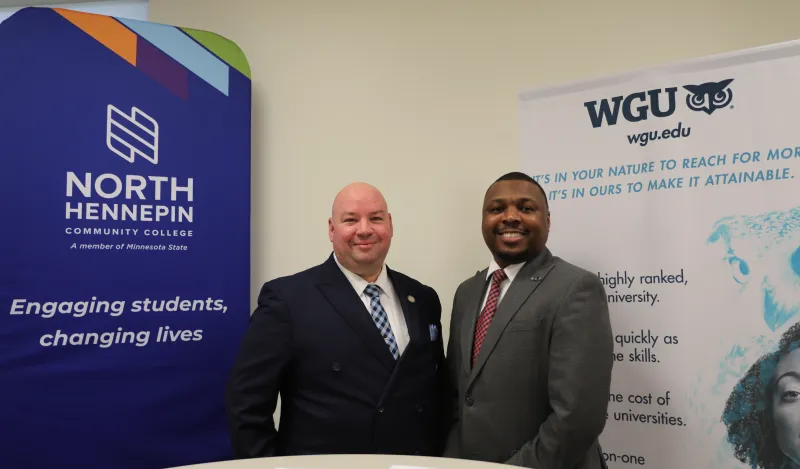 Brooklyn Park, Minn. – Western Governors University (WGU) and North Hennepin Community College (NHCC) today announced they have formed a new agreement that will provide NHCC graduates with an affordable pathway to earning their bachelor's or master's degree through WGU. Under the terms of the agreement – which was officially signed by the two institutions on February 14th, 2023– students graduating with their associate degrees from NHCC will be able to seamlessly transfer their credits to WGU. The agreement expands higher education opportunities for NHCC graduates with the goal of building a future-ready workforce in Minnesota.
"We are excited to add Western Governors University to the growing list of university partnerships that we have for students," said Dr. Rolando Garcia, President of North Hennepin Community College. "We know many students will enjoy WGU's online, competency-based education model and look forward to continued connections with the staff, faculty, and leadership at WGU."
NHCC is one of the largest and most diverse community colleges in Minnesota with 425 employees and 7,563 students currently enrolled. The college is a member of the Minnesota State Colleges and Universities system – the fifth largest system in the U.S. – and is a regionally acclaimed and nationally recognized academic institution known for its diversity and inclusiveness. As a learner-centered institution that believes in engaging students and changing lives, NHCC's high-quality faculty and staff deliver more than 70 distinctive and innovative degree and certificate programs designed to meet regional workforce needs. Over the last five years, nearly 100 NHCC graduates transferred to WGU – 69% of whom transferred in with an average of 63.5 credits – with a first-term retention rate of 94%.
NHCC students transitioning to WGU will be able to take advantage of the university's online competency-based education model, which will allow them to use prior education and work-based experience to move through courses at their own pace and graduate quicker. Students study, complete coursework and take tests on schedules that fit their lives, advancing as soon as they demonstrate they have mastered the subject matter. Like all students at WGU, NHCC graduates who enroll will be paired with a program mentor who has expertise in their chosen degree program and supports students in learning and navigating their educational journeys from enrollment through graduation. 
WGU offers students graduating with their associate degrees from NHCC with affordable access to more than 80 undergraduate and graduate degree programs in the fields of business, K-12 teacher education, information technology and health professions, including nursing. NHCC graduates who enroll in any of WGU's programs will also be able to apply for the Community College Partner Scholarship, which is valued at up to $2,500 each and will be applied to WGU's already-low, flat-rate tuition of about $3,800 per six-month term.
"We are thrilled to partner with North Hennepin Community College and continue to grow the number of degreed individuals in the Twin Cities region," said Dr. Terrance Hopson, Regional Vice President of Western Governors University. "WGU values the important role community colleges play in upskilling the workforce and is pleased to offer an affordable and flexible pathway for thousands of Minnesotans who need postsecondary education and training to advance their careers and, in turn, their lives. NHCC is our fifth largest two-year transfer institution in the state to-date, and this agreement will further support our collaborative efforts."
                                                                                                                                                                               About North Hennepin Community College
Established in 1966, North Hennepin Community College is a local, global-minded community of lifelong learners located in the northwest metropolitan area of the Twin Cities. NHCC is a proud recipient of the Higher Education Excellence in Diversity (HEED) Award, serves 9,000 students, and offers more than 70 academic programs, including associate degrees, certificates, and bachelor's degrees through university partnerships. A member of Minnesota State, and equal opportunity educator and employer, NHCC is accredited by the Higher Learning Commission of the North Central Association of Colleges and Schools. To receive this information in an alternative format, call 763-493-0555 (voice) or via the Minnesota Relay at 1-800-627-3529.
                                                                                                                                                                               About WGU
Established in 1997 by 19 U.S. governors with a mission to expand access to high-quality, affordable higher education, online, nonprofit WGU now serves more than 140,000 students nationwide and has more than 300,000 graduates in all 50 states. Driving innovation as the nation's leading competency-based university, WGU has been recognized by the White House, state leaders, employers, and students as a model that works in postsecondary education. In just 25 years, the university has become a leading influence in changing the lives of individuals and families, and preparing the workforce needed in today's rapidly evolving economy. WGU is accredited by the Northwest Commission on Colleges and Universities, has been named one of Fast Company's Most Innovative Companies, and has been featured on NPR, NBC Nightly News, CNN, and in The New York Times.
For more information on WGU and NHCC, visit wgu.edu or nhcc.edu.