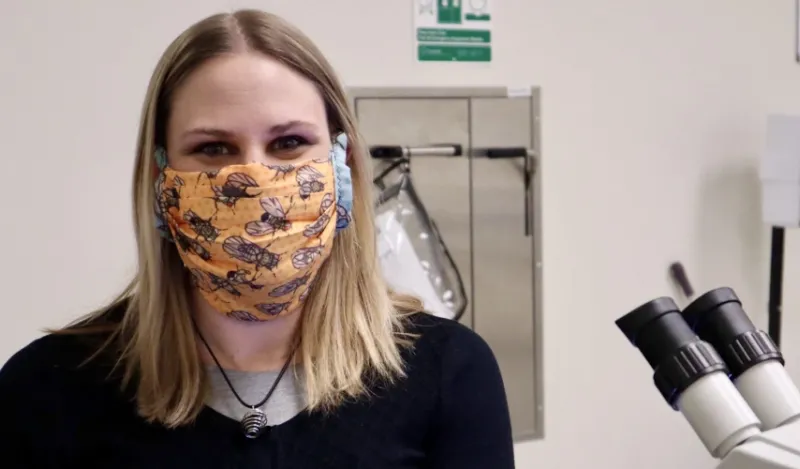 After high school, Melissa became a hairstylist but she always wanted to go back to school. When she learned all she could in the hair industry, she decided to go back to school. "I thought there would always be something new to learn with hair and I wouldn't get bored; I was wrong." As a lifelong science lover, Melissa enjoys learning how and why things work. "I even looked into becoming a hair scientist, but I wanted to learn more about science in general."
Melissa made a spreadsheet of schools with programs that interested her and that's how she found NHCC. She realized that at NHCC she could stay on campus and get her bachelor's degree through Bemidji State, which was, "a game changer!" Along with wanting to further her education in science, Melissa also wanted to learn more about herself and the world. Growing up in a small town, she didn't get a chance to learn a lot about the world, but when she came to NHCC in 2017, her mind was blown. "Coming from a predominantly white area, one of the best things about this school was getting to meet so many wonderful people and learn so much, without leaving the country." Just in that first semester, Melissa learned a lot about herself too. At NHCC, she found her passion for lab biology and studying fruit flies with her classmates. In 2022, Melissa will receive her bachelor's degree in Biology.
Get to know Melissa and dive into our Q&A below!
Are women accepted in science fields, or is there still a barrier to get through?      
There is a barrier. Women are more accepted, but the barrier is still there. I don't let that stop me though. Usually when people say I can't do something, or I shouldn't, I say 'watch me.'
What kind of advice would you give to someone who wants to study science?       
Do it! Do not overthink it like I did and wait three years, because I was scared and nervous. Just run with it. If you can get your foot in the door with any type of research, any kind of opportunity that you can get, take it! You never know what could end up to be your thing. I never would have thought that I'd be this excited about drosophila, or micro-plastics! Science is amazing and we need more women in science. I think that as we get further along, there's more barriers, that's why women in the next generations need to tell people why they're an amazing person, why they're an amazing scientist, why they're an amazing woman and put themselves out there.
What do you think it takes to be successful in this program?                                   
Know that there is no failure. You make mistakes but you always learn something. Do not be afraid to ask questions. Do not be afraid to make a mistake.
Where do you see yourself going in the future?                                                         
Once I graduate with my BS in Biology, I want to work in a lab. I would love to get my master's degree, or maybe even a doctorate at some point! Ultimately, my goal is to be able to bridge a gap of education if I can. Go back to hair and skin, or it could be food too. I ultimately want to help produce packaging and products that are more environmentally and biologically safe. Wherever that brings me, pharmaceuticals, food science, micro-plastics, I'm not sure yet. I'm more open to doing summer research that is lab based and at this point in my career, I need more technical skills. In the future though, I actually can see myself teaching and coming back to NHCC.
What's your favorite thing about your program?                                                        
My favorite thing is being able to work with other like-minded female nerds. We're beautiful, and we're smart. We can go from talking about micro-plastics, to talking about what our favorite Disney princesses are. The women that are working in science are an amazing group. I love the people in my program. We really bring out the best in each other.
We took photos of Melissa in the Drosophila Lab, (her favorite spot on campus). She gave us a tour and even wore her fruit fly mask!