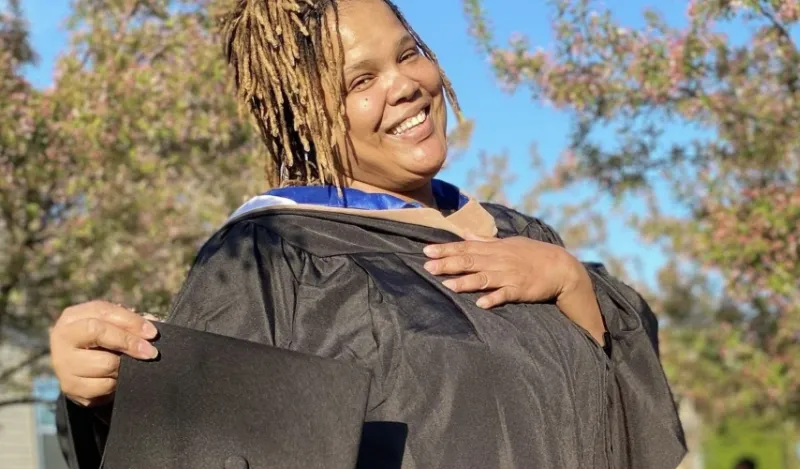 Before Audua Pugh was an NHCC faculty member, she was an NHCC student. But she wasn't just any NHCC student, she was an extremely decorated and accomplished student. Among others, Audua won a USA Academic Team Scholarship, a Sandvig Baccalaureate Scholarship and was one of fifty people in the U.S. to win the New Century Scholars Scholarship for Phi Theta Kappa at North Hennepin Community College. As a student, Audua was involved on campus in many facets of the NHCC experience. She joined committees, was a member of Student Senate and in 2015 was the Commencement Speaker. Audua truly lives and breathes NHCC.
In 2015, Audua finished school at NHCC, she was 47 years old and graduated with a 3.8 GPA. But school wasn't always easy, and the people who helped her get through are the people she credit's as being her inspiration to become a teacher herself.
As a non-traditional student, Audua's educational path started later in life. Getting into a car accident and not being able to work for three months was her turning point. Audua decided to enroll in the fall for classes at NHCC. She explains, "I came in and I had to take a test. I wasn't feeling good about myself. I originally tested below the college level, since I hadn't been to school in over 20 plus years." Just starting at NHCC, Audua had to take developmental vocabulary, writing, and reading classes. She also had to take a First Year Experience (FYE) class. This is what she teaches at NHCC today. Audua got her master's degree in Advocacy and Political Leadership specifically to teach that class, that is how much she believes in it. "FYE is the only class that you take in college that's all about you. This is the only class that is specifically about you being a successful college student." She's a big fan of FYE now, but back then it took some time for her to realize the value of it. "When I was a student, I hated FYE. I didn't think it had anything to do with me. The book at the time, was meant for students who were straight out of high school, not non-traditional students like me." For a while, Audua was frustrated and butted heads with her FYE teacher, but over time a collaboration began, and things started to change. Audua's FYE teacher ended up taking the old FYE course book back to the publisher and they changed it. Now it would be written to include diversity within the BIPOC community and non-traditional students. It was amazing for Audua to have that moment with her teacher and her idea of FYE continued to get better in the classroom too. "We had to write a paper for our FYE final, and I ended up being able to film a video instead. Now, to this day, for my students' final assignment, I give them the opportunity to either write a 2-3-page paper about what they learned, or they can summarize it in a video."
Being an instructor now herself, Audua has learned to tip her hat to the instructors she's had. "Instructors go through a lot and the students coming from high school are not prepared." Audua thinks that needs to change. "During my first semester at NHCC, I had to learn how to do school. How to be on a schedule, how to sit down and do my homework. I learned how to read, not words, but chapters. When I learned how to do school, I learned how to get A's and how to follow the syllabus. Teachers don't tell you this, but you have to first learn how to do school."
Audua became a teacher because of the past teachers who were there for her. "The teachers I had, identified my stress and they helped me get through it. That's what I want to be for my students. All of my students, but especially the Black students, because they don't see teachers that look like them. That's what I want to do." Audua came back to teach at NHCC, because she believes there is no other school like North Hennepin. "North Hennepin is special. My connections, my relationships and my memories, those are the big things to me." When asked what she hopes her current FYE students get out of her class, Audua replied, "Support." She hope's they get the support that they need. Audua wants her students to know that she will be there for them, she will help them, and she will get to know them. "I want to give back to students the support that was so freely given to me. If I didn't have the support that I had outside of school and the support that I had inside of school, I wouldn't be where I am today." The memories Audua has from her time at North Hennepin make her smile. "Knowing that I hold those memories and have the background knowledge to help move things forward. That really makes me smile."
In addition to teaching at NHCC, Audua is also involved in two other missions. She has a non-profit called, Off the Blue Couch that provides information, inspiration, support, and techniques to assist individuals and communities in growing through their healing process. (Fun fact, Gerry Huerth, former NHCC employee and close friend of Audua is on the Off the Blue Couch Board). Audua is also the founder of environmental program, Rusty & the Crew. They provide education on proper recycling techniques and inform students on global warming and greenhouse gases. Learn more about these initiatives here and here.