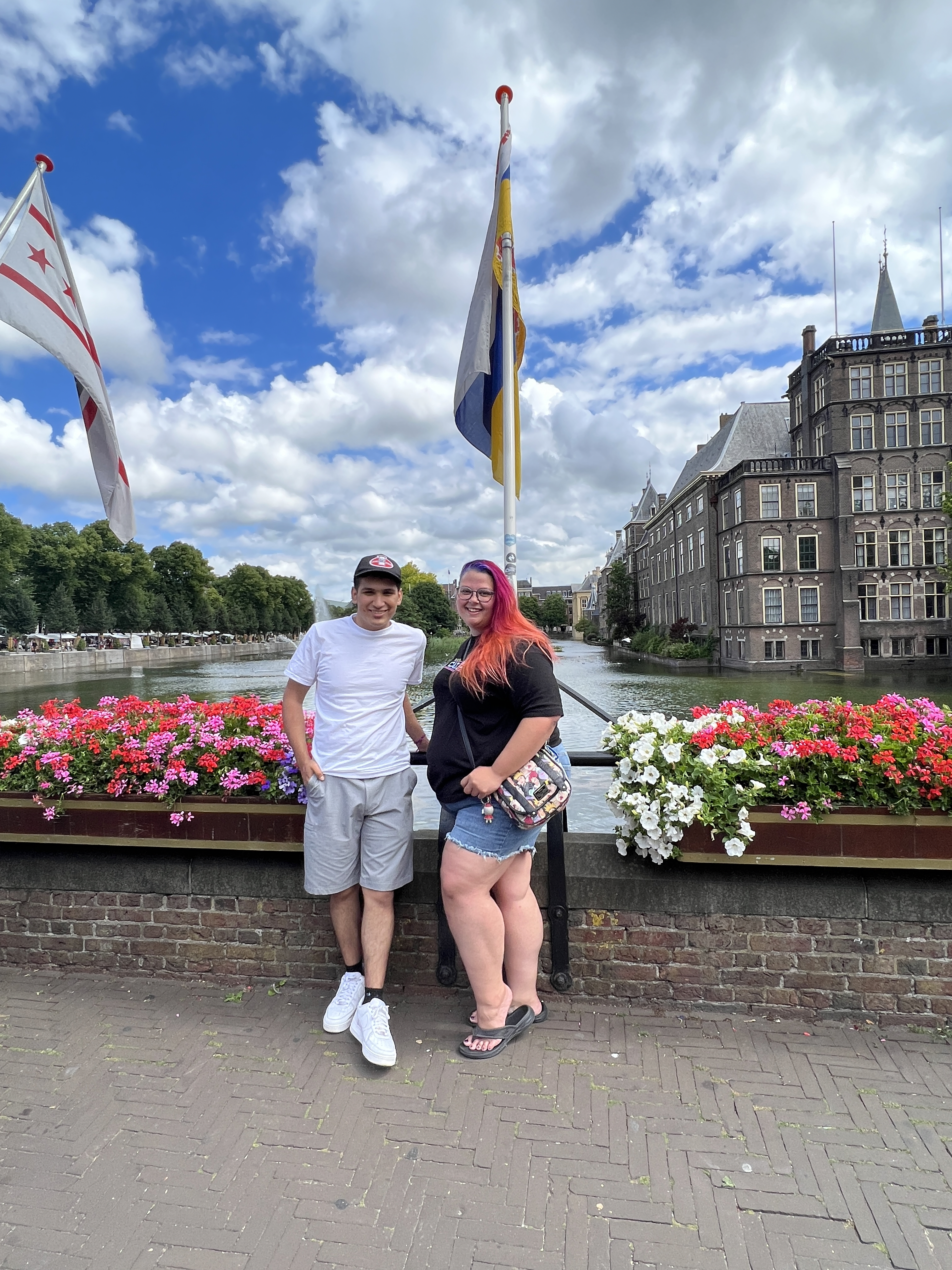 Over this past summer, TRIO/Student Support Services (SSS) students, Gustavo Esparza-Jaquez and Teresa Kemp were chosen to attend the Keith Sherin Global Studies program in The Hague, Netherlands. Gustavo studies International Business and Teresa studies Psychology at NHCC. The Council of Opportunity in Education, an organization based in Washington D.C. sponsored this student program; they serve to provide advocacy and professional development for TRIO communities nationwide. During this program students studied global and social justice, international peace and toured historic sites. Only 15 students were chosen from TRIO programs across the country. The reality that two NHCC students were chosen for this program was quite an honor!
Explore photos and learn about their trip, below!
The beginning of the trip started in Washington D.C. en route to the Netherlands. 
In D.C. they had dinner, orientation and got to meet the other U.S. TRIO students chosen for this program. They also met Texas TRIO Advisors, Jasmine and Dave and heard stories from previous program grads. The next morning, the group went to the airport and discovered their flight was canceled. At first, panicked ensued, and then they relaxed at the airport for a couple of hours. They ended up going back to their D.C. hotel, and to try to soothe the situation TRIO took them to a fancy dinner. The next day, they got news that the airline couldn't fly them all over to the Netherlands. Some were on different flights, but not everyone was together. In light of this, the airline put them up at a Best Western. They also provided vouchers for breakfast, lunch, and dinner at the Holiday Inn down the street.
Since they missed their program beginning in the Netherlands, the Echo program revamped the whole schedule for them. The start of the program covered the Dutch education system and the advancements they've made in gender equality, LGBTQ communities and other areas. In order to keep the group up to speed, they did online learning Echo program sessions for portions of the day. These were very important topics to learn, they just experienced them online, in slideshows. They stayed at the hotel for a few days, until the airline could finally get them all on a flight. (Shout out to Holly from the DC TRIO Office! She worked diligently at the airport every day, trying to figure out how to get the group on a plane). Looking back, Teresa said, "The Best Western experience wasn't great, but the fact that we got to bond and connect and find our people, was definitely a plus. By the time we got to the Netherlands, we already knew each other, and some of us had already been sharing rooms too."
When they landed in Amsterdam, they immediately went to an outer-city, countryside town 45 minutes outside of Amsterdam. They stayed for a week at an Echo program branch in the countryside; before going to college in The Hague. Echo staff cooked for them and helped them clean.
Teresa said she thought the countryside looked a lot like Minnesota. "Some of the other students thought it was amazing and beautiful to see the stars. In my mind, I was like, I've seen this. But we stayed in bunk beds, right by a legitimate stable. There were horses boarded there (and it didn't even smell too bad, there was no internet in that building though). We used a large community room to finish doing our program and had some speakers come out and talk to us every day. A lot of us spent time in the other building, so we could have internet. The countryside was definitely beautiful though."
The students went for a walk in the woods and noticed that there were seashells everywhere on the ground. They then learned that the Netherlands is below sea level and that's why there were seashells covering the forest floor. They also saw the beach and many sand dunes as well.
Next, the group went to The Hague, Netherlands. The Hague is the city for international peace and justice. A lot of embassies are there and they take in a lot of refugees for war crimes. It is a big city with lots of neighborhoods, (which came into play for the students in class, because they were assigned a neighborhood to go into and explore. The Hague is also a very diverse city too, with lots of people from different cultures and countries live there. Many people move there later in life. A lot of safe havens and programs that help people are in The Hague.
When they left the countryside, the students were dropped off at a fancy hostel-style hotel. They all had their own room and bathroom. There was a shared kitchen on each floor, and in total they took up two floors. The hotel had lots of places to study, a laundry room, and a game room. In the Netherlands there are more bikes than people and even though they are very focused on the 17 goals for sustainable living, students still saw a considerable amount of litter on the streets. (Also, there are lots of canals in the streets too).
Everyone in this program had to take a general class, Explica it was called. That was the class where they were assigned neighborhoods in The Hague. (Some were higher class neighborhoods, and some were lower class). Students went out into the neighborhoods and identified problems and completed empathy interviews with residents. Then they came back and brainstormed things that would be helpful to the city. Whether it was how to implement better trash receptacles, or engage with the community at an event, you had to come up with something in the time of your course. When the students first got to The Hague, they went to a museum that explored all 17 of the sustainability goals of the Netherlands. Each of the 17 goals has interactive topics to explore and learn about. The tour guides gave students a check card to punch, and then at the end they had to turn it in. The results of the punch card told students who they are and what their views were on sustainability. The whole museum was built to honor the 17 sustainable development goals. It was a very interactive museum, designed for both Dutch and English speakers. At the end of their program students went back to present their ideas and solutions as a group, at the museum, and that's where the program graduation was too.
In the Netherlands, a class that Gustavo took during the program was, sustainable entrepreneurial thinking (he loved his teachers and learned a lot from them. In the first weeks he learned about sustainable use, sustainable environments, and sustainable business. Then in the second week, they talked a lot more about business and he really felt like he got a good grasp on the content. learned a lot in that class. Teresa took a Global Impact class. Only two classes could be taken while abroad and the second one was an elective. The classes were all pass/fail style.
The first night in The Hague consisted of a walking tour (that was supposed to be one hour and turned out to be three hours). Students saw buildings relating to parliament and the royal family. Tom, a fellow Dutch college student, was their tour guide, and put a nice, youthful spin on the tour.
During the program students had one free weekend. Gustavo and the majority of the group took a bus to Paris. Gustavo also went to Ghent, Belgium. That one free weekend went by very fast. In Paris Gustavo went to the Louvre and the Eifel Tower. (Even though it was busy, he really liked the Louvre and made it a point to see the Mona Lisa). Next time Gustavo goes to France he'd love to see the south side. After Paris, Gustavo took a train to Ghent with one other friend. He absolutely loved Belgium and walking around there. Ghent was small enough to walk around and get a feel for the city, versus the size of Paris, he noticed. For Teresa's free weekend, she went to Germany to meet with the family members she has over there. Teresa took a train to Germany since her original flight was cancelled unexpectedly at the last minute. She eventually met up with her cousins in Cologne, Germany. On the way back to The Hague at the end of the weekend, she got lost on the train. Adding, "It was nerve-wracking and very scary, but I was proud of myself that I made it back."
Even though it was June, students felt that the weather on the trip was cooler than Minnesota during the summer. Throughout the whole trip they walked a lot, (one person in the group tracked it and he walked over 14 miles). A note to the students going next year: bring sturdy hiking shoes!  : )
Regarding food in the Netherlands, students ate everything from pizza and seafood to large savory crepes with cheese and bacon sauce on them. (Yes, you read that right. Bacon sauce!) Restaurants have different versions of crepes. Some with cheese and egg in them, for example. Teresa commented, "The food over there was good. Dutch food is heavy, but I don't think they have a food that they are exactly known for."
Throughout the trip students were usually together the whole time. Teresa said, "Tell the students for next year: It is expensive, but I would've felt better if I had the ability to talk internationally with my phone. WIFI was not easy to find. You think you can just use WIFI and stay connected using What's App, but it is hard. There were quite a few times when I had no idea where I was going and had no way of getting ahold of anyone."
Looking back on this two and a half week trip (that was supposed to be a three week trip), Teresa said she appreciated that they weren't micromanaged, and their program treated them like adults. She added, "Something else that was equal parts nice and equal parts taxing, were the nightly activities at The Hague. When we first got to The Hague, Casper, (the guy who was in charge) had scheduled programs and activities for us to do every night. So, on top of doing homework we also had that. We weren't required to go, but it was a gesture we could take to say, 'thanks for planning all of this for us.' So we usually tried out those activities for a little while."
Teresa said her favorite part of the trip overall was, "Experiencing a new culture, meeting new people, and making connections." Gustavo said his favorite part was. "Learning about a new culture, gaining new ideas and experiences. Hearing different perspectives from different people around the world. Trying to implement ideas and think about how they fit into what I want to do and helping out in the communities. The Netherlands have made a lot of advancements in a lot of the things that help preserve the world and help us keep going. I would hopefully like to do more of these programs. It is good to learn about sustainability; to push that message and help educate other people on what's right. This study abroad experience was nice, we all got really close, and I liked it a lot." Both Teresa and Gustavo hope to study abroad for a longer period of time in the future.