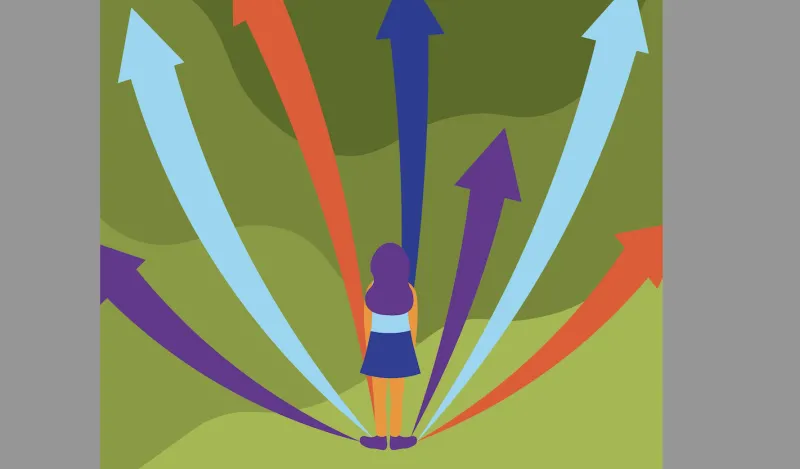 This fall, NHCC student, Corynne Lembke is working as a Graphic Design Intern within NHCC's Marketing department. In September, she attended the Pathways Day event that was held on-campus and shared her thoughts with us.
According to Corynne, "These were the top five things I learned this year at Pathways Day:"
The CLEP exam allows students to get credits for classes by taking a single test that is only $120 instead of paying for a $600 class. You can study for the exam using Modern States, (which is a website with a full test study guide and practice tests). You only need a C to pass a CLEP test so there is a high success rate among those who study using Modern States, or the CLEP official study guide. If you don't pass though, there is only a 3 month waiting period to retake the test. CLEP tests cover a variety of subjects from algebra, to psychology, to American history. These tests are also available to high-schoolers as well as college students and allow students as young as 10th grade to get associate degrees.
Classes taken outside of a student's field of study can still have transferable skills for employment, which means even if it is not necessary for your degree it may be a good idea to take some extra classes that may teach you new skills to impress interviewers, or build up a resume. Education classes are a good example, the skills taught in them transfer well into presentations, or speeches, they also teach many other forms of communication skills that could be used when training new employees, or working with customers.
We have a fruit fly lab on-campus, where students can use the fruit flies to study genetics, or do medical research studies. The fruit fly lab is run by Bemidji State here on the NHCC campus. Through NHCC you can get a bachelor's degree at Bemidji State University in biology, right here on campus (stop by the University Center in CBT 184 to learn more.) There is also a simulation lab for nursing students on-campus, complete with mannequins that can simulate all kinds of things; from breathing normally, to breathing with a wheeze, to heartbeat simulations, or even giving birth!
If you are planning to transfer credits to another college, it is important to talk to an advisor before taking classes to make sure the classes you're taking will transfer. This is because credits don't always transfer and even though a student might take 60+ credits worth of classes here at NHCC, not all their credits will transfer to a four-year college. But connecting with an advisor can help a student to find the right 4-year college and take classes that will transfer seamlessly. If you are thinking about transferring to a 4-year college, consider meeting with an advisor as quickly as possible to maximize the effect of your time here at NHCC. To learn more about transferring check out NHCC's Transfer Fairs, the next one is coming up soon on November 7th.
Transferring to a 4-year college can also present some financial issues, if not done properly. Because financial aid does not transfer to a new school, a student would have to reapply for financial aid before transferring to avoid their financial aid lapsing. A student cannot maintain financial aid at two schools at once, so it is important to do this correctly. Talk to the financial aid office, or an advisor with any questions about transferring financial aid. While state funded schools are cheaper than most private universities, they tend to have less scholarships available, so if you are looking to transfer to a new college consider applying for scholarships to boost your budget.
I learned all these tips and so much more at NHCC's 2023 Pathways Day event. The amount of important information I learned at Pathways Day was more than worth the free day on campus!