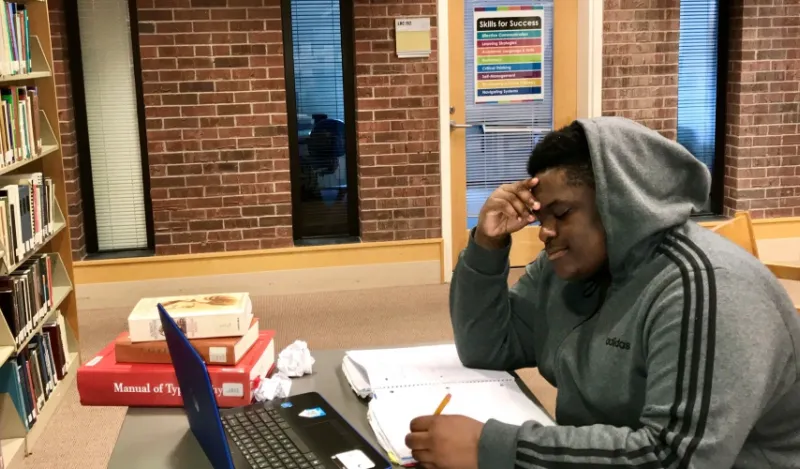 'Tis the season for academic due dates and holiday hassles. Just remember, everyone gets stressed! Read below for tips on how to manage the many stresses in life, on campus and off.
NHCC Resources
Counseling Center
The NHCC Counseling Center is here to listen, problem-solve and help students deal with any issues they may have. Counseling has many benefits. These benefits can include improved communication, peace of mind, improved self-esteem, greater satisfaction out of life, and more.
Career Services
The NHCC Career Services team takes the time to assist students in the job searching process. From resumes and cover letters to job descriptions and interviews, they've got you covered. If you're not sure what career would be best for you, the Career Center offers Career Exploration Assessments through FOCUS, the career planning program offered by NHCC.
Tutoring Center & Writing Center
Is your Calculus course dragging you down? Have a huge English paper you haven't started yet? No need to worry, that's just what the Tutoring Center does best. They'll work with you to make sure you get the guidance and support you need. You can make an appointment or stop by anytime!
Free Fitness Classes for Students
Did you know that exercise improves brain performance? The Recreation and Wellness Office offers a variety of programs that promote wellness, including intramural and club sports, group fitness classes and more! Currently-enrolled students can drop into fitness classes throughout the spring semester for free.
Find Time to Relax on Campus
On campus, there are plenty of fun ways to get involved and destress. Visit The Cube on the second level of Campus Center to play pool, ping pong, video games and relax by the fireplace. It's also a great way to meet new people and make new friends.
Off-Campus Resources
Headspace App
Simply go into the app store on your phone, or tablet and download the free Headspace app. Through the app, Headspace provides sessions of guided meditations, with the goal of mindfulness.
Books & Library
Reading reduces stress by 68 percent! Visit your local library (or on-campus library) and discover their collection of books. You might enjoy getting lost in the plot so much that the stresses in your life just seems to disappear (at least for a little while)!
Laugh
Studies show that laughing triggers the release of endorphins. These feel-good chemicals promote a sense of well-being and decrease stress hormones. Next time you or a friend are feeling overwhelmed, why not watch a funny cat video?! The internet is filled with hours of hilarious content to keep you smiling.
Drink Peppermint or Chamomile Tea
Tea is good for your body and the soul. Chamomile is known for its relaxing properties and pleasant scent. Whereas, the menthol in peppermint tea can help your muscles relax and assist your body in drifting off into a deep sleep.
Work on a Hobby
After a long day of work or school, any extra activities may sound like a chore. However, developing a hobby, or practicing a passion on the side is important to focus on. Once you find an activity that you enjoy, you will look forward to it more and be able to use the creative outlet to unwind from your day!