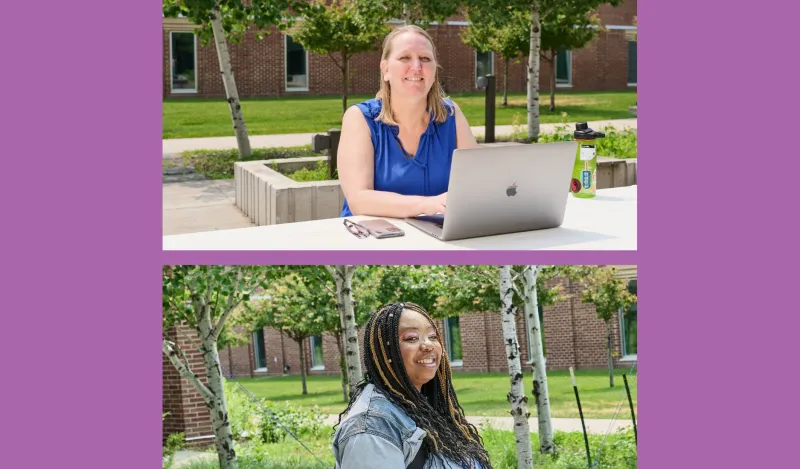 Jodi Massmann and Marsa Mason have a lot in common. They're both mom's, both involved on campus and they are both current adult students at NHCC! We connected with them to find out what it was like going back to school, what they're studying, what they wish they could tell other adult students and MORE, below! 
What was the main reason you went back to school?
Jodi: I went to school for one year after high school but I didn't finish. I wanted to come back and accomplish that goal. Also, my dad is older, and he's been encouraging me to go back to school as well. It sounds morbid, but while he's still around, I'd like to achieve those goals too. My kids are all either in school now, or they are moving on themselves. I felt like it was time for me to go back and try something different.
Marsa: The reason I went back to school is because I had made a promise to my mom before she passed away that I would finish (since she saw me enroll). I wanted to keep that promise to her even though she's not here.
I wanted to show my son that education is important. I also wanted more than a job, I wanted a career. In order for me to feel like I'd be able to do better, I wanted the degree."  -Marsa Mason
At the time, I had a work from home job, but I had to leave that position due to going back to school. I made a decision to do school instead of staying at that job. It was a tough choice, but I said, 'I'll find another job that will work with my schedule.' It was hard all around, because at the time, my mom was really sick. There was a lot going on at that time, but it's better now and it's working out.
What are you studying at NHCC? 
Jodi: I am currently pursuing Political Science and English, as well as hoping to compete a second Business certificate. These were not necessarily topics that I was initially focused on when I first started out, but as I explored the variety of classes available to me, I was introduced to many new areas of interest. I enrolled in different things, and I'd say, 'Oh, this class sounds interesting, I'm going to try this.' I still haven't settled on a major, but I keep trying. 
Marsa: I previously had communications credits, but I was waiting until I was ready to pick it back up again. Originally, I wanted to go into newscasting and radio, but I decided to go a different direction within the communication degree. I'm still studying professional communications, I do have the associate degree, but I want the bachelor's degree. 
Before going back to school what were you doing?
Jodi: I worked in an office type job. When I met my husband, we worked together and then I raised the kids for quite a while. After that, I worked for a landscaping company. We did interior holiday decor, that's how I started. They did interior plants and maintenance too. Eventually, I was involved in all areas of the business. Then right after Christmas we had a little break time and that's when the pandemic hit. I was essentially laid off then and it felt like a good time to switch gears. 
I really did love that job, but when I look back, there's a lot of things I could've done differently. There was only so far I could go in that company and I say, I loved it, but, you know, I wanted to do something more." -Jodi Massmann
Marsa: At the time, I had a work from home job, but I had to leave that position due to going back to school. I made a decision to do school instead of staying at that job. It was a tough choice, but I said, 'I'll find another job that will work with my schedule.' It was hard all around, because at the time, my mom was really sick. There was a lot going on at that time, but it's better now and it's working out.
Was a degree required for you to access certain things at work?
Jodi: Yes, definitely. In the horticulture area, people would say you need technical college. In the office setting at work, same thing, they'd say you need business course experience. That inspired me to take some business classes here. I took management last fall and I enjoyed that. I don't know that I personally want to manage, but it gave me insight into how I would do it differently than other managers I've had. The communications classes I took were also inspired by work. That's one thing about working at a smaller company, it was kind of dysfunctional, like a family in a way. There were certain communication habits that we got into at work and looking back, I would've done some of that differently too.
Was it stressful having so many class options to pick from when you went back to school?
Jodi: Yes! The thing is, even though this was something I wanted to do, it was still a very spur of the moment choice. I hadn't really planned it or thought about it a lot, but it just presented itself and the time was right. Since I didn't know what I wanted to do and there were so many choices, I took two online classes and I really lucked out. My instructors were great and even online they were still very interactive which helped me. 
Did you get to study at NHCC while your kids were going here?
Jodi: At that time, my middle child, who's my younger son, he was a senior in high school, and he was taking PSEO classes. My older son had been going to a different school, then he took a break and after some encouragement he came back to NHCC. There was at least one year with my son on-campus, my daughter doing PSEO classes and then me doing classes. We've all been around the NHCC campus! 
 
I think it was helpful for us to be here together. It was easy for me to find different clubs and opportunities and say, 'Hey, you should try this,' rather than thinking for myself. Because I felt more as an older student, this isn't for me." -Jodi Massmann
But to be able to be the mom and encourage, I would say, 'Oh, you should try this fun activity.' I'm sure my kids were rolling their eyes, thinking no. But they did try things out and sometimes we did different things together. Especially as the Campus Center began to open up again, we'd go to different events together. It was a little corny, but it was great that we were all students together. 
How did you overcome that 'This isn't for me' mindset?
Jodi: That was tough! When my son was here, he joined Student Senate and he had a lot of really good opportunities and experiences. We would also explore different resources and things around campus together like the CARE Center, the Food Cupboard and the Library. Since my son had such a great experience in Senate, at the end of the year, I talked to their advisor, Paulette and said, 'Okay, I don't want to take an opportunity away from anyone else, or a younger student that might be starting out if this would be a better opportunity for them to get leadership skills. But I'm interested.' It ended up working out and I am the Student Senate Secretary. In this role, I do the notetaking at meetings and we all try to take on little projects on our own too. If I were to have an initiative, I would say, 'Hey, Senate, we're all going to get involved and work on this project together. Here's my idea. How can we all work on this together?' I like that Senate gives students the opportunity to get involved with all areas of the campus. You can pick and choose what your interests are, what projects you want to do and how you want to impact other students. My favorite thing about Senate is how it gets you involved.
Once you're on campus, if you know people, it feels so much more welcoming. To be clear, it did feel welcoming before, but it's just nice to be able to say 'Hi' to people." -Jodi Massmann
Did you have any barriers to overcome going back to school? 
Marsa: I think one of the barriers I faced when I first arrived at school was not knowing people and just wondering if I'll fit in. But there was also the barrier of being a parent and taking care of the household and activities for my son. While also making sure that it fits into my class schedule. It was a lot! My son was also involved in different activities, or wanted to go places and I was the chauffeur. At that same time, I had thought about, 'Okay, I'm not as young as I was when I initially started school.' I also wasn't able to get financial aid. I paid for and I still do pay for all my classes at NHCC. Looking back, I think those were the barriers that I faced. 
What clubs are you involved in at NHCC? 
Marsa: I am in the Be Bold Break the Mold program. I'm on the WIEL Center Board and I am also in an Interfaith Outreach, Christian group. Besides those, I enjoy being the Diversity and Equity Coordinator for Student Senate and helping the college as I can. On Friday's I try to make food for other students. I know it's hard sometimes to find food and I love helping people.
Was there a faculty, or staff member at NHCC who helped you pick out your classes?
Jodi: At first, I continued with business classes because I really enjoyed it and I had a great teacher named, Margie who was very encouraging. I felt very comfortable with her class and her guidance. Another class I took was nutrition and I thought, 'Okay, if I liked nutrition, then maybe exercise science would interest me too.' I knew that program had a transfer pathway and I'm interested in transferring eventually, to get a four-year-degree. As of now, Metro State University and St. Cloud State University are two schools that I'm considering. I like the Minnesota state system so far, not to say I'd rule other things out, but I do think that a four-year- degree is important. My nutrition instructor, Heidie encouraged me to try different classes in the exercise science and nutrition areas. I'm also going to take some English classes this year, which was my interest more when I was younger. I don't know how English classes would be useful in the work world. However, I feel like I have good guidance in that department, to say, 'Okay, I want to try this class, but what can I do with it later?' The WIEL Center is also a resource I keep coming back to. I took a professional writing class and for part of our class we had to work with them. We worked on a resume and had an opportunity to take some of the career path tests. These tests showed us what some of our possible career interests could be. They were helpful and I think there's still lots more that I could take advantage of. It's kind of up to me to put the time in. 
Marsa: Yes, I worked with my counselor at the time, Samantha. She really opened my eyes to a lot of things that I was not aware of and gave me knowledge on NHCC and the things that they offered. She helped me see that I have a passion for people. At first, I wanted to help people in the community, so we were thinking I'd go the human resources route. I realized I didn't really want human resources, but I was keeping an open mind since I had never worked in that field. I thought maybe this was the way for me but I really wanted to be more hands on, to be able to talk to people and help them. Talking to Samantha led me to Karen. One of my friends told me they paid $400 for a service to help them get their resume done and I really wanted to get my resume done too. I told Samantha I was thinking about doing that too and she said, 'You know, we have resume help for free in the WIEL Center' and I didn't know that. But soon after, I met Karen! She really took the time to get to know me and my passions. We updated my resume, and we started talking about other things. She told me I'd be a great addition on the WIEL Center Board and I joined. During that time, I also met Maria Vittone, who was part of the Be Bold Break the Mold program. I told Maria that I had a passion for the community and I'm looking more into being a Parole Officer or a Corrections Officer. The WIEL Center led me to Maria, and she led me to a mentor, who helped me get more passionate about the parole and corrections officer fields. Recently, I applied through Hennepin County for a Sheriff's Detention Deputy position. I was given a contention offer and I'm waiting on that to start at the end of the month. Even though I'm not studying peace officer training or criminal justice, I think this job will still be a good tool as far as learning the verbal and non-verbal communication styles among individuals. 
What advice do you have for other adult students going back to school?
Jodi: If you're going back to school here at North Hennepin, make sure to stop in at every office, get to know people and come to events at the Campus Center. People do really want to help you. That's been my experience and it sounds like a big commercial, or something, but really, I've had such a good experience everywhere here, I have been very lucky.
More advice, get to know people and get involved here! It actually is for you -- it's not just for young people." -Jodi Massmann
Marsa: The best advice that I could give is, 'You're going to be scared and nervous. But I want you to get involved in different activities on campus and get to know individuals. If you feel like you're stressed or going through a depression, don't have fear.' One of my biggest fears was meeting with a counselor because I knew, 'I'm not crazy.' But going to talk to a counsellor really opened my eyes up to a whole new world. Make sure that you're using the services that NHCC provides. Getting involved on campus will allow you to feel more comfort and more included. I learned that a percentage of students who get involved in activities, will actually succeed more. So, when you get involved, it will help you with your academics as well. 
What NHCC resources would you recommend to others that have helped you navigate college? 
Jodi: I would recommend the CARE Center and the Advising Center, (I didn't take advantage of that as soon as I should have just to plan the classes that I took). I would tell students to work with an Advisor and visit the WIEL Center, of course! I'd want students to know there's a Food Cupboard here. Sometimes I think people are ashamed to use things like that. But they have snacks, you can just stop by and get a snack. I think there's a lot of resources and people are nervous to reach out, but I've found everybody to be really welcoming. I would say go to the Campus Center and get involved in ice cream social's or whatever is going on. There's always something going on. More people around here add to a more vibrant campus. People that I know have liked talking to the therapists in the CARE Center and it is nice to know the resources are there. People are here that you can just talk to. If you're having just a little bit of something going on in your life, or you need a referral to maybe more intensive therapy, or something like that. Even if you were having something as simple as car trouble. There's someone here who can help you with that or can connect you with someone else who can help. I'm always surprised, how if you just reach out and let people know what's going on, they will be ready to help you. 
Marsa: I'd recommend the counseling services in the CARE Center. I would also recommend Access Services, as a lot of people don't even realize all the resources that are within the library and on campus for you. There's Tutoring, the WIEL Center, and Access Services available to you. They can help you with internships, career and if you're suffering with a disability, or have a disability they can help you succeed, so you don't have to suffer alone. Utilizing that service will also allow you to get additional resources to help you with testing and your classes. I would also recommend that people use the CARE Center for counseling services, food services, and volunteering on campus as well. These are great things to do to help the college and get to know other individuals on campus. It just feels so good to help others and to see the good work that the college does for others in the community. I enjoy getting to know people, meeting them and doing what I can to help. Student Life and the events that they put on are great! I really want new students to know that they can get involved and ask questions. 
I think Pathways Day last year was a wonderful experience. It was a day where we actually got to learn how to use D2L, how to use campus services, and learned about the different programs here at NHCC. It was a very eye-opening and wonderful experience. I would recommend to everybody that they go to the next one, because I learned things I didn't know about the campus and about how to use D2L!" -Marsa Mason
Are you attending NHCC as a full-time student and how do you take your classes? 
Jodi: Yes. I have been doing online in the past, but I like to come to campus and connect with my instructors. This year I'm going to do hybrid. My dad is 86 and I've been helping to care for him along with other things that are going on. The dad stuff can be like a full-time job if I need to take him to appointments or different things. So having the flexibility of online classes really works better for my schedule. But I do make sure to reach out and make connections with my instructors and go to their office hours. I almost think it would be nice for online classes to have a requirement to meet in person with your instructor, or at least have a zoom meeting with them, but I know that's not practical for everyone.
I think once you make a connection and have a little rapport with your instructor, it definitely changes your experience; even though you're not in the classroom every day. I'm pleased with my experience though and I feel like my instructors are really there for me." -Jodi Massmann
Marsa: I am doing mine mostly online and my classes this fall are online. I've done in person too and I love having that in person relationship with the professor. It is nice to be in the classroom and to get to know them better. But I take online classes so I can work and go to school at the same time, when that opportunity arises. I'd want to go back to in person classes if I could, but online is more convenient with my personal life going on. 
What's next for you and when do you graduate?
Jodi: I graduated from NHCC with my Liberal Arts degree in the spring of 2023, but now I'm going back to study Political Science, English and finish up my business certificate experience classes. I took a variety of classes in a lot of different areas. It's my plan to get two more degrees. I will say, being involved in Student Senate and going to different political events, has really helped. My interest level in local politics has definitely developed a little bit. Political Science just seems like a natural fit for me, I don't have political aspirations at all, never will, but I'm just getting to know everything better by being involved in this way. Building off the other classes that I've taken, I hope I can accomplish my goal of getting two more degrees within a year. I will probably walk at graduation again, but if not, at the very least, I'll be there to help out and volunteer, because commencement was a very nice and meaningful experience to me.  
Marsa: I already graduated, I have two degree's right now. The Liberal Arts one I didn't even know I was close enough to until an advisor said, 'You know, you can graduate and get this degree, you have enough credits.' I got that, but I really wanted to continue on to get the communications associate degree, not just liberal arts, general studies. I continued and now I'm taking classes that go towards communications that are St. Cloud State equivalents here, because they're more affordable. Career-wise, I would like to get into law enforcement and hopefully obtain that Sheriff's Deputy position at the Detention Center at the end of the month. I'd be able to do both school and work. That is my ultimate goal, and I'd love to be able to finish up and graduate by next year. I also have goals of doing more activities as the Diversity and Equity Coordinator for Student Senate. I want individuals to learn what Student Senate is all about. After NHCC, I hope to work in law enforcement, to help bring the community and law enforcement back together. Right now, I'm studying communications at NHCC and at St. Cloud State virtually. I don't do in person classes at St. Cloud because of how long of a drive it is. If I need to meet with an advisor, I'll drive up there but that's about it. Hopefully, I'll graduate with my bachelor's degree in professional communications from St. Cloud next spring or summer!
Jodi and Marsa are fierce advocates for adult learners going back to school! We hope they inspired you to take the leap in furthering your education!