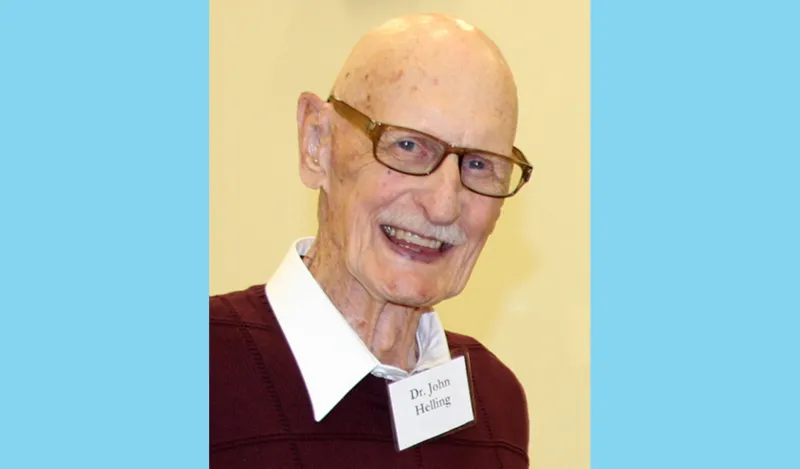 Dr. John F Helling is not an easy man to forget. Tall in stature with a twinkle in his eye, quick wit, and full of stories of North Hennepin Community College's history.
Starting four days before the end of the first year's classes in 1967, Dr. Helling served as North Hennepin's president for 23 years. He retired June 1990 and to this day, is our longest serving president.
Dr. Helling spent most of his life working in Minnesota education. He was an advocate for the Junior College system and was quoted saying, "I believe very strongly that Junior Colleges are THE coming institutions. At one time it was only the wealthy who had a chance to attend college. Because one is wealthy doesn't necessarily mean that he is intelligent. Through Junior Colleges many capable and intelligent people have a chance to prove themselves."
The college initially operated out of the Osseo Junior High School building. In the first three years, the college grew from 414 to over 1,600 students. With this tremendous growth of students, Dr. Helling oversaw the massive construction of the college campus once the location was determined. Construction spanned almost his entire presidency. Many stated the college was in a continuous state of disruption due to the construction and thus the student literary and arts journal, which is still published today, was named Under Construction.
A college is more than buildings. For Dr. Helling, North Hennepin provided education that met students' needs. Evening classes were introduced in 1967 and weekend college in 1988 to help working students. The college was named a General Education Development testing center to provide classes for those in need to complete their high school education.
Dr. Helling was the main proponent of changing the name from junior college to community college, arguing that "North Hennepin is a community institution. It is in and of the community." Brooklyn Park's Tator Daze was held on the campus. Many community programs began during his presidency but were later lost in legislative budget cuts.
With his strong belief in the college being the "community's college," Dr. Helling established the North Hennepin Community College Foundation in 1981 to give the community more opportunities to support the education of our students. He financially supported NHCC during and after his presidency, and encouraged others to give. He has the second largest scholarship endowment at the college.
After retirement, Dr. Helling became a passionate ambassador for North Hennepin. He cherished the college and its mission. He established relationships with his successors and attended many college events. We will miss his humor, his stories, and the continued enthusiasm for our college.
In this one minute video, Dr. Helling passionately shares his love for NHCC and its future.
Thank you, Dr. Helling, for the foundation you laid that built North Hennepin.