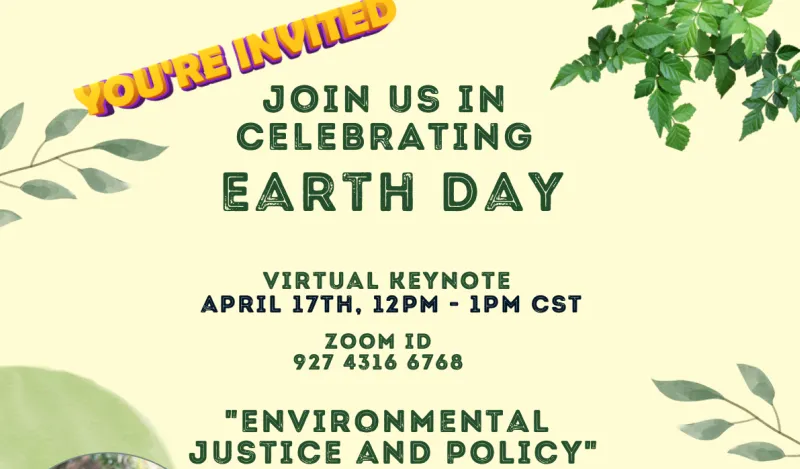 This spring is a busy time in NHCC's DEI department! We have an Earth Day Keynote coming up, an AAPI speaker and a lot more! Dive into all of the upcoming events, below!
This event will be happening next week: 
Environmental Justice & Policy Virtual Earth Day Keynote presented by Isaias Hernandez
April 17th, 12-1pm
Earth Day is an annual event to demonstrate support for environmental protection. First held in 1970, it now includes a wide range of events coordinated globally" Learn more here.
Earth Day is next Saturday, so on Monday we are bringing you Isais Hernandez, keynote and Gen Z Environmental Justice Educator who will speak to us about environmental justice and policy! This program is open to all. 
Isaias Hernandez was born in Los Angeles, California, also known as Tongva Land. He grew up in Section 8 housing, was a recipient of food stamps, and lived in a community that faced environmental injustice. Join us as he shares more of his story, the importance of his work and learn how we can make a difference toward environmental justice and equity! This webinar is open to all. https://minnstate.zoom.us/j/92743166768  For questions, email eda.watts@nhcc.edu
Asian American and Pacific Islander Heritage Month keynote
May 1st, 11am to 12pm: Your Identity As A Superpower by Betty Ng
Save the date for this energizing presentation by Betty Ng, Co-founder of Asian American Authors Book Club, entrepreneur and a New York Business 2022 Notable Asian Leader recipient! She will inspire and empower us to use our identities are superpowers. Flyer will be provided closer to the event date. Webinar link: https://minnstate.zoom.us/j/93646352393  For questions, email eda.watts@nhcc.edu.
Exciting DEI Updates and Other Opportunities (save the dates!)
April 12 is the final session of our RhAC cohort (Racial healing Action Collaborative), co-led by D. Newborg, City of BP Racial Equity Manager Dr. Davis, and Eda Watts. The RhAC is a pilot program, part of our Truth, Racial healing, Transformation Campus Center initiative. This current pilot was attended by both NHCC leaders and City of Brooklyn Park leadership. After we gather final feedback, we hope to make this an ongoing initiative with broader campus and community participation! There's still time to express your interest in learning more about future participation https://form.jotform.com/223037738013147
On April 15, from 1-4pm, Plymouth DEI will be hosting a free screening of the movie Till at Mount Oliver Church of Plymouth. The movie Till is about the lynching of 14-year-old Emmett Till. No rsvp needed. Their invitation states "no violence is shown in in the movie, however the event is recommended for people 13 year old and older." The screening will be followed by conversation with Debora Watts (Emmet Till's cousin and activist). For questions email plymouthdei@gmail.com.
 On Monday, April 17, 9:30am-2:30pm, Latine Day will be held at the Capitol. Find registration details here.
On April 25, from 5:30-7:30pm, author of Medical Apartheid, Harriet Washington is tentatively scheduled to speak at the University of Minnesota. A virtual link will be shared out to campus once available. Save the date if interested in attending.
On Friday, April 28, from 1-4pm, there will be an INclusive Career Fair, for everyone committed to and seeking a more diverse and disability-inclusive workforce. Find more info here, 2023 INclusive Virtual Career Fair – Disability:IN Minnesota (di-mn.org) and email questions to shellyrohe@gmail.com.
From May 22-24 at St. Cloud State University, the upcoming system office All Student Affairs-Equity and Inclusion Conference will be taking place. This will be Chancellor Malhotra's final engagement with us prior to leaving his office. Also May 23 of the conference, as we discuss moving toward Equity 2030, we will bring to you a racial equity panel comprised of practitioners throughout our system. I'm in the final stages of securing our panelists, but I can tell you this will be a diverse set of voices! Make it a point to join us if you can. Conference details here
On June 17, the City of Brooklyn Park will be hosting a Juneteenth Celebration, on NHCC's campus June 17. Details are being finalized, and more info will be released closer to the date.
Robbinsdale is hiring college students to teach this summer in their Freedom Schools program. If you are a student interested in this opportunity, please reach out to Jessica Stewart-Robinson (j_stewart-robinson@rdale.org ).
A recent article, Improving Outcomes for Men of Color, is a comprehensive article covering the benefits of technology, and professional development for educators and much more.
Thank you for engaging and staying informed with our DEI department at NHCC this spring!