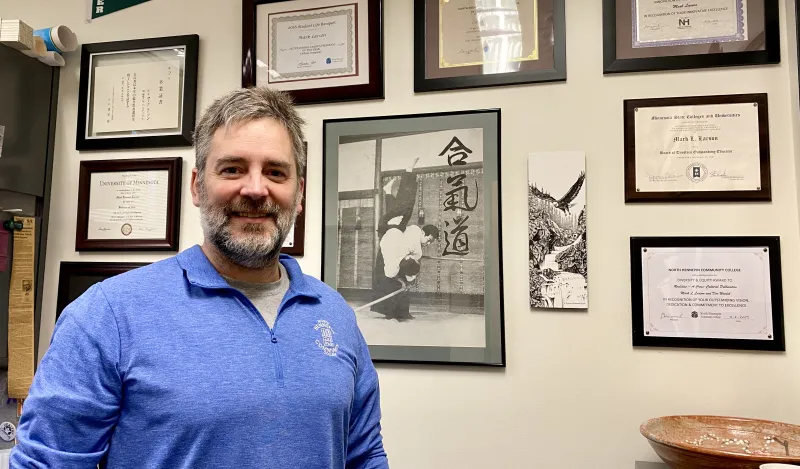 MARK LARSON teaches the traditional Japanese martial art Aikido at North Hennepin Community College, and earlier this year he was awarded the Shihan title by the World Headquarters of Aikido, Tokyo, Japan, which is the highest "Title" attainable—equivalent to a PhD in academia. During the 2021-2022 academic year, Mark has taken a sabbatical to write his memoir. Congratulations to Mark Shihan for receiving this impressive distinction!
Have you always wanted to receive the Shihan status?
Coming from a competitive-sports background, I was searching for a new path at age 21. After researching various martial arts, my goal was solely to study the most Traditional Aikido I could, and then to continue to learn and practice it for the rest of my life. That's all. This is what led me to its birthplace in Japan. I wasn't concerned about any status or level—just with the physical and mental self-improvement in a non-competitive approach through budo, "the martial way." Having said that, however, it is an honor to be appointed this title because it is recognition for continuing along the path and remaining true to the teachings that were passed down to me. Whether you have a seventh, eighth, or ninth degree black belt, your title remains "Shihan." Therefore, I am humbled by this acknowledgement, but it does not mean my learning or training is finished. There is no end when it comes to these two
How many years did it take to earn the Shihan status?
In total, it took about thirty years. Up until fourth degree black belt, there is a hands-on test. I tested for all these certifications (shodan through yondan) under my head teacher Morihiro Saito Shihan (1928-2002)—direct disciple of Aikido's Founder Morihei Ueshiba (1883-1969), while living and training in Japan (1992-2002). Then after that, the Aikido certifications from 5th Degree forward center around "what you're doing for the art—its preservation and growth." The recommending instructor of Shihan status and testing committee may also require you to do another hands-on test or demonstrate and teach techniques. The highest rank I received directly from my teacher was 5th Degree and a license to teach. My 6th Degree was awarded in 2013 by the current Grandmaster of Aikido (Doshu) Moriteru Ueshiba (1951-) who is the grandson of the Founder.
Were there any set requirements you had to follow to receive Shihan status?
You must continuously be teaching and promoting the art in a positive way, and where I received this distinction from, you must be a member of the Aikido World Headquarters, Aikikai, which is recognized by the Ministry of Education, Culture, Sports, Science and Technology, Japan (MEXT). Once they reach out to you and recommend you for the promotion/appointment, the application process is quite extensive. You have to write out everything you've done—where you've been, when it was, what you did. It's similar to an academic resume vitae. During this process, I informed the World Headquarters that I created a Minnesota State accredited Aikido class at NHCC. The officials in Japan also want to know if you're the head of a dojo or organization, how often you're teaching and training, etc. You have to show documented proof of all this. A Shihan is another level of status after becoming a Sensei, "teacher." Essentially becoming a Shihan "officially" acknowledges that you are a master of your art and "Teacher of Teachers." Some reach this level and some do not—nor are they even interested in doing so.
Would you like to get an even higher grade-level?
Aikido is a journey—not a destination, so I don't do it for grade-levels. I do it as my way of life. What matters is what you have in your heart, what you can do on the mat, and how you apply these things in a way that contributes to society outside the dojo, "place of practice." I've travelled the world, some countries multiple times, for Aikido: Argentina, Brazil, Canada, Denmark, Myanmar, Sweden, and all throughout Japan and the United States. Meeting fellow practitioners from all over the globe, there's a nice bond and comradery that forms because Aikido is hands-on, and there's a common understanding of the art which is best expressed through feeling rather than words. Getting 7th Degree someday would be a nice milestone, but it won't mean as much as these unique relationships built, which I cherish most, that go beyond language and country borders, lasting a lifetime.
How is your book coming along, do you have your chapters set?
Yes, I'm working on it. Right now, it's sifting through a lot of my written notes over many years and trying to organize them into chapters. I'm using my notes and filling in details. This, too, is a constant process of revising and editing until I get to a place where 'I can do no more.' It's a picture in time. I just want to paint the best picture I can in this moment for the book
Do you know the purpose of the memoir yet?
Yes, it outlines the "Training Process of Traditional Aikido." My teacher asked me to write about that, and I'm going to be translating some of it from Japanese. There are certain ways students should go about in their training. A lot of technical manuals exist out there and philosophy books, but my teacher told me to describe "the training process." I'm going to explain in my book what processes I went through for learning and teaching Traditional Aikido. What I did, how I prepared, and what my teacher taught. I also want to inspire my readers to take a risk in order to find their true passion and true selves. I left a very good life here in Minnesota back in 1992 that consisted of a close-knit family, a steady girlfriend, good education, and playing college hockey to travel 6000 miles away to Japan not only to find Traditional Aikido, but to find myself with literally no Japanese language ability and minimal knowledge of the culture when I left home.
How do you feel teaching Aikido impacts your students?
Students tend to become more focused, determined, prepared, and aware of their surroundings and of themselves, too—they develop various life-skills. Even in just one semester, I witness their confidence grow, and they experience a special comradery with their classmates. Students tell me around campus that this class taught them how to be more organized, get along better with others, and when to pause if something bothers them. Aikido has helped a lot of students through the pandemic, too. Some have shared with me how anxious they've been and that they use the movements and breathing techniques we practice in class. I've even had a few students tell me that taking this Aikido class saved their lives.
What is your classroom atmosphere like?
My classroom is a dojo. It is where people from all walks of life can come together and learn Traditional Aikido. Students build a unique comradery between each other, while deepening their understanding of themselves and others through training in mental and physical discipline. At the beginning of my classes, we always do two claps and a bow, and that signifies class has begun and how during class, we block out any stress or drama. I explain to students that one bow and one clap is for yourself, and the other is for everyone else in class. It's a mindset. We can't just show up in class and immediately train. We have to sit and block everything else out. We prepare ourselves by lining up our shoes and cleaning our practice space (among other things); we forget about work or the tests we might have later in the day and everything going on in the world for that moment. We take the time to be "completely present" for that hour and a half.
Are the readers of your book going to be your students, or who are you writing to in your book?
I feel both a debt of gratitude and an obligation to write this book that my teacher asked me to write. My book will be something that educators could read, also people who are interested in the lessons of my teacher, or just Traditional Aikido and martial arts. I'm hoping it can even go beyond that and people without an Aikido background can read it. This will definitely be a memoir for anyone who does Aikido throughout the world to read. It won't be written solely for my students, but a wider audience of people.
What do you hope to get out of writing this book?
I hope that people, especially from an Aikido audience, people who are interested in the art, or who've practiced the art, will realize that "the process of how you train" is vital in order to gain the most from it. Understanding the precepts of this art is very attainable through hard work. It's not as mystical as people think or make it out to be. I want to teach people the "practical and logical ways of Traditional Aikido training" like my teacher did through his teachings. For non-Aikido people, I hope they can recognize that Aikido and traditional martial arts are very educational and life-giving. Budo is about a lifestyle and how you can make parallels from it with your passions and in such things as personal relations, hobbies, education, and your career, etc. Discovering these things through practice can inspire you to live a good life and try something new. There is a traditional way and a process to go about learning something, beyond Aikido. That is what I hope people can get out of my book. I think there's just something special about getting back to the basics of respect and training the mind and the body. I want my readers to know that there are no shortcuts to becoming proficient at something. In life, it's important to be good at something—even just one thing, and we can all be good people.
What else would you like to add about Aikido?
Aikido is for anyone and everyone. It is my mission and my purpose in life. Sometimes people can live an entire life and not know what their purpose is. This is what I'm meant to do. I know it well, and I don't mean that in a conceited way. It is because of who I learned from. I know I can give students an authentic experience of this art. We all have our strengths and weaknesses. When it comes to Aikido, I was able to immerse myself into the country, the culture, the village, and train with the highest-ranking person in the world at the time for a decade. I was living it, learning it, practicing it, breathing it, sleeping it, and eating it… My wife often reminds me that not everyone is as passionate about Aikido as I am. But I just know it's a tool that can help people. I'm not saying it's the only tool that can help people. Aikido is no better than (or less than) any other art out there, but it is a way to connect with people and learn about yourself. You meet people not just locally, but globally. The training itself is lifelong. I tell my students, "If I teach you once, I will teach you for life." If life gets in the way, or something happens, students can always come back to the dojo. It's a constant and will always be there. I've had previous students visit me. They've gone off to the military, became nurses, or law enforcement officers, and teachers, etc., and they show up and come back to the dojo. They feel a part of our class history. We had our ten-year anniversary in 2018 and over 50 people came back for it. It was incredible! NHCC's Aikido program is known worldwide, which is exceedingly rare at the college level. We're even recognized by the Aikido World Headquarters. So, I feel I have a responsibility, and I take it very seriously. I keep my class very clear in both its teachings and expectations, holding students accountable for showing up prepared to learn. Rule #1: Show up. If people come through this class at North Hennepin Community College, I want them to learn about themselves, first and foremost. I want them to have a place to come back to and feel like they belong. I want students to know that they are always a part of the Aikido of NHCC family. If it is their only experience in martial arts, I want it to be authentic. If they continue to train and go on to another dojo, I don't want them to embarrass themselves, or me, or our college. If you can change even one student's life in a positive way, you're doing your job right. My job as an educator is to teach, recognize, and draw forth the wonderfulness of my students, and Traditional Aikido has and continues to serve as my medium for doing this in the hopes of fulfilling NHCC's mission of "Engaging Students, Changing Lives."