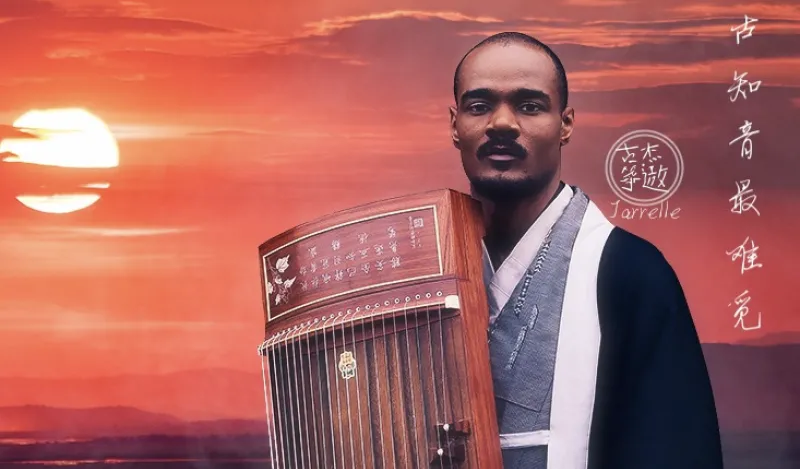 Join us on Wednesday, November 29th from 11:30am-1:30pm in the Grand Hall for a special performance by Jarrelle Barton, a noted African-American composer, and Chinese stringed instrument (Zither and Guzheng) musician.
Stop by for the entire performance, or just listen as you're able to, anytime from 11:30am-1:30pm,
on Wednesday, November 29th at NHCC in the CBT Grand Hall. 
We're very lucky to be hosting this musical performance on campus! It is a rare opportunity to hear the ancient and modern Guzheng music; and experience the peacefulness it provides, unparalleled by many other instruments.
At the event, Jarrelle's music will be accompanied by photographer, Jerry Sedgewick; who aims to capture "soul" portraits of willing audience members as they watch and listen to the performance. Jerry's photos were recently featured in Insight News, with every portrait powerfully revealing each person's essence. Learn more about Jerry's photography in this video, here. 
This upcoming performance was made possible with support from the Cultivate Arts Grant through the Metro Transit Blue Line. Jarrelle Barton's project titled, "Peace on the Blueline" involves this event and others along the proposed Metro Transit Blue Line light rail route. Excitingly, North Hennepin Community College is a major stop along the proposed Blue Line extension from downtown Minneapolis to Brooklyn Park. We look forward to seeing where this potential partnership takes us!
Meet the Musician:
Jarrelle Barton began learning the stringed musical instrument, Guzheng when he was 14 years old, practicing with Minnesota expert, Li Jiaxiang, of Beijing. As Jarrelle relentlessly practiced, over time his skill improved, and he started composing his own music. 16 years later, Jarrelle professionally performs concerts, teaches students, and arranges music. In addition to performing the timeless, traditional classics, Jarrelle also enjoys creating new acoustic sound experiments on his Guzheng. If you wish to reach Jarrelle Barton, you can call him at: 763-645-2554, or email him at: bartonjarrelle@yahoo.com. View his MPR feature here. 
We hope to see you at NHCC for this unique musical experience on November 29th!