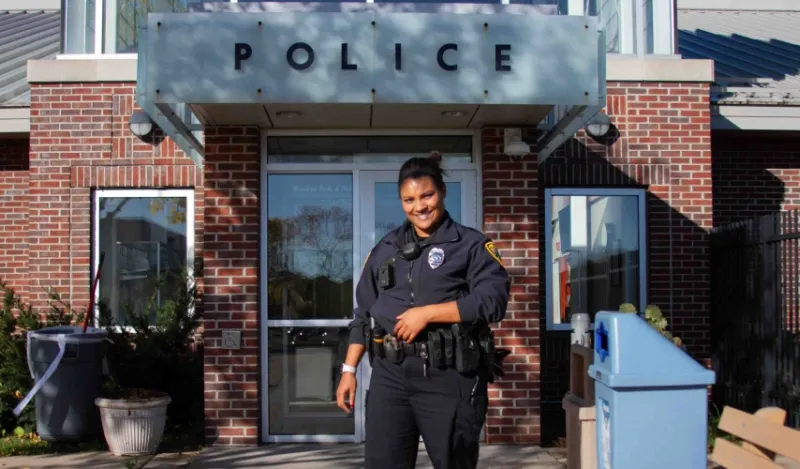 There are few places more welcoming of a child's imagination than in front of the television. That is particularly true for Alyssa Archer. The child of a single-parent family, Alyssa's mother was forced to work long hours in hopes of providing for her family. On those nights, which were many, Alyssa would spend the evening at her grandfather's house. It was there a dream was born.
One night, her grandfather, a big fan of the reality legal series, "COPS," introduced Alyssa to the fast-paced world of those in law enforcement. Quickly, the show became one of their favorite activities to do together. At four-years-old, she found herself drawn to the brave men and women in blue, who worked to separate order from chaos.
"One of my biggest and most distinctive childhood memories is watching "COPS" with my grandpa," recalled Alyssa. "I knew as a kid, that's what I wanted to do. But, it didn't have meaning yet." That would come later.
Dreams, Meet Resistance
Alyssa had every intention of pursuing a degree in law enforcement. However, months before she was scheduled to graduate from Fridley High School, Alyssa's life took an unexpected turn. She found out she was pregnant, forcing her to reevaluate her post-graduation plans.
I had to weigh the options of becoming a single mom and a police officer, which maybe wasn't the best fit for my child," she recalled. Yet, despite the challenges she faced, Alyssa took a chance on herself. She decided to continue her education, if not for her, for her daughter.
In January 2008, while her daughter was still an infant, Alyssa enrolled in courses at North Hennepin Community College and began dispatching for a local police department. However, in an attempt to juggle homework, a full-time job, and newborn baby, Alyssa slowly succumbed to burnout. So, she decided to take a break from school and focus on work and raising her daughter.
"I knew if I kept going," Alyssa admitted, "I'd be repeating classes. I wasn't focused or mentally prepared. But, I promised myself I'd go back when my daughter started kindergarten, and that's what I did."
In 2013, after a five-year break, Alyssa re-enrolled in courses at NHCC. This time, she had a better understanding of what it would take to find academic success. She registered for nearly all online courses, which allowed her to continue overnight dispatching, while still leaving her enough time during the day to complete her assignments, and of course, sleep.
"My motivation is my daughter. She had to see me get a degree."
The Finish Line
Two years later, Alyssa graduated from North Hennepin Community College with an associate degree in law enforcement. Suddenly, she was one step closer to realizing the dream once set in her grandfather's living room. However, it would take two more semesters of schooling to prepare her for a job in the police force.
Following her graduation from NHCC, she enrolled in two semesters worth of courses at the Law Enforcement Education Center (LEEC), part of a Professional Licensing Program, for hands-on learning. It was the last step in her journey to a job with a police department. But, like any race, the closer you get to the finish line, the more resistance you face.
Unlike her time at NHCC, Alyssa was unable to complete LEEC courses online. Instead, she would have to attend class four hours per night, Monday through Friday. Thankfully, Alyssa's grandfather, her biggest supporter, volunteered to watch her daughter every night after school, just like he had done for her mother. It was exactly what Alyssa needed to complete her education.
Today, Alyssa is a police officer for the Brooklyn Park Police Depart­ment, and a good one at that. In her current position, she is able to bring a new and fresh perspective thanks to her life experiences. After all, they say hard times form character. 
"I've been through and seen a lot in my life," said Alyssa, "and because of those events I realized I could relate to people and the job better, whether it's teenage parents, domestic violence victims, whatever."