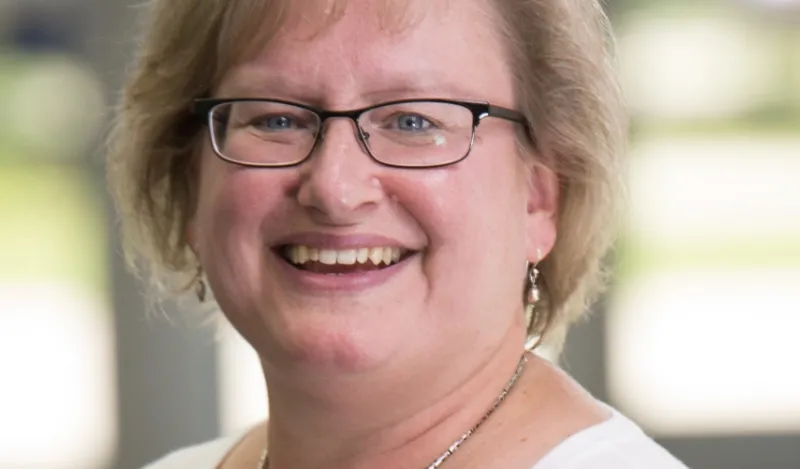 To some students, the Paralegal Program at NHCC might be considered a hidden gem. We sat down with Paralegal Program Director & Instructor, Mary Fenske, to demystify the program and to find out all the details!
First and foremost, for people who don't know, what type of work does a paralegal do?
The American Bar Association (ABA) defines a paralegal as a person who is qualified by education, training, or work experience, who is employed, or retained by a lawyer, or law office, or corporation, governmental agency, or other entity, who performs specifically delegated, substantive legal work, for which a lawyer is responsible. The biggest piece from that is the "substantive legal work" terminology. That differs our program from a legal assistant program or a legal secretary program. Most of what paralegals do are the things that a first or second year attorney might have done 20 years ago.  Paralegals may interview clients and witnesses, conduct legal research, prepare legal documents under the direction of an attorney, conduct investigations, and assist with trial.  Paralegals are qualified to do a lot of work that the lawyer does, except they can't sign legal documents, take depositions, represent a client in court, set fees for the client, or provide legal advice.  I draw an analogy between a physician's assistant or nurse practitioner and a physician. As a legal professional, paralegals can do a lot of the things that an attorney might do, but there are some exceptions.  Furthermore, they work under the supervision of an attorney.
In August, Minnesota Lawyer Magazine released its 2020 Reader Rankings and NHCC's paralegal program was the highest ranked community college in the state. What does that say about NHCC's program and our graduates?
It's great and always nice to hear! This is the third year we've been on the list. We're really proud of it, because the two other schools on the list are four-year institutions.  It can be tough to compete with four-year programs, but it's nice to be named the top community college paralegal program. I think it is fantastic, especially since we're the only public college located in the Twin Cities on the list. This ranking says a lot about our program in terms of our teaching, job placement, and how much we're noticed by the legal community in the Twin Cities. NHCC paralegal students are prepared and have the skills needed to enter the legal job market.
How has NHCC's paralegal program changed over the years?
The biggest change has been focusing more on getting students to network. We started the Paralegal Student Association about ten years ago as a means for our students to connect with each other and legal professionals in the Twin Cities.  We've also focused on the growing area of legal technology.  A lot of lawyers hate technology, so they really rely on their paralegals to know how to use it.  Each year there are new platforms for organizing and reviewing cases, documents, deadlines, and electronic data.  These platforms assist paralegals as they conduct investigations and manage documents in both small and large cases.  As a result, we've focused on getting students the computer, technology, and information management skills that will prepare them for the workforce.  In our PLEG 1210 Computer Applications in the Legal Profession course, our paralegal students learn the basic Microsoft Office Suite programs, but we also include different programs that are used strictly by legal organizations, including timekeeping software and case management software. In our Legal Research & Writing I and II courses, students learn how to do electronic legal research on three different types of databases that are widely used by firms, including Westlaw, Lexis-Nexis, and Fastcase.  Our students leave NHCC with the skills they need, including how to perform legal research for an attorney, but they're also learning how to prepare legal documents including wills, complaints, petitions, affidavits, and deeds.  Our students are prepared for the legal job market, and I'd say that's probably why we're listed in the top three paralegal programs in Minnesota. Many employers, recruiters, and internship host supervisors are really impressed with how prepared our students are for work in the legal field.  They like to see North Hennepin grads, because they know that they'll be ready to work.
Where do you see the program going in the future?
In terms of the future, we'll always be adding more technology as it becomes available and we're also looking to add more classes during the day. A lot of our students are nontraditional students, who are coming back to school. We're getting more students in their 20's, but we get very few who are coming right out of high school. We would like to expand our course times to fit more schedules. This semester we're teaching a class at 10:30 in the morning and it filled much better than we thought it would. We would like to add more sections throughout the daytime, so that we can attract more students who are right out of high school. It's a great profession; it pays really well for an associate's degree, and graduates are qualified for a position right after graduation.  In fact, many of our students get job offers before graduation! Paralegals are in demand; a 10% increase in paralegal jobs is predicted through 2029.
Can you share a little information about NHCC's Paralegal Student Association (PLSA)?
The PLSA Club just had their first fall meeting. They planned out their semester and what they'll be doing. Usually they have a few speakers come in to talk and, thankfully, that's pretty convenient to do via Zoom. The club has a nice mix of fun and educational aspects for students. In the past, the PLSA has had speakers come to campus, including attorneys, paralegals, or employers who were hiring. They also toured the State Capitol right after it was renovated two years ago. In addition, the PLSA publishes a newsletter throughout the year with articles about recent legal events, Q & A's with professors, and other legal-related topics.  All in all, NHCC offers many opportunities for paralegal students to get involved. 
What would you tell a prospective student about the value of a paralegal degree?
The paralegal program really prepares a student for all types of jobs. We are called the paralegal program, but there are a lot of things you can do with a paralegal degree. We have students who work in the court system as court clerks. They are in the courtroom every day, recording what goes on, managing the court's schedule, and consulting with attorneys appearing before the court, in addition to keeping the cases up to date electronically. There are also corporate sector jobs in compliance and regulatory work. Many corporations have pretty strict regulations they have to follow, for example, the banking industry, security industries, or even a company like Cargill or 3M, that has to manage patents, real estate purchases, and immigration visas for employees, etc.  These companies have a tremendous need for paralegals who can navigate regulations and other laws, while also preparing legal documents to complete corporate transactions.  In addition, many paralegals work in law firms that represent clients in legal disputes or transactions, while others work for the state or county including county attorney's offices and public defender's offices.  Our program is also really great preparation for going to law school, as a fair number of our graduates have done.  Sometimes grads will contact us after their first year of law school and they'll say, "Thank you so much, you prepared us so well! Legal research and writing was not very hard for me in law school because I was already prepared and I knew what to expect." That's a good feeling.
You've been teaching in the paralegal program at NHCC for more than 10 years. In your opinion, what makes NHCC unique?
We did a survey of our students a few years back, and I still think it holds true. These were the three big factors that stood out to students.     1. Our faculty; 2. Our ABA-approved status; and 3. Our location. We are the only ABA-approved paralegal program right outside of Minneapolis (where a majority of the jobs are located). The fact that NHCC is approved by the ABA really gets us noticed by employers. There are only five paralegal programs in Minnesota that are ABA-approved. Of those schools, only two of them are ABA-approved community college paralegal programs. NHCC's paralegal program is also ideal because the cost is very reasonable and students pay by the credit, which is a much better deal for a working adult who can only take 2-3 classes a semester. Finally, the paralegal faculty at NHCC have great relationships with their students. We've developed a lot of goodwill over the years. I recently posted about our paralegal program on LinkedIn and several former students commented, "I wish I was still in school at NHCC," "I miss it there," "It was so much fun," "I loved my experience." We've really established a relationship with our current students and graduates that I think is a pretty rare, especially within a community college program. For many paralegal students, they have plenty of other things going on in their lives. NHCC is a safe place for them to learn and enjoy. Our faculty are very approachable. They work hard, they respect the students and, in turn, the students respect them. I think when you add all of those pieces together, that's what makes NHCC's paralegal program special. 
For more information about NHCC's Paralegal A.S. degree and Paralegal Certificate, see the paralegal certificate page here.