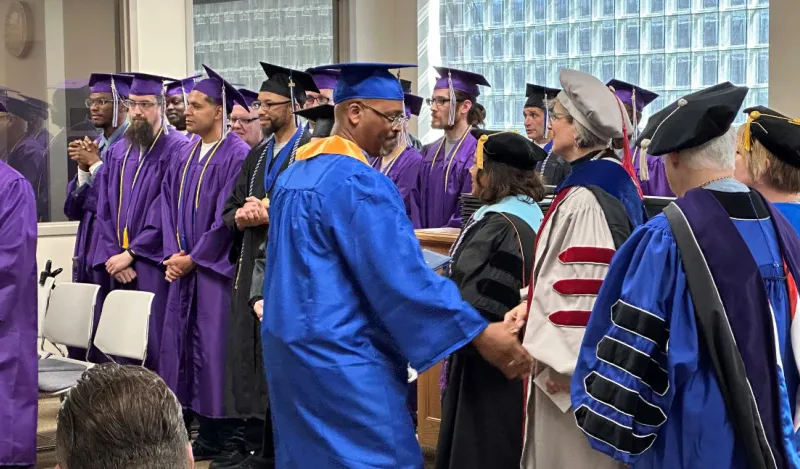 Media Advisory: Paralegal Program Receives 2023 Improving Access to Justice Excellence Award
North Hennepin Community College's Paralegal Program, in partnership with The Legal Revolution, received a 2023 Improving Access to Justice Excellence Award from the Hennepin County Bar Association. Their paralegal internship model allowed incarcerated paralegal students to remotely intern for The Legal Revolution law firm and prepare 26 criminal expungement cases for hearing over the course of the semester.
NHCC's Paralegal Program is the first, and only, American Bar Association (ABA) approved paralegal program in the country to educate incarcerated students, and this is the first paralegal internship opportunity for incarcerated students in Minnesota Department of Corrections history. The pilot, which began in fall 2021, contains a cohort of five students from the Stillwater and Shakopee Correctional Facilities who take 2-3 paralegal courses each semester. All five students will graduate in May 2023. One of the graduates had this to say about the program. 
"The very concept that as a prisoner I am being given the opportunity to give back to a community I damaged is astounding. When we work on expungements, we get to help others who will never know that I was the one helping them. This is important because I get to give without any expectation of a return. I just get to be a part of the solution. My reward is personal growth that stands on a foundation of strong character. This enables me to empower my own community, while empowering myself. This program has allowed me to show who I really am through my actions. This paralegal education is about more than opening up employment opportunities. It's about defining myself with a new label and not being defined by my worst day." – H
NHCC began this initiative in partnership with the Minnesota Department of Corrections and All Square and its subsidiary, The Legal Revolution, a nonprofit social enterprise in Minneapolis serving those impacted by mass incarceration. All Square and The Legal Revolution channel wealth and opportunities to currently and formerly incarcerated individuals towards a world where the harms created by the criminal legal system have been healed.
"The time is really ripe right now," said Mary Fenske, Director of the NHCC Paralegal Program.  "There is so much that people want to do to improve the criminal justice system. One of the ways to do that is to get justice-impacted people involved in the process by providing them with a high-quality legal education." This groundbreaking work is at the core of NHCC's mission of engaging students and changing lives.