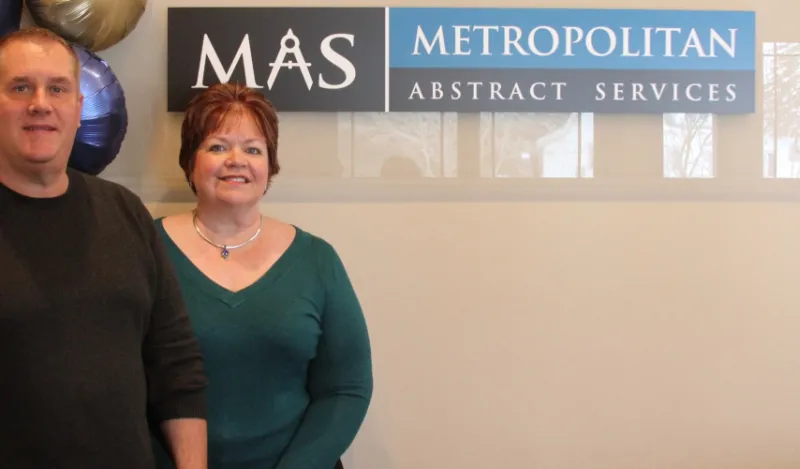 To read more paralegal testimonials visit, blog.nhcc.edu/tags/paralegal 
At NHCC, we find joy in sharing stories about our students and alumni. We look forward to hearing their NHCC experiences and discovering how their lives unfold after graduation. 
Recently, we met with a couple named Tom and Erika Solom. Both of them are NHCC alumni, both of them were in the Paralegal program and both of them currently run a business together. Tom is the President, CEO and founder of Metropolitan Abstract Services, Inc. and Erika is the Vice President and Office Manager. 
Metropolitan Abstract Services, Inc. (MAS) provides title research to a variety of real estate professionals throughout the country, servicing all 87 Minnesota counties. MAS has an impressive history of large scale projects they've worked on. During the construction of the Mall of America, MSP Airport and the Minnesota Twin's Stadium, MAS was in charge of all of the land research. Most of the work Erika and Tom do is done behind the scenes, as the research that goes into each project is very important. This year MAS is celebrating their 25th anniversary. 
However, long before starting their own company, Tom and Erika were aspiring paralegal students at NHCC. They look back on their memories at NHCC fondly. Tom recalls, "I had a great experience at NHCC. I thought it was a fun, friendly and safe environment. It was convenient for me and the tuition costs were very reasonable. I went to North Hennepin and I don't regret it." Erika liked the flexibility of being able to pick classes that fit into her schedule, noting, "Back then, North Hennepin was one of the only schools that had evening and weekend classes." 
Erika and Tom both eventually ended up in NHCC's paralegal program, but initially had different starting points. Tom went to the University of Minnesota for two years, where he discovered real estate law. He really enjoyed those classes and his professor encouraged him to check out North Hennepin's paralegal program. Once Tom toured North Hennepin and talked to the staff, he decided it was a good fit for him. As for Erika, she started out at North Hennepin with a business management intent, taking general courses. At that time, paralegal courses were in a way combined with business courses. This made Erika's transition from business management to paralegal simple. 
During college, Erika was given the opportunity to intern. Looking back, she realizes how beneficial this experience was in giving her exposure. Erika suggests, "In the paralegal program, it's important for students to get an idea of what they have an interest in. I would advise someone to tailor their internship to what they're passionate about, to see if that's really what they want to pursue going forward. Interning is a good way to start out in your field, while you're still in school." 
Just as Erika was once an intern herself, now she's the one hiring interns at MAS. Real estate law is something that few people are well versed in, so it can be tough to find interns at times. However, Erika and Tom have found NHCC paralegal students and graduates to be great interns. Erika remarks, "Since our business is unique, many people are unaware of what we do here. That's why being an intern is a good way for them to get exposed to it." One of the top qualities Erika looks for in her prospective interns is attention to detail. Erika adds, "A good intern is a person that likes law and history, who enjoys putting on that Sherlock Holmes cap. They want to investigate and find out the hidden history and what pieces are missing. We're looking for somebody that likes to read documents and figure out the mysteries of the puzzle." At MAS, it is imperative that interns are very organized and task oriented. They should be able to handle multiple projects at one time and keep track of all the due dates. Tom contributes, "A big factor we look at when hiring is communication. We like people who aren't afraid to roll up their sleeves and work in a fast-paced environment. We look for people that are self-starters, people that know what the duties and tasks are and do them. Hiring a student from North Hennepin takes a lot of the guesswork out." 
At MAS, everyone is trained and treated as professionals. Over the years, almost all of their interns have been NHCC paralegal graduates and nearly all of them have been hired on. Erika is happy with her choice to work with NHCC graduates, "We've gotten great people through NHCC. North Hennepin students are excited to learn new things. They're willing to put in the time and work, that's why we keep hiring them!" MAS invests a lot into training their interns and makes them knowledgeable in their field. Tom informs, "When we're interviewing interns, we're looking for somebody that's going to be a good fit with our business. It's a huge time cost, to train somebody to do what we do here. Therefore, we want to make sure that they're passionate and also that there's good chemistry with our team. That's always important." 
While at NHCC, Tom and Erika received the necessary elements to start their careers, just like their interns. Tom comments, "The interns have a good foundation and that's really what we're looking for. You can't build a house without a solid foundation and North Hennepin gives you those building blocks." Tom and Erika admire how the program gave them a taste of the various aspects of law and helped them figure out what they were interested in. NHCC's paralegal program got their feet in the door. It allowed them to start on the ground level and follow their dreams from there.