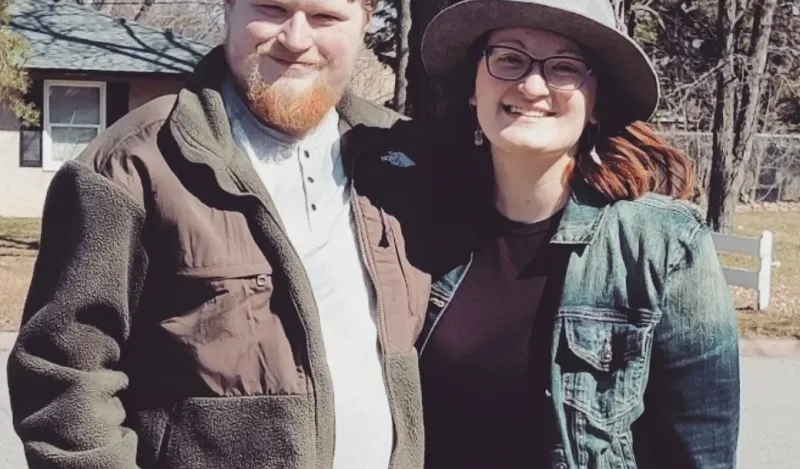 For over 2 years now, the NHCC Foundation has been creating Coffee Break videos with alumni. In these videos, Troy Nellis, NHCC Director of Alumni Relations and Development meets with alumni to chat. They reminisce about Student Life, TRIO, and their favorite faculty, or professors. This is also a chance for alumni to share with Troy if any people, events, or services at NHCC made a difference in their life. 
NHCC alumni, Maddi and Theo shared their story with Troy and we'd like to share it with you!  
In the fall of 2018, two fresh high school graduates, Maddi Bitzer and Theo Melchior were in the same Public speaking class with Sean Larson at NHCC. Theo thought the class was for people who liked to speak publicly, Maddi took it as a required class.
They exchanged a little talk throughout the class, as he sat behind her. Maddi was also taking Biology 1001 with a professor named Paul Melchior, and asked Theo in class if he was related. He grudgingly said, "yes, that's my dad". Maddi ended up telling Paul in class later that his son is weird. Little did he know that they would end up dating!
After that fall semester, Theo friended Maddi on Facebook and they exchanged small talk. This led to Maddi sharing that she was going through a hard time with her boyfriend and appreciated a friend to lean on. When the boyfriend broke up with her, Theo was there every day to answer calls and to help her through it, as it was really hard for her. They ended up becoming good friends and then started dating soon after. 3 years later and they are happily together, looking forward to the future.
Today, Maddi studies at St. Catherine University and is pursuing a B.S in echocardiography and a minor in leadership and Theo is pursuing a degree in technical communication and professional writing at Metropolitan State University. They are one unique power couple that just work together so well.
"Thanks to NHCC for bringing us together! Our lives will forever be changed for the better." ❤️
-Maddi & Theo
Find all of the Coffee Break videos on the NHCC Alumni Association YouTube Channel, here.