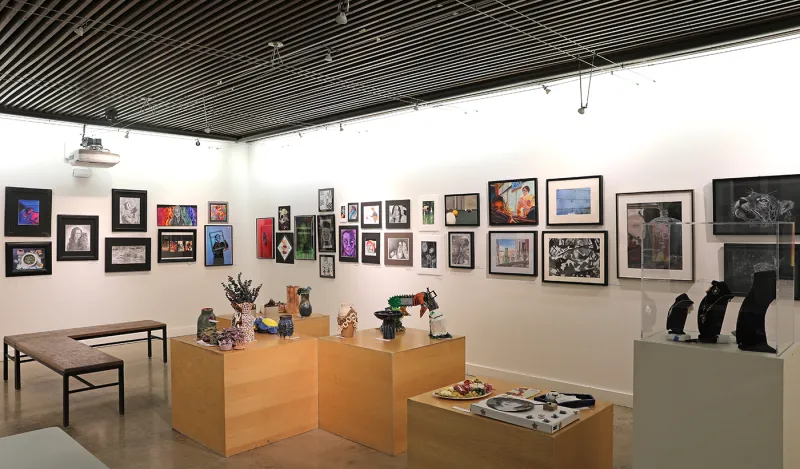 Northwestern 2023 Awards  
The 15th annual Northwestern High School Art Show was a stunner. The show featured so many incredible pieces from what's clearly a very talented field of high school student artists. To learn more about the show, visit the Northwestern page. 
Thank you to everyone who participated in this year's show! 
North Hennepin Community College is very pleased to announce the 2023 People's Choice Award and Artistic Merit Award recipients. 
People's Choice Award
Every year, attendees of the art show vote on their favorite piece. The student with the most votes wins the People's Choice Award and is featured on the art show promotion materials for the following year.
The 2023 People's Choice Award goes to: 
Elia Blakely-Anderson
Armstrong High School
Title: Family Owned Business
Media: Digital Photograph
Artistic Merit Awards 
A panel of experienced artists serve as judges and select Artistic Merit Award recipients from each participating high school. 
Coon Rapids High School
Greg Davis
Title: Untitled 
Media: Charcoal 
Elk River High School 
Josh Shade
Title: Flora Borealis
Media: Raku
Irondale High School 
Vinina Chen
Title: Aquarium Adventure
Media: Colored pencil 
Maple Grove High School 
Abigail Polen
Title: Serene Lights 
Media: Photography 
Osseo High School 
Rebecca Craig
Title: Fire Glow
Media: Painting 
Park Center High School 
Benjamin Thao
Title: Portrait
Media: Charcoal  
Prairie Seeds Academy 
Jaylynn Xiong
Title: The Girl Who's Blue, Surrounded by Red
Media: Acrylic on canvas 
Robbinsdale Armstrong High School 
Jenna Hamann
Title: Vase
Media: Ceramic   
Rogers High School
Sophia Okeefe
Title: Still Life with Mannequin
Media: Pastel/charcoal 
St. Michael-Albertivlle High School 
Elliott Loftus
Title: Grief
Media: Mixed media painting
Zimmerman High School
Ashley Gruwell
Title: Swamp Slumber
Media: Graphite on paper 
Congrats to all the award recipients!