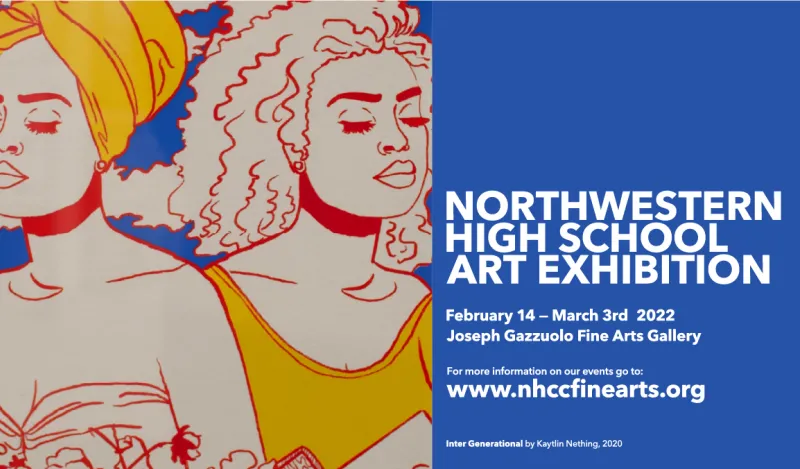 Come Visit!
The gallery is open Monday through Thursday, 8:00 a.m. – 7:00 p.m., and Friday 8:00 a.m. – 12 p.m., February 14 through March 3. 
About The Show
The NHCC Fine Arts Department is excited to welcome our annual Northwestern High School Art Exhibition in the Joseph Gazzuolo Fine Arts Gallery. The exhibition celebrates the outstanding artwork produced by local area high school students and includes drawings, paintings, photography, jewelry, ceramics, and more. 
For spring semester 2022, ten area high schools will participate — Anoka, Elk River, Maple Grove, Osseo, Park Center, Parnassus Prep, Prairie Seeds Academy, Rogers, St Michael Albertville, and Zimmerman. Up to 10 students from each school may submit artwork for the show. 
This year's show contains approximately 80 pieces of art. We are encouraged by the level of engagement from each participating school. The talent behind these artworks on display offers a beautiful glimpse into the individual creativity of the next generation. We intend to help these young artists reach a larger audience through participation in a college exhibition.
One student from each participating high school is recognized by NHCC faculty with an Artistic Merit Award during the exhibition. Visitors to the gallery may also cast their vote for a People's Choice Award. The winner of the PCA will be featured on next year's postcards and website. 
 This year's awards will be announced online: February 28th, at 5 pm.
Joseph Gazzuolo Fine Arts Gallery
Fine Arts Center Room 135
List of Winners
ANOKA HIGH SCHOOL MERIT AWARDS
Duality?
Danny Nezz
Warmth
Abby Keup
HONORABLE MENTIONS
Apex Predator
Nicole Lofstrand
Croco
Samantha Julkowski
ELK RIVER HIGH SCHOOL MERIT AWARD
Who's Catching Whom?
Emma Gangl
HONORABLE MENTIONS
Self-Portrait
Levi Donat 
Reaching for the Last Life
Cerina Chang
Connected
Ella Ovall
Bug-dega
Etta Sether
MAPLE GROVE SENIOR HIGH SCHOOL MERIT AWARD
Pouring Vessel Set
Dylan Auseth
HONORABLE MENTIONS 
Syn Co-pe
Allison Weast
In the Wild
Bjorn Nelson 
Raku Bottle
Ella Williams
Behind the Veil
Amariah Robinson
OSSEO HIGH SCHOOL MERIT AWARDS
Sleep is the Only Way Out
Seth Vue 
Ikari
Cally Tran Concepcion 
Angles
Gareth Price 
Self-Portrait with Cell Phone
Nkauj Huab Pha 
HONORABLE MENTIONS
Room on Fire
Tristen Ru-Zitch-Ka 
PARK CENTER HIGH SCHOOL MERIT AWARD
Happy
Ajena Yang 
HONORABLE MENTIONS
She Takes My Breath Away
Yeleng Jordan Vang
The Other Bathroom
Rome Nguyen
Ruby RedYuko Lo
Silent Rage
Foday Nyanplu 
PARNASSUS PREPARATORY MERIT AWARD
Complementary Ganesha
Vidhi Sharma
HONORABLE MENTIONS 
Analogues Painting 1
Julia Ross
Flowers of the Golem
Anya Kycek
Blue Jay
Gabby Schaefer 
PRAIRIE SEEDS ACADEMY MERIT AWARD
My Identity
Sara Yang 
HONORABLE MENTIONS 
Pandemic? I'm Still Me.
Adriel Thao
Pink Clouds
Daisy Xiong 
Pretty Privilege
Vivian Xiong 
ROGERS HIGH SCHOOL MERIT AWARD
Antique Store
Claire Ruska
HONORABLE MENTIONS 
Up by the Light House
Shanon Dickman 
Code Blue
Lexi Lynde
Lexi
Allie Timpe 
Riverwalk
Brynn Rein-es 
Vegas Baby
Kelly Farmer
ST. MICHAEL ALBERTVILLE  HIGH SCHOOL MERIT AWARD
A Meal with Old Friends
Oliver Hilstrom
Daydreaming
Amelia Johnson
HONORABLE MENTIONS 
Self Portrait No. 1
Emma Cliff
ZIMMERMAN HIGH SCHOOL MERIT AWARDS
In the Dark of the Night
Ashley Gruwell 
HONORABLE MENTIONS 
Self-Portrait with Symbolism
Riley Hanson
Groa
Abby Benson
PEOPLES CHOICE AWARD. 
72 Entries – 
Angles
Gareth Price