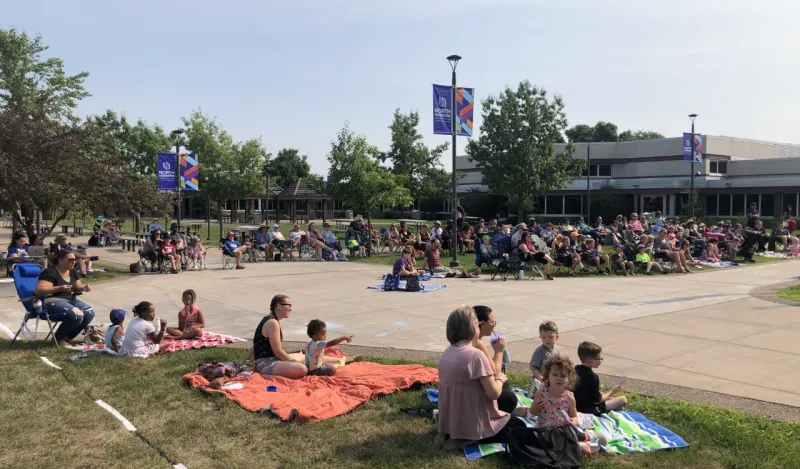 Are you interested in enjoying some local, outdoor entertainment this summer?
There's no need to look any further, we've got you covered with our Jazz in July events and the Pickup Truck Opera! 
Introducing the Jazz in July Concert Series! Each Tuesday night in July, NHCC and the City of Brooklyn Park will feature a local jazz group LIVE in the NHCC courtyard. These family-friendly events will be held on Tuesdays, from 7-8pm. Bring your blanket or chair. Food trucks will be available on site. No pets, please.   
Find more information about the Jazz in July concert series:
July 19 – Bend in the River Big Band, due to an impending heat advisory, this concert has been moved into the FAC Theatre.
July 26 – Brooklyn Big Band 
Thursday, August 18, 7-8:30pm - Mixed Precipitation performs, Pickup Truck Opera, The Magic Flute, NHCC Courtyard. 
The Pickup Truck Opera, is a mobile operatic adventure for socially distant outdoor fun. Mixed Precipitation presents the second installment of their traveling operatic adventure. Unfolding on their blue 2011 Ford Ranger Pickup Truck stage, and a trailer as the container and platform for the opera's action, this show is lively fun for all ages. 
NHCC Music Director and Adaptor, Gary Ruschman also helped to create this futuristic opera retelling.  
Mixed Precipitation's summer tour includes performances in sprawling parks, nature centers, and farms all over Minnesota. Audiences are encouraged to bring a lawn chair and beverages for their comfort. Guests may show up day of. Registration is not required. 
Find more information about the Pickup Truck Opera event: