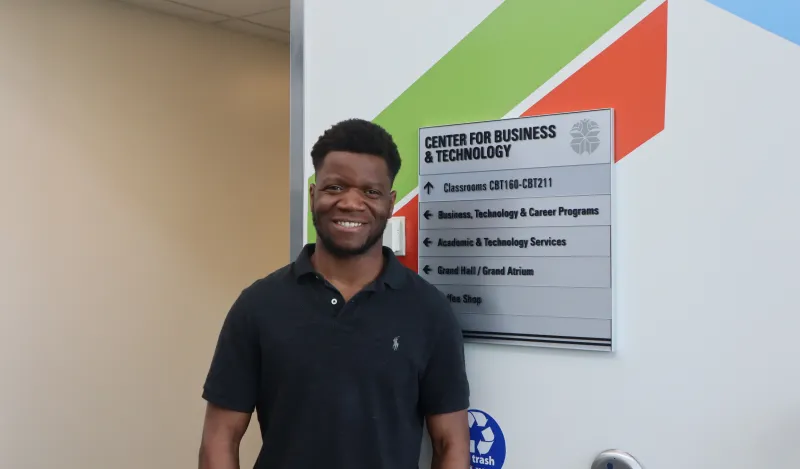 Clifton Manneh, a former NHCC student, and campus leader is currently on a mission to provide quality, affordable, all-subject tutoring to students via his platform, Konduct Coach Learning.
Get to know Clifton and learn about his Konduct Coach Learning tutoring platform, below!!
(Clifton was also featured recently in a CCX article, you can read and watch here). 
Can you please tell us a little about your background?
I was born in Monrovia, Liberia. My home country was unfortunately plagued with a brutal civil war; but due to the war, we were able to gain status and come to the U.S. We later emigrated to New York, specifically Staten Island. Growing up in New York, it was rough as an immigrant, trying to settle down and find common ground. In 2013 I graduated high school, and in 2014 we moved to Minnesota. I was a normal college student-aged-kid, straight out of high school. I was trying to figure out what I should do with my life, and where I should go. I tried going to school in New York, but it was really expensive. My mom had some family in Minnesota, and I moved here quickly to try to figure things out. I haven't been in Minnesota for too long, but I love it here, (aside from the cold). My aunt and uncle from Minnesota were the ones who told me about NHCC. I went to go see the campus in July of 2014 and at first, I thought it looked like a maze.
Did you start out at NHCC taking general classes?
Yes, I started off general and eventually moved between marketing and business administration. You know, I wasn't too involved on campus starting out, because college is a different world all in itself. I didn't know how to navigate the waters. It was scary at first, being a small fish in this big ocean. I mostly stayed to myself in the beginning.
Over time, did you become more involved on-campus?
Yes, I did. I was walking in the hall one day and Michael, the Chief Diversity & Equity Officer at the time, introduced himself to me. He said, 'Hey, you should meet the crew and check our Diversity Office here! Try this, you should be a part of this club, we can help you get involved in all these initiatives.' I was totally blown away by all the opportunities offered to me. From that day on, I just made it a point to stop by the Diversity Office every day. I participated in an organization on campus called, Global Salaam. I became the president of Black Male Leadership. Which was an organization that helped lead and divert young men of color in the right ways. Through mentorship, leadership opportunities, job coaching and helping them navigate the waters of college easily. One of the best aspects of being a student at NHCC, was being involved in the clubs. I'm still connected to some former Black Male Leadership members. We still talk, we still hang out in the community and stuff. We support each other in any possible way that we can. Monumental events also took place when I was at NHCC too. Students led a few protests surrounding biases that took place on campus, they stood up and spoke out for what they believed in.
Today you're a student at Metro State, how did you land there?
In 2017, I transferred to Metro. It was a little harder to transfer because I didn't get a two-year degree from NHCC before I left. Metro State is a four-year institution, and I wasn't sure if they would accept me at first. But I sat down with my advisor, and she broke down the process for me. She told me that I wasn't any different than the students who start here and don't have a degree prior. All of my credits transferred right over, which was equivalent to the 120 credits I'm moving towards for my degree. After graduating from Metro in fall of 2022, I'll have my bachelor's degree in Organizational Communication. I want to use my bachelor's degree to either cross the bridge into corporate life, or use it and continue the work I'm doing, in building my all-subject, tutoring platform. I'll use my degree no matter where life takes me! I'm going to follow my heart, and my heart is really invested on what I'm working on right now.  
What's the most rewarding part of your online tutoring platform, Konduct Coach Learning?
I find the connections between the tutors and the students very rewarding. And beyond that, I enjoy incorporating mentorship into tutoring. I think back to what really got me to stay involved in the Diversity Office at NHCC, and it was the aspect of mentorship. The foundation of mentorship that they provided in the Diversity Office, along with my involvement in Black Male Leadership, that really helped me to make sure I was successful inside and outside of the classroom. I was staying out of trouble; I was staying on the course to be successful. They provided that mentorship security blanket. That's the same thing that I hope to incorporate today with my tutoring platform. I hope students build repertoires with their tutors, and they can build strong mentorships together. I run the business of Konduct Coach Learning and I'm basically doing all the work behind-the-scenes. I create the ads on social media to find the tutors that students need. We find a lot of our tutors through friends and family word of mouth referrals too. Konduct Coach Learning has a strong social media presence. We target prospective tutors online to tell them why they should become a tutor and why it is important.
Are the tutors all professional people who work in the field?
It's really all across the board. We've got tutors who are working professionals, some college students, and soon-to-be-college-graduates. When it comes to tutors though, we don't just look for anyone, we want people who obviously have the knowledge and intellect in what they're teaching. If they're teaching you how to speak English, working with you on writing, math equations, or whatever it may be, we make sure they have a strong background in it. We want our tutors to equip students to be as successful as they can be.
Did you work on the backend coding of the tutoring platform?
No, as of now I don't do that. Hopefully, someday I will get into coding, because I believe everyone today should know how to do that. I would eventually like to add that to my tutoring platform and help bridge the gap for the next generation. I think coding and software are very lucrative fields to be in. However, outside of being lucrative fields, there's also a lot of impact created within that space and within those communities. If you have the skills, you too can go out and create solution-based software that can help people in many different aspects.
How did you know you wanted to start your own business?
Growing up, I saw my mom follow her passion when she opened her own organic, community-based restaurant. She didn't go to Wharton, or Harvard Business School or anything like that. This was a lady who didn't have any formal education, just passion and a vision for something she loved. She set an example by starting up and just going to do the work. I really wanted to take it upon myself and have that same passion and initiative as well.
Do you have any advice for students who are just starting out at NHCC?
Focus and have a niche. Figure out what you want to do early on. That was my main problem coming into college. Many people have trouble figuring out what they want to do. I felt like my academic journey took too long, always shifting and transitioning in and out of different career fields. Once you figure out what you want to do, make sure you read up on the required courses, the curriculum and get a full spectrum of the degree. Sit with yourself and really decide if this degree path is something you can do. I never did that coming in. I just thought I could start, and it would be easy, but it was not.