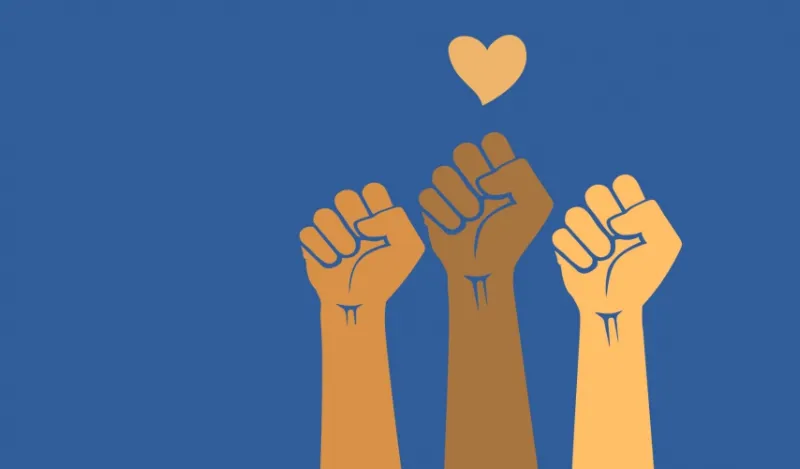 Exclusive to NHCC this fall, is the Racial Justice and Social Transformation certificate program. No other community colleges in Minnesota offer programs like this! It was developed from student interest survey results and occupational outlook data. This program also pairs well with Minnesota's Equity 2030 plan, providing students with knowledge to be racial justice advocates.
We got the lowdown on NHCC's new program from Foundations of Racial Justice course faculty, Belinda Gardner.
What course are you teaching this fall?
The course I'm teaching in the fall is called, Foundations of Racial Justice. Credits from this course go towards the new 15-credit Racial Justice and Social Transformation certificate.
What will students learn in your course?
This course introduces students to the core concepts of racial justice, by examining the social construction of race and systems of oppression, including healthcare, housing and more. From a justice and advocacy perspective, we will explore the social construction of race. We'll discuss how that's led to oppression of various identity groups and how individuals and societal groups can strive to be anti-racist.
Can you tell me a little bit more about your course?
This is a new course. It will be synchronous and asynchronous. I'll be meeting with students, one night a week for an hour and a half. Then the other hour and a half, they will spend doing the asynchronous work on their own. I'll have content for them, but they won't have to be live with me.
Do you think this certificate will be beneficial for employees in the workplace?
The certificate could be helpful at a company level, as more workplaces look to increase the ways they address cultural competency with their employees. This also provides an opportunity to better serve our community. Having this certificate available will be a huge benefit for DEI work. More organizations in the past year and a half have been moving towards having these conversations surrounding racial issues. Some conversations are more formalized, where people specializing in diversity come in and do trainings. Folks who take this course will have a good chance at leading those conversations within their organizations. Or, they'll be helping to plan the day's activities, or implementation tasks/goals for the diversity work. With more experience, comes more knowledge. Once people take this course, they'll have the readings in their back pocket to support arguments and personal positions. These individuals may be able to facilitate conversations of racial issues between bosses and co-workers, within an organization.
What are the learning outcomes?
Knowledge of human cultures and the physical and natural world. Also, intellectual and practical skills for inquiry and analysis. We'll write, we'll communicate and we'll study quantitative literacy information. In terms of personal, social responsibility, engagement in ethical reasoning and action foundations, these are skills for lifelong learning.
Can you summarize your course takeaways?
In summary, will be focusing on five main constructs. The first three constructs being: What is the social construction of race, what is racism and what is racial justice. As a class, we will take those constructs and apply them to systems, such as education, healthcare, and housing. Also, looking at it from a justice and advocacy perspective, questioning 'How can we add to the cause? How we can help at our jobs, or wherever we are in our communities to help various groups?' A large emphasis is placed on how to become anti-racist as individuals. Those are the biggest takeaways from my course. We'll also be focusing on literary works from a variety of research sources, reading current events, short stories, looking at historical documents and watching videos. The theoretical framework that underpins this course is critical race theory and post-colonial theory. Ultimately, this course will address human diversity, including issues of race, gender, sexual orientation, ability, health status and other traditionally disenfranchised groups. Looking at opportunity gaps as well. Students should be able to walk away with tangible approaches to personal, real-world problems and model racial justice advocacy. After taking this class, students will be able to explain the social construction of race and systems of oppression in the U.S. They'll identify inequities and aspects of critical race theory within political, social, cultural and economic institutions. This will all help students to be able to explain anti-racism qualities to social justice agents.
What would you tell someone if you were trying to convince them to take this class?
I would say that, when you lack the knowledge, it's hard to have empathy. How will you have compassion for oppressed groups if you don't know the what, or the how, or the why surrounding the struggles they face? This course is for people wondering, what is racism? Is it finished? When did it start? When you have the knowledge and the basic information of what these social and racial constructs mean, you're able to clearly identify them. Which then helps you to be a better listener and a better neighbor. You can contribute to causes and create a more equitable society, workplace and community. Students can take the information they've learned and use it to contribute to their workplace, or community. Instead of being on the sidelines.
Is there anything else you want people to know about your course?
I believe it's a win-win to take this course, because you want to have the tools. If you want to participate in the conversation, but you don't know what to say, you've got to take this course.  If you want to help your organization to be more diverse, but you don't know where to start, you want to take this course. If you want to have conversations with your neighbor about racial issues but you don't know where it stems from, or how to bring it up, you want to take this class. Receiving this certificate can also be a step towards branding yourself in a unique way. Consider this certificate as an opportunity to leverage your own lived experiences and add to your resume, or CV. The Racial Justice and Social Transformation certificate is also a smart move if you're looking to gain certain employment. There are tons of diversity jobs out there now. More diversity jobs than I've ever seen in my life. This could be that extra push that someone needs to advance in their job.