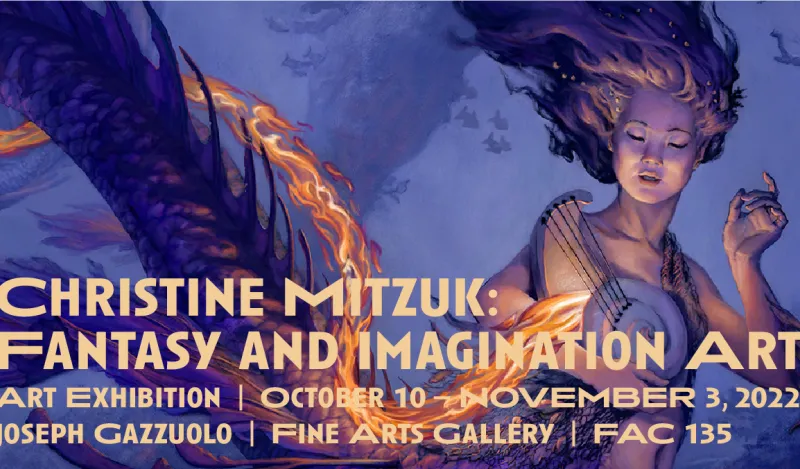 The NHCC Department of Art presents, Christine Mitzuk: Fantasy and Imagination Art! This imaginative art exhibition opens on Monday, October 10 and will remain open until Thursday, November 3, in the NHCC Joseph Gazzuolo Gallery.
Fantasy and Imagination Art
"Each of us has a unique combination of life experiences and interests that are part of our imagination and creativity. This show gives a glimpse into how I use my imagination and creativity as an artist and illustrator, to create fantasy and science fiction art for clients as well as personal work. You will see select examples of finished work that I've created for clients in the tabletop game industry and personal projects, as well as parts of the process from idea generation to the final painting. Some pieces are painted digitally, some are created traditionally, and some are a combination of the two. I hope you will enjoy this peek into the process." 
- Christine Mitzuk
Christine Mitzuk's Artist Bio
Whether it's client or personal work, diving into ideas and creating something is just plain fun. Craving to know how to make her ideas look real, Christine resigned from her graphic design job to pursue the full-time program at The Atelier Studio Program of Fine Arts in Minneapolis. She completed 5 years of study with a focus on imaginative art. Taking the knowledge and skills gained from The Atelier, in 2013 she studied with Rebecca Guay through SmARTSchool and learned to apply those skills to a digital workflow.
Christine says, "With art and illustration, there's a combination of play and work. Each seed of an idea offers many possibilities. At some point I must stop asking, "What if?" and develop the visual narrative. To do this, I observe at the world around us. I want to delight you with color and whimsy, move you with drama of action and light, or simply make you smile."
Working as a freelance artist, projects have included art for tabletop games, publishing, and giftware. She also teaches at The Atelier in the Full-Time and Part-Time programs. Classes include Gesture, Color Theory, Illustration, and Costumed Figure Drawing & Painting.
Find Christine online at www.christinemitzuk.com, or on Instagram @cmitzuk.
We hope to see you at the Fantasy and Imagination Art Show! 
This imaginative art exhibition runs October 10 through November 3, in the NHCC Joseph Gazzuolo Gallery.
The Gazzuolo Gallery is located on the NHCC Campus in the Fine Arts Center
7411 85th Avenue North, Brooklyn Park, MN 55445
Gazzuolo Gallery hours:
Monday - Friday 9:00 a.m. to 8:00 p.m.
Saturday 9:00 a.m. to 5:00 p.m.