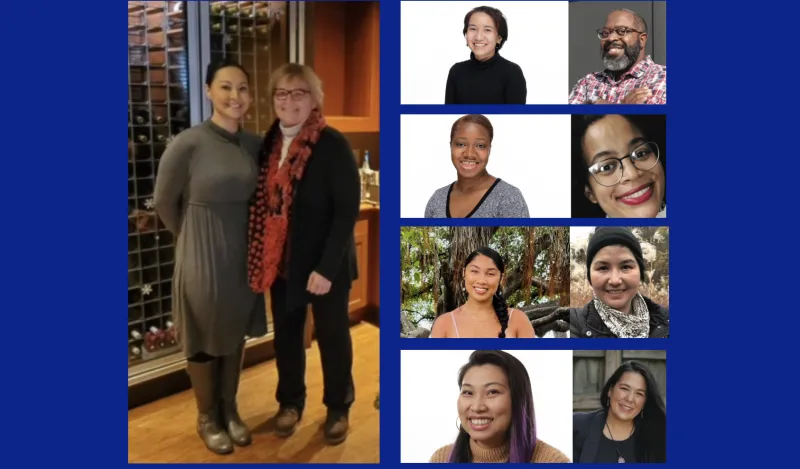 In celebration of January being National Mentorship Month, we're highlighting a few student-mentor pairs from two of our campus partnership programs.
Be Bold - Break the Mold, is an NHCC program that was created by both the Office of Diversity, Equity & Inclusion and the Workforce Innovation & Experiential Learning Center. It is a program that specifically targets the needs of female identifying (or non-binary) students in careers that would typically be considered nontraditional for women, (meaning women make up less than 25% of the workforce). This is the second year of the program. Any female identifying students within the majors of: Pre-Engineering, Computer Science, Construction Management and Criminal Justice are encouraged to apply. This program has had a phenomenal turnout and has impacted both the lives of mentors and student mentees.
Last month, NHCC Be Bold student-mentee, Krystina Nickila attended the National Association of Women in Construction (NAWIC) Holiday/Scholarship Party, and was photographed together with her mentor, Joanne Hager. (Krystina on the left and Joanne on the right, below). 
When asked what being mentored means to her, Krystina responded with, "The Be Bold program has been such a great experience and addition to my learning at NHCC. To be mentored feels like I have someone on my side to help me through and navigate a male dominated field. This program has helped me gain much needed confidence in the field. The support from both Joanne and Maria has been more than I could have expected or asked for. I'm very grateful to have found the Be Bold program, Joanne, and Maria. I feel so blessed." 
Minnesota State Write Like Us, is an equity-based creative writing program at NHCC (and four other Twin Cities metro-area community colleges), that centers around and celebrates the work of BIPOC writers and writing students. Eight NHCC students were selected to participate in the 2021-2022 Mentorship Program. Students will work one-on-one with five, local BIPOC mentor-authors during the academic year. To ensure a rewarding and beneficial outcome, all mentorships are tailored to meet the needs of each individual student. Although Write Like Us is brand new, the responses to it have already been positive.
NHCC Write Like Us student fellows were asked to share a short statement regarding what the Write Like Us mentorship means to them. WLU mentors were asked to provide a short statement regarding why they chose to become mentors for WLU.
Fellows/Mentees and Mentor Pairs:
Esper Garcia (He/Him/They/Them), NHCC (above, on left) – mentor: Michael Kleber-Diggs
"Being mentored is a way for me to learn about the unknown. It's a way for me to prepare for a future that seems scary, and a way to be guided by someone who's walked their own path ahead. It's having someone encourage you, but also be honest with you in a way that only helps you grow and learn."
Bio: Esper Garcia was born and raised in Brooklyn Park, Minnesota. He is the oldest of four, and when he's not at home with family he attends North Hennepin Community College as a PSEO student. He hopes to pursue a career in creative writing and likes to write about his life as a mixed-race LGBTQ+ individual, his family, or romance. Aside from writing, Esper's other hobbies include drawing, crocheting, and playing music. The evidence of such are scattered around his room in the form of endless papers, instrument cases, and art supplies.
Michael Kleber-Diggs (He/Him)—Write Like Us Mentor (above, on right)
"Mentors have been critical to my growth as a writer. Without the generosity of mentors who helped me when I was getting started, I do not believe I would be a published writer today. As I've gathered experience, it has meant a lot to me to have an opportunity to share some of what I've learned with early-career writers. I believe mentorship is especially important for writers of color. Our voices continue to be underappreciated by publishers, agents, editors, and other literary professionals. When we work together, when we combine our knowledge and experience, we tear down the barriers that can discourage writers of color from telling their essential stories."
Bio: Michael Kleber-Diggs (KLEE-burr digs) is a poet, essayist, and literary critic. His debut poetry collection, Worldly Things, won the Max Ritvo Poetry Prize (Milkweed Editions, 2021). His essay, "On the Complex Flavors of Black Joy," is included in the anthology There's a Revolution Outside, My Love: Letters from a Crisis, edited by Tracy K. Smith and John Freeman. Among other places, Michael's writing has appeared or is forthcoming in Great River Review, Water ~ Stone Review, Poem-a-Day, Poetry Daily, Poetry Northwest, Potomac Review, Hunger Mountain, Memorious, and a few anthologies. Michael is a past Fellow with the Givens Foundation for African American Literature, a past-winner of the Loft Mentor Series in Poetry, and the former Poet Laureate of Anoka County libraries. Since 2016, Michael has been an instructor with the Minnesota Prison Writing Workshop. He also teaches Creative Writing in Augsburg University's low-res MFA program and at Saint Paul Conservatory for Performing Artists. His work has been nominated for a Pushcart Prize and Best of the Net and has been supported by the Minnesota State Arts Board, the Jerome Foundation, and the Metropolitan Regional Arts Council. Michael is married to Karen Kleber-Diggs, a tropical horticulturist and orchid specialist. Karen and Michael have a daughter who is pursuing a BFA in Dance Performance at SUNY Purchase.
Fatoumata Dore (She/Her), NHCC (above, on left) – mentor: Sagirah Shahid
"Being mentored as a part of Write Like Us to me means an opportunity to work personally with an expert who can help me achieve my writing goals and my writing style. I appreciate my mentor and this opportunity because it has opened doors for me and allowed to sharpen my writing skills. Due to this experience, I am learning to be comfortable with things that are new to me. For instance, I do not like writing poetry because I've never been the best but through this process I have learned to adjust so that I may get better at poetry. It also helps that I have a very understanding mentor who is willing to meet me where I am at and help me progress. My mentor, Sagirah, has been very encouraging to me and my endeavors."
Bio: Fatoumata Dore grew up in Guinea, Africa, and later moved to the United States to pursue an education. She is currently a freshman majoring in biology at North Hennepin Community College. Fatoumata likes to immerse herself in writing non-fiction, fiction, and fantasy. An avid cook, she spends most of her days developing new recipes for her family and her cookbook. She hopes to one day have a career that allows her the freedom to explore other things.
Sagirah Shahid (She/Her)—Write Like Us Mentor (above, on right)
Bio: Sagirah Shahid is a Black American Muslim poet, arts educator, and performance artist from Minneapolis, Minnesota. She is the recipient of awards and fellowships from the Loft Literary Center, the Twin Cities Media Alliance, the Minnesota Center for Book Arts, and the Shangri La Museum of Islamic Art. Sagirah is a teaching-writer with Unrestricted Interest, a writing program and consultancy dedicated to supporting neurodiverse learners through creative writing. Her debut collection of poetry Surveillance of Joy is forthcoming from Half Mystic Press. Sagirah's children's activity book Get Involved in a Book Club is available for pre-order with Capstone Press. 
Kali Courtney (She/Her), NHCC (above, on left) – mentor: Merle Geode
"Hello! I just want to say Happy National Mentoring month! I feel as if mentors are crucial much-needed individuals within our society. They share their experiences, their teachings, and try to help us mentees be better people who are excited to grow and learn. Along with that, I just want to take the time to thank my Mentor Merle Geode for their amazing contribution that their presence from the Write Like Us program has had upon me in 2021 and beyond. Their influence and wisdom when it comes to writing has made me more confident in trusting my writing abilities and to not be afraid to allow my work to shine! Being able to be mentored by a great author is something I'd never thought would have happened in my walk of life and now that it has I am forever grateful. The program is a wonderful way to allow young writers to get insight into the writing community and what it means to be a writer! Once again Happy National Mentoring Month!"
Bio: Kali Courtney is currently a student at North Hennepin Community College. She is studying Liberal Arts with the hopes of transferring to a four-year university to finish up her bachelors. She has the drive and passion to become a future attorney, specializing in immigration and civil rights. Along with her dreams of studying law, she is very excited to be a part of the Write Like Us program which dives into her second passion of writing. Kali found a keen joy for poetry and writing later into her high-school career, and through peer encouragement she found herself continuing to write more and share her work with others. Her writing goals are to bring social change through her poetry and help other kids and youth of color find healing through the use of writing. Her focuses in her writing tend to surround trauma and her life experiences of being a multiracial young woman in America. 
Merle Geode (They/Them)—Write Like Us Mentor (above, on right)
"I see a lot of my own journey as a writer in what my students have shared with me; life has both nourished and put up a lot of roadblocks in my own creative path, but I have also had educational privilege and access to stellar creative resources along the way. Although I am an emerging writer myself, I feel it is important to help others along the way in the ways that I can. I was a fellow in the Loft Mirrors & Windows program, for BIPOC writers of picture books, middle-grade books, and YA books, and the teaching artists were also BIPOC. It was the first time I had that sort of container—for and by BIPOC writers—and that was a powerful experience for me. I see Write Like Us as an opportunity to be on the other side as a mentor to help open up access and resources to BIPOC student writers. I believe in them and their voices and basically I want to be a person who can encourage them to keep going and trust in their stories, which we need in the world."
Bio: Merle Geode is a mixed race (Korean and white) disabled genderfluid poet/writer, shamanic practitioner, and multidisciplinary artist based in Minneapolis living with metastatic breast cancer. They have a B.S. degree in Zoology from the University of Wisconsin, Madison, where they were a UW-Madison Writing Fellow. They were a food and features writer for several years for Isthmus and Our Lives Magazine in Madison, but their storytelling is now taking a turn for more experimental and expansive forms. They are currently an MFA candidate in Poetry at the University of Minnesota, Twin Cities. Their poems and essays appear in Love, Always: Partners of Trans People on Intimacy, Challenge and Resilience; MNArtists; and poetry.onl. Currently, they are working on a picture book about anticipatory grief and death as an author/illustrator. They are a former journalist, fine dining cook, and dog groomer who has discovered, during the pandemic, that they actually like to garden. 
Additional Write Like Us Mentor Comments and Biographies:
Saymoukda Duangphouxay Vongsay (She/Her)– Write Like Us Mentor (above, on left) 
"To instill powerfulness and a sense of dedication to their craft, their voice, and the impacts and legacies that they want to make and leave for themselves and the community. To share my experiences, knowledge, and resources with new and emerging writers as a way to pay it forward and to foster more writers. And mentoring is fun."
Bio: Saymoukda Duangphouxay Vongsay is a Lao writer. CNN's "United Shades of America" host W. Kamau Bell called her work "revolutionary." Governor Mark Dayton recognized her with a "Lao Artists Heritage Month" Proclamation. She's a recipient of a Sally Award for Initiative from the Ordway Center for Performing Arts which "recognizes bold new steps and strategic leadership undertaken by an individual...in creating projects or artistic programs never before seen in Minnesota that will have a significant impact on strengthening Minnesota's artistic/cultural community." She's the author of the children's book WHEN EVERYTHING WAS EVERYTHING and is best known for her award-winning play KUNG FU ZOMBIES VS CANNIBALS. Her plays have been presented by the Smithsonian Asian Pacific American Center (NY), Theater Mu (MN), Lower Depth Theater (LA), Asian Improv Arts (IL), and elsewhere. Other awards include grants/fellowships from the John S. and James L. Knight Foundation, Jerome Foundation, Bush Foundation, Andy Warhol Foundation, MAP Fund, Playwrights' Center, Forecast Public Art, MRAC, MSAB, and others. Saymoukda is currently an Andrew W. Mellon Foundation Playwright in Residence at Theater Mu, a McKnight Foundation Fellow in Community-Engaged Practice Art, and a Jerome Hill Artist Fellow in playwriting.
Rosetta (Rosie) Peters (She/Her)—Write Like Us Mentor (above, on right)
Bio: Rosetta Peters is a poet, an author, a public speaker, and an activist. She is of Yankton, Crow Creek, and Oglala descent. A procrastinator to the point of detriment and lover of the natural world. Rosetta has had her poetry published in the Yellow Medicine Review and has recently been awarded the Minnesota State Arts Board Artist Initiative Grant 2021 to professionally record and release an album of her Spoken Word/Performance Poetry and the MRAC Next Step Grant 2021/2022 for creative support for the completion of her memoir titled, The Spider and The Rose.