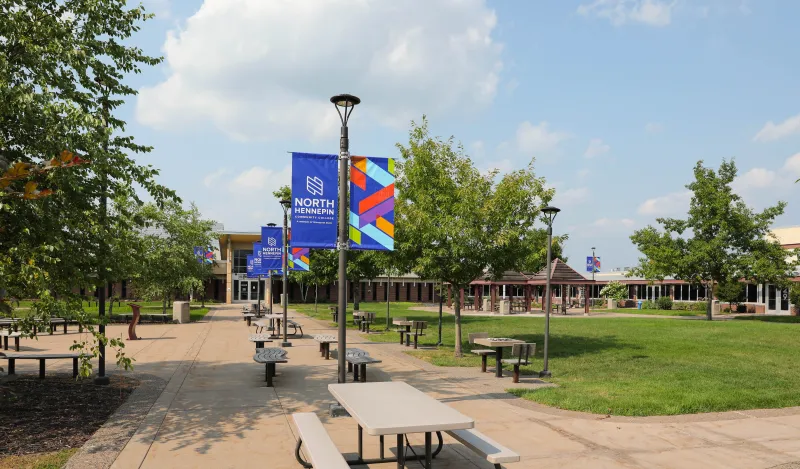 After a fruitful search process this spring and summer, three new interim deans joined North Hennepin Community College. 
On July 5th, Gretchen Flaherty became the Interim Dean of the School of Science, Technology, Engineering, Arts, and Math. Dr. Kim Turner-Rush became the Interim Dean of the School of Business, Education, Careers, and Workforce Innovation on July 7th. After these appointments, Heidie Lish became the Interim Dean of Liberal Arts and Academic Foundations on August 2nd.
Gretchen Flaherty
Interim Dean of the School of Science, Technology, Engineering, Arts, and Math 
Dr. Kim Turner-Rush
Interim Dean of the School of Business, Education, Careers, and Workforce Innovation
Heidie Lish
Interim Dean of Liberal Arts and Academic Foundations
                                                                                                       

A few weeks into their new roles, we met up with the interim deans to ask them a few questions. Get to know Kim Turner-Rush (KTR), Gretchen Flaherty (GF) and Heidie Lish (HL) in the Q&A below!
Is this your first dean role? 
KTR: No, it's not. Back in the early 2000's, I was the dean of a business program at a two-year-institution in the Cincinnati, Ohio area and prior to Saint Paul College in 2016, I was the Assistant Dean at the Carlson School of Management, working with undergrad programs at the University of Minnesota Twin Cities.
GF: Yes, it is my first interim dean role, and I'm really excited. Previously, I was an English faculty at Lake Superior College for 15 years and loved it, but I have been thinking about making a change for a while. When I was faculty, I worked on some campus-wide projects and committees, which helped prepare me for this role.
HL: Yes. This is the first time I've been in a dean role. Most of my career has been in teaching, which is my first love. There's something about those moments where you connect with a student and see how what they are learning is changing something important to them. I found similar joy in serving as the coordinator in my department and bringing together my colleagues for meetings and shared assessment work.
What do deans do every day? 
KTR: My kids wanted to know this, too! They asked, 'Do you just go to meetings?' But it's more than that. The dean oversees the day-to-day operations, making sure that courses are assigned, curriculum is up to date, classrooms are equipped to serve students and that we're staying focused, working towards the goals of the institution. As a dean, I make sure that I'm supporting the ideas of the faculty and that they have the resources they need to help our students. 
GF: Answer emails! Ha ha! There are also a lot of meetings to attend, and you need the ability to pivot pretty quickly when things come up. I want to make sure that I'm supporting faculty as they both support students and accomplish their own professional goals. I am still learning my daily and longer-term duties, but deans are an effective liaison between the faculty and the administration. I have been using my good listening skills as well as my creative thinking abilities a lot in this role. 
HL: Oh my gosh. So much! The first few weeks in this role have focused on learning what my tasks include and meeting faculty and staff. I've worked at NHCC for 14 years but hadn't had the opportunity to meet everyone involved in running the school. There were many things that needed to be adjusted right before fall started and it was wonderful to have such rapid support from staff and faculty. As the weeks go by, less of my time will be spent on the ins and outs of NHCC policies and procedures and I'll get to hear about professional development plans with faculty. Primarily, my focus will be on supporting faculty when it comes to teaching and learning.
What made you interested in this role and in NHCC in general? 
KTR: NHCC has always been on my mind since we moved to the Twin Cities. I did a lot of research and this campus and the students you serve are very much aligned with my background. When the role opened, a colleague at Saint Paul College told me about it, sent me the information and said, 'I think this would be a great fit for you.' I worked as an HLC peer reviewer, and knowing that HLC is on the agenda, I thought my skills could be of use. I also have experience working with accreditors through ACBSP, the accrediting body for business programs. I was able to work hands-on with the people who are writing reports and see the data. It was a very good opportunity for me and fit my background really well. 
GF: I wanted to expand my professional career in a way that I felt like I could help more people who are supporting students. For me, it was a personal and a professional challenge, too. I'm at a point in my life, where my kids are grown, and it is time for me to have a new adventure and a new challenge. I was curious to see the ways where I could still be working in higher education, but using my strengths and talents in a different way. I love teaching and connecting with students, but I felt like there was more out there for me to learn and to keep changing myself, too. That's why I was looking for a dean job, and this role at North Hennepin Community College came up *snaps fingers* like that. I researched the school, and I got really excited! NHCC has so many awesome programs and vibrant offerings for students. So far, it has been absolutely wonderful here. North Hennepin is just a positive place with incredible faculty and staff. I can tell it is student first and it makes me feel grateful to be here, for sure!
HL: I think what interested me about this role is the fact that it's at North Hennepin Community College. Even though I've worked at several institutions, this is the place that feels like home. The students, the staff, the faculty are amazing. That was a very exciting aspect for me. Why did I want this role? I took a leadership position with the Minnesota Academy of Nutrition Dietetics, and I was on the board of directors as the education chair. It felt really good to collaborate with them on things like budget, marketing, and curriculum for the annual conference. I realized through that experience, that I liked being in a manager role. What I loved most about teaching was connecting with students. Stepping into this role, I knew there would be a blend of both.  
What are your goals in this new job? 
KTR: My first goal is to get through the fall semester, making sure faculty are assigned to classes, and students have what they need. But I also want to get us completed through the ACBSP process, and support Michelle, the faculty member, who wrote that report. And I want to work closely with the other deans as we look at the HLC report and improve on some of the practices that we are doing currently and figure out how we can make North Hennepin a better place. 
GF: Supporting students is my number one goal. I also want to provide consistency for the School of STEAM division, especially since some of the academic areas have been reorganized and Fine Arts is new to the division. Another main goal is to support faculty and be their advocate. If they have new, innovative ideas, I will help make things happen for them as much as I can. Good communication is also key to being a successful dean. Everyone should be aware of campus, division, and department goings-on, and everyone should feel heard.
HL: If I leave this position in a year and faculty tell me that they feel more engaged on campus, feel more avenues for connection, feel better supported in their goals, and/or feel a healthy amount of challenge, or accountability from me, then I've done my job.
Do you have a proudest accomplishment? 
KTR: I do have a couple. When I was at the Carlson School, one of the things we really focused on was diversifying the student body. We developed some programs, one which I'm excited to talk to our faculty about, which was called, What the Heck Is Business, Anyway? We went into middle schools and high schools, and talked to them, not just about credentials, but about jobs. Here are some of the jobs that people who get a business degree might seek out, and these are a few of the pathways that you might end up in. This was all part of a summer camp we did with middle school students. We'd do a case study, where we had a finance, or marketing, or accounting faculty come in for one day. They walked through some of the things that you would look for in a company and how to improve the business aspects of a company. This was a really cool thing to do with middle schoolers. Because it got them thinking, before they get to high school, what path should I be on? I should be taking math; I should be taking science courses, and these are the things that will help me out so much when I get to college application time.
GF: The proudest accomplishment of my whole life? Hmm, that's a really hard question! I don't know if this would be an accomplishment, or not, but something I'm really proud of is my ongoing passion for education. I've been an educator since 1995, and I feel like I've maintained my enthusiasm for helping students and my curiosity for the profession. I continue to be flexible with changes in higher education. Growth mindset might be kind of a cliche term, but it defines my open-mindedness. I am proud of making a difference in the lives of others, whether it's students, or faculty, or colleagues. I'm really proud of that because I know I'm just going to keep working hard. I have maintained the love for my job and for education in general, and I want to keep doing what I can to make it better for everyone. 
HL: I think in the last 2 weeks since I started, my proudest moment was coming together in our Liberal Arts and Academic Foundations division meeting. This division meeting gave us the time to get reacquainted and discuss some very pivotal issues and accomplishments for each other and our college. I left the meeting so excited to work with these faculty members.
How do you like to spend your free time? 
KTR: I'm a baseball fanatic! My husband and I live pretty close to CHS Field, so we go to a lot of Saints games. We like to go biking by the river! It's nice because there are a lot of trails, so we take our bikes down there and we travel quite a bit. Baseball's probably my biggest vice. When we make a visit back to Ohio, we usually stock up on Cincinnati chili. My favorite recipe comes from a small, family-owned company called, Dixie Chili. If we're visiting, we'll stock up on cans of various types of chili. Maybe I'll join the NHCC staff chili cookoff! When people eat Cincinnati chili they always say, 'Whoa, what's in this? It's so weird!' And I tell them, yes, it's unique, it's cinnamon and chocolate. It's very different.  
GF: I love taking hikes, spending time with my family, reading, and cooking. It has been a little hard to move down here when some of my family is still in Superior, but we are adjusting. I have also missed seeing my pollinator garden come into full bloom and checking on the mycelium I planted around my yard this summer – I am trying my hand at mushroom farming! Anything that is a new experience is also a way I love to spend my free time, whether it is going to a museum, attending a festival, or traveling somewhere I haven't been before.
HL: Honestly, one of my favorite things to do is walk outside, especially with my family and our dog.  Like many other people, parenting and/or taking care of a home fills my nights – making dinner, chauffeuring around, housework...MOWING the lawn. In the event that I have nothing else to do, I also like to play pickleball and continue to learn how to strum on a ukulele. I wouldn't call what I do music yet, but it's a fun work in progress.
Additional follow-up questions that were asked individually: 
Introducing middle schoolers to a college business department is such an interesting idea! Did you collaborate with younger students again, or would you like to?
KTR: I would love to! At Saint Paul College, we had different programs already in place that we worked with marketing to do and I'm excited to bring some of that here! Another thing that we did at Saint Paul College, that I'm curious to talk with faculty about is doing a lot of research with community college students on what works and what doesn't work best for them. We implemented a program called Thrive In Five, it was created through a system Shark Tank grant; where we took all of our core courses and made them into eight-week courses. In an eight-week block, a part time student could take maybe two courses instead of one course, or four courses instead of two in a semester. It helps with retention, and it helps the student to see that they can be successful quicker. The research says that students get bored in 16-week classes, and in eight weeks, you don't really have time for that. Those are a couple of things that I'm most proud of.
Going off proudest accomplishments, you also have a doctoral degree, right? 
KTR: I have my doctorate in education, yes (but calling me Kim is fine!). I just finished in March at St. Cloud State. My thesis topic was gender influence on leadership; and whether or not as women, we feel the need to assimilate to more masculine leadership traits in order to be successful. Luckily, what I found is in two-year colleges, fewer and fewer women feel they have to do that. Unfortunately, it's different when you get into four-year institutions and corporate roles. But at two-year institutions, women did not indicate that they had to change the way they behave or change the way they lead. This was surrounding, Vice President, President, and Assistant Vice President roles; people who were very much in those leadership roles. These results were very encouraging to me because I had a different experience coming through leadership. It is nice to see roles changing over time. The percentage of women presidents is much higher in two-year institutions than it is in four-year institutions and that's also super motivating! I think when women see themselves in leadership roles, they tend to be more authentic. 
Do you think your faculty background will help you in this dean transition?
GF: Yes, for certain. I understand the stresses and challenges that come with the daily grind of being faculty, whether it is engaging all students in the classroom or working extra hours to make sure learning outcomes are being met. I am also familiar with the job of forming relationships with students and seeing them grow and change by developing their skills and passions during a semester-long class. It is rewarding to have students take you a second or even third time in the classes you teach because of the connection they have with you. There is a lot of satisfaction, too, in helping students who might be struggling within or outside of the classroom and seeing them succeed. I also have a lot of faculty experience with making sure outside-the-classroom duties are met, such as completing a program review or working with faculty and staff to fulfill other academic or campus requirements and initiatives. Faculty have a lot of responsibilities, and I appreciate all the work and dedication it takes to help students reach their goals.
As faculty, you had meetings with your dean, do you think about those meetings now, in regards of what you liked/would improve on, or was that a jumping off point for you?
HL: I did collaborate with my dean, Dr. Jayant Anand on departmental work and he was immensely helpful. I appreciated how much he cared and his knowledge of institutional goals. He is among the people who come to mind, when I think about how to create impact in this role. Other wonderful role models and mentors in this process have been Elaina Bleifield, Anthony Miller, and Barbara Curchack. You all have given such good advice and guidance.
Thank you so much to the new Interim Deans, for making time for this Q&A. It was a blast getting to know you all a little better and we wish you the best in your new roles!