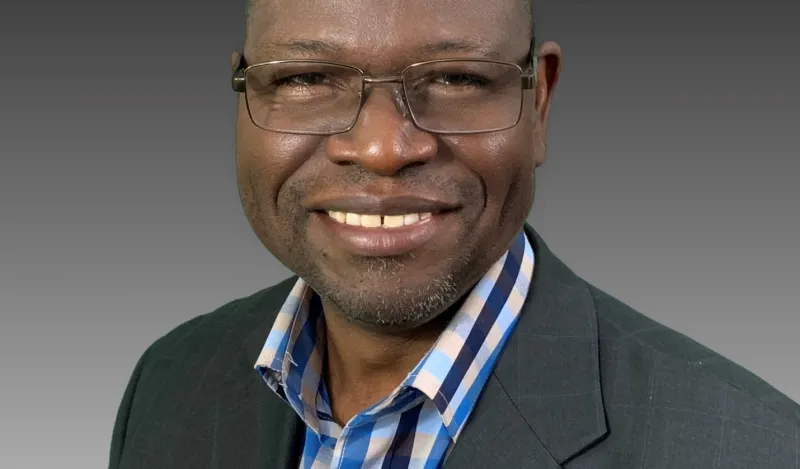 Charlie Oribamise is a 62-year-old, non-traditional student, studying criminal justice at NHCC. After arriving in the U.S. at age 22, Charlie quickly learned about the racial divide in America. This sparked his interest in racial justice, and eventually, when his kids graduated college, he decided to enroll himself. Charlie's passion for justice makes him a perfect scholarship recipient. He believes, "If we see people as human beings and go beyond categorizing, we'll discover we're not all that different." After NHCC, Charlie hopes to continue his studies. He would also like to write a book, engage with the community and volunteer. Get to know Charlie more in the Q&A below! 
How did you find out about the Racial & Social Justice Leadership Scholarship?
I saw it in the bulletin. I became curious about it, and I said, 'I'll give it a shot.' I took the time to apply for it, and it paid off.
What are you studying at NHCC?
I'm majoring in criminal justice, and I started at NHCC in the summer of 2020.
Where do you work?
I work for myself right now. I'm a Real Estate Agent, as well as an Insurance Agent.
You are a non-traditional student, correct?
Yes, I've been around for a while! I'm 62 years old. I decided I wanted to get involved with racial and social justice. If more of us engage in it, the more we can listen to each other. The more that we appreciate each other, the more we become curious about each other. I think the problem is, because we don't know each other, we segregate ourselves. We forget that we all share the same values. If we have children, we all want them to prosper, right? There are so many more commonalities between the races, than differences. If we're able to deal with those commonalities, see people as human beings and go beyond categorizing, then you would know that we are not all that different.
What do you want to do with your degree?
My hope is to go as far as I'm able to. The more knowledge you acquire, the greater the possibility is of you engaging more people to listen to you. You'll never know my own perspective unless I'm given a platform. Should I be able to persuade you, then you can reason along with my thinking. Then you can ask me questions about the solution I'm trying to propose. We'd have a dialogue, and someone will say 'Yes, let's try this and see if it works.' I think there's so much we can gain from listening to one another. Inquiring with one another, asking, 'what have we done right, what have we done wrong, how can we make it better tomorrow?
How did you get so passionate about this subject?
I came to America in 1981. I was very young; I was 22 when I came to the United States. I went to Dallas and that's where I started school. There was a racial issue that was going on at that time, that kind of woke me up. There was a Black engineer, who was accused of a robbery. The people he worked with said he didn't do anything, but the cops picked him up anyway. I was watching this and hearing about it and I said, 'Is this the activity that belongs in America? Is this the life that I've obtained here?' I could be picked up too, just like that, because I'm Black. At first, I was just curious, but then it started getting to me. I learned that I have to be very careful, where I go, what I say, because you never know. I wasn't thinking this was the American society I'd be coming into.
How did you decide to go back to school?
I've worked in insurance and real estate. But I wanted to find an area to study that, if I pursued it to a reasonable extent, I could write a book, or get a PhD in it and be able to engage with a large part of the community.
Do you think you'll continue your education after NHCC?
I'm hoping that after I graduate from NHCC, I'll go to Metro State, and I can get my bachelor's degree. After that, I don't want to say I'm looking for a job. I want to volunteer, to learn the interworking's of the system. I want to be educated and write books. I want to get a platform where I can share my knowledge, down the road.
Have you enjoyed your time at North Hennepin?
Oh, absolutely! I've had one in-person class and everything else has been online. I like learning online. It's good, you work at your own pace, and you know that you're going to hurt yourself if you don't do your assignment on time. I think it has made us more responsible. You know the agenda and you follow it. We don't need hand holding. If you choose to enroll for class, you know you have to do the work. You don't need your teacher in the front of the class telling you to turn in your assignment. It is your responsibility.
What's your favorite thing about Criminal Justice?
I want fairness. I want justice. I want people to be treated equally. I don't want to get preferential treatment because I'm a Black man. If we committed the same offense, I think we need to get equal treatment before the law. I believe in equal pay for women and paid family leave. Not just for Black people, not just for white people, but for all of us. Why don't we have a public option for our healthcare? Why does it cost so much when we have to go to the emergency room? I believe in an accessible, affordable healthcare system. Those are my favorite fundamental things about studying criminal justice. These are the fundamental things that we need to talk about and find solutions to. We have access to the solutions; we have the means. I would like people to realize that they don't need to have three cars and vacation homes. Our resources are being wasted. Why don't we use those extra resources for public housing, so that our veterans are not on the street? These are the kinds of things we talk about in my classes. Why is it that people go join the military, only to come back and not be able to further ascend? I wish we could just sit around a table and have a dialogue. Let's find some solutions to the big questions.