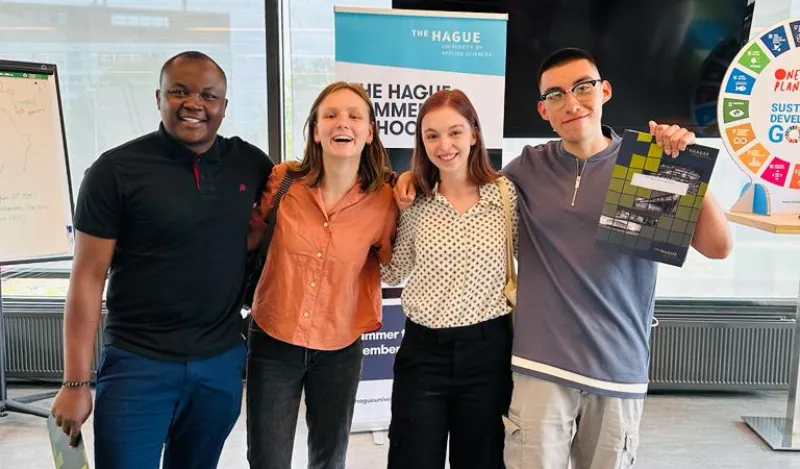 Last year with great excitement, we shared the news that two TRIO students from NHCC had been chosen to study abroad with the Keith Sherin Global Leaders program in The Hague, Netherlands, put on by the Council for Opportunity in Education (COE). Student selections for the 2023 program came back and what do you know?! Another TRIO student received an invitation to study abroad in the Netherlands!
NHCC student, Donald Agik, was chosen to attend the 2023 Keith Sherin Global Leaders program. Donald is a TRIO student, who is currently studying within NHCC's computer science transfer pathway program. 
Following TRIO's luck in 2022, staff remained hopeful that study abroad opportunities like this could continue. In a meeting with his TRIO Advisor, Donald learned about the Keith Sherin Global Leaders study abroad program, and things took off from there. Donald added, "Once Shelly told me about the study abroad opportunity, I applied for the Keith Sherin Global Leaders program, and I wrote an essay. After looking over the essay with Shelly, we submitted it. COE selected students for the trip based on their essays and fortunately, I was selected! Only 18 other TRIO students in the U.S. were chosen to go on the trip!"
Each year, in early December TRIO staff can nominate students for the Keith Sherin Global Leaders program. Once a student receives a nomination, they have until February to submit their application to be considered for this three week summer program in the Netherlands.
Although it sounds simple, sometimes study abroad applications make students jump through a lot of hoops, and it isn't as easy as just pressing submit.
In addition to being a TRIO student, Donald is also an international student at NHCC. After arriving in the U.S. from Kenya, he started his first semester at NHCC in 2021. 
Despite recently receiving a Green Card, (granting him permanent residence status in the U.S.) Donald had to get an additional visa, that certain non-U.S. nationals must obtain to enter Europe. Now heavily invested in attending the Keith Sherin Global Leaders program in the Netherlands; Donald and his TRIO Advisor researched European visas and found the right one (a Schengen visa) that would be accepted for his study abroad program. The next step was to apply for a Schengen visa! Designed for three-month visits, a Schengen visa is a short-stay visa that allows a person to travel to any of the Schengen Areas (which include the Netherlands), per stay up to 90 days for tourism, academic or business purposes. Donald really wanted to make this study abroad experience happen! So, his next step was to book an appointment at the Consulate General of the Netherlands in Chicago. It was difficult to make an appointment at the Consulate, but after trying several times, Donald got it on the schedule. In February of 2023, he had his appointment to apply for a Schengen visa! Donald commented on the experience, "I went to Chicago in February and the trip was coming up in June. During the appointment, they took my photo, my fingerprint, looked at my paperwork and while I was sitting there, I still didn't know if it was going to work out. The visa could be declined, or it could be accepted, and sometimes they take months to process. I was praying the whole way back to Minnesota." The exciting news came in the mail three weeks later. It all worked out and Donald's visa was granted!!
The long awaited trip would take place from June 23 to July 17! On June 23rd, Donald flew from MSP to JFK, where he met his group of fellow TRIO travelers in New York. They boarded their eight hour flight to Amsterdam on June 24th and Donald arrived back in Minnesota on July 17th. 
After the trip was over, Donald made a video to share his study abroad experience with others!
He also met with us to answer some questions and provide extra photos. View Donald's video and MORE, below! 
On your trip, what was the coolest thing you saw?
I enjoyed seeing the windmills, and the canals in the Netherlands. In France, it was great to see the Eiffel Tower and have the chance to climb to the top. Something special we saw on the trip in France was a commemorative flame ceremony at the Arc de Triomphe; that made experiencing the Arc more beautiful and powerful to me. 
Did you learn anything new during this study abroad experience?
Something unexpected and new that I learned on the trip was how to be accommodating within a group of people from different cultures, and how to complete tasks well in a group. I learned new languages and practiced my French as well.
What was the academic focus of the trip?
The whole trip was based around studying sustainable development goals. Each group had to focus on urban challenges happening within the city center of The Hague. My group examined the challenges facing traffic congestion, and our task was to provide solutions on how it could be solved. Within The Hague's metro area, they only have one-way roads. But these one-way roads are simultaneously used by tram, train, buses, pedestrians, and bicyclists. Also, the lanes on the one-way roads are not marked. My group and I brainstormed and came up with some ideas. In the United States, the roads have well designated areas for each mode of transportation and the lanes are all marked. We gave them that suggestion, and recommended they build a walking bridge, so pedestrians can easily cross over from one side to the other, without causing congestion on the roads. I also spent time studying elective courses. My electives centered around current trends in finance and economics, which I liked a lot. We learned about many things like international trades, financial institutions, and the shared economy. We studied how financial institutions work, how shared economies work, and how things like Airbnb, Uber and Lyft factor into it.  
Do you want to give a shout-out to NHCC's TRIO staff, or share any tips with fellow students?
The hardest part of this whole process was writing the essays and having to wait. I couldn't have done this study abroad trip without the TRIO staff who helped me. It wouldn't have happened if it wasn't for the encouragement that I got from Shelly telling me, 'Go for it, just go to Chicago!' She encouraged me a lot. She said, 'You're going to get it! Go get the visa!' Shelly set everything up for me; she gave me the number of the Consulate, so I could talk to them before I went. Shelly, Francie, and many other TRIO staff at NHCC were there to help me with anything I needed beforehand. We worked on writing my nomination letter together and they wrote me a recommendation letter as well. They helped me do all of that!
A photo of NHCC student, Donald Agik.
While in New York, Donald was able to visit Times Square!
Once the students were on the shuttle going to the airport, the COE staff they met in New York, came out of the hotel to wave goodbye and wish them well in the Netherlands.
Donald posed for a photo at the airport with his luggage.
When they arrived in Amsterdam, they were able to see the beautiful Rijksmuseum!
This photo was taken on the students' first day at The Hague School.
A photo of Donald inside The Hague School.
Donald and his new student group took a photo outside by one of the Dutch government buildings.
One of Donald's favorite meals on the trip included this delicious soup. 
Donald took a photo with one of his fellow students in Amsterdam. 
Donald met so many great people from all over the world on this trip!
This photo was taken while Donald's group was brainstorming ideas for their traffic congestion assignment.
Here are the notes from their brainstorming session!
Donald loved the canals in Amsterdam! 
Donald got to know his group well and they led a few presentations.
Donald and one of his teachers/group leaders in the Netherlands. 
In their free time, Donald and a few students played ping pong! 
Donald commented on this photo, "Our group took a trip to Schoorl, a town in the Dutch countryside. This photo was taken in the car on our way to Schoorl. Once we arrived, we visited beaches, and parks. We had a barbecue on the beach and played volleyball too!"
This is a group photo of Donald with his fellow students taken in the Dutch countryside. 
While he was in Schoorl, Donald had a chance to meet this cute horse and take a pic! 
The beauty of being in Europe, everything is nearby, and all you have to do is follow the arrow!
After spending time in the Dutch countryside, Donald visited Paris next! Overall trip highlights were seeing the Eiffel Tower and being able to climb to the top.
Donald took this photo of the gorgeous Arc de Triomphe in Paris.
So cool!! Donald stopped by Parc des Princes, where the Paris Saint-Germain football team plays!

And just like that, their summer study abroad experience came to an end. Donald and his friend shared a smile at the airport before departing. 
Donald added, "It was a great trip and I'd do it all over again if I could!" In the spring, Donald is set to graduate from NHCC, and hopes to attend the University of Minnesota next fall.