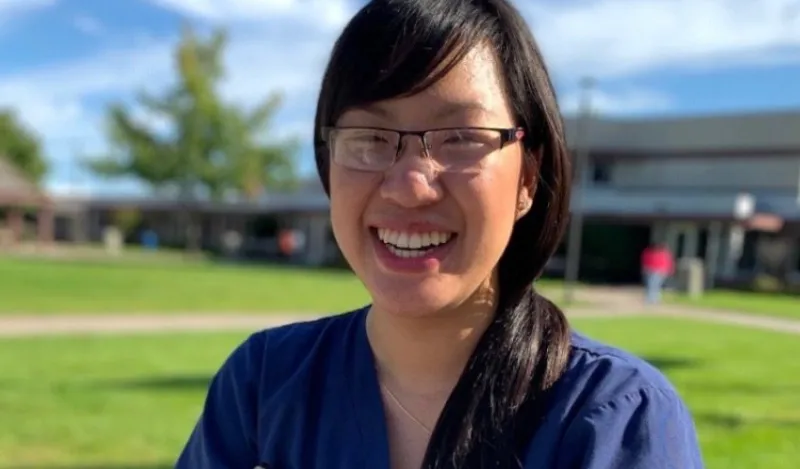 How a flip of a coin changed Jessica's future
Like many others, Jessica Nguyen chose North Hennepin Community College because of the proximity and value. However, the experience she was able to get at NHCC was priceless. During her years as a student, the memory that lingers behind the most is the time she spent with her friends. When asked what she enjoyed most about her experience at North Hennepin, she doesn't hesitate to say, "Interactions that I've made, all the friends I've made." Even more so, the long-lasting relationships she built during her short time at NHCC continue to stay strong. She adds, "It has been ten to twelve years and we're still talking. I have friends in Australia and we're going to meet next year after I graduate."
Jessica Nguyen is now a fourth-year dental student on her way to becoming a dental surgeon. But, her story starts with pursuing a degree here at NHCC. She started out as a student working towards a liberal arts degree, and like many others, she was uncertain when it came to her future career path.  
Feeling stuck in choosing between many options for her future career, Jessica decided to consult her parents who advised her to look into dentistry. Having her doubts and questions, she decided the best way to find out was by getting an immersive experience. With time, she pursued the path of dentistry. She recalls the first encounters with the dentistry program delightfully, "I wasn't really sure but I was still at North Hennepin taking liberal arts classes. Still, every day I went back to the school of dentistry website and was intrigued by the dental preparation course. I felt it was one of my foot-in-the-door moments but it was a five hundred dollar course." She looks fondly upon the final deciding moments, literally flipping a coin. "And since that flip of a coin, I'm where I am right now."
Jessica's choice to pursue a path in dentistry stems from her willingness to help and bring joy to others. During one of her first shadow experiences, she remembers thinking, "Wow, I really want to take care of this patient. I really want to do good work on them, and I want to take away their pain." Another time she recalls a patient who came into the office not smiling, and after the appointment left smiling. Jessica remembers thinking to herself, "Wow, I want to be able to give that back."
Jessica credits North Hennepin for contributing to her success, having used a variety of different resources that are in place to ensure student success. She remembers using the math resource center most prominently. Outside of academics, Jessica was involved with student senate and student life all while working as an office assistant in recreational sports.
As someone who was heavily involved in student life, it is not surprising that the first piece of advice she shares with students is to get involved with campus life. "Once you immerse yourself in a community that you feel comfortable in, then you're able to network and interact and gain that confidence." She goes on to say, "Make sure you utilize all your resources because you're paying for the tuition, attend classes and work hard."
Like many students, Jessica has also faced days of hardship in her academic career. Her advice to students is to not give up and think about what made you start going in the first place. "When you're tired, you just have to ask 'What was the first moment of passion that made you keep going?'"
When looking back at how far she has come and how many people had helped her along the way, Jessica is immensely grateful. It has been Jessica's dream to come back to North Hennepin and help others have a path they can follow, so she was excited when the biomedical student club asked her to speak to students. "I wanted to be that someone for others, be inspirational and help them out."