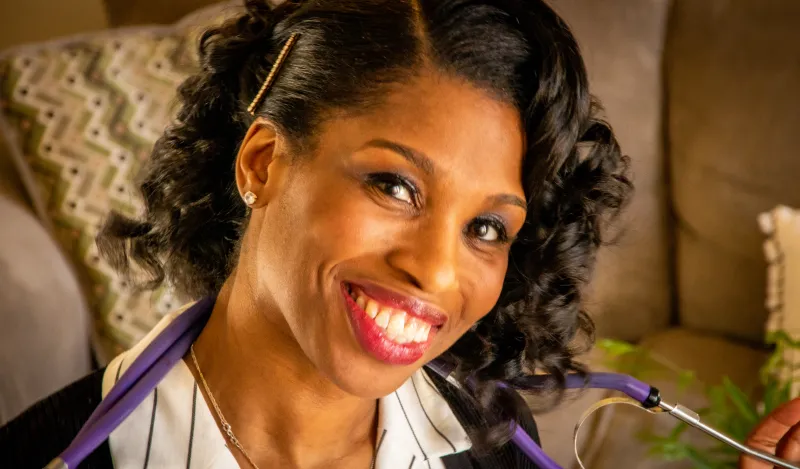 "I go where I am needed" says Jeanette Rupert, BSN, RN, PHN with purpose, conviction, and a deep love for the community she lives, works, and regularly volunteers in. Jeanette professionally is an ICU nurse at Methodist Hospital but this only scratches the surface of this remarkable woman's resume.
Her journey began when she received her associate's degree from North Hennepin Community College with formative experiences as a Phi Theta Kappa honors scholar, and a study abroad opportunity in China.   She went on to Metropolitan State University, where she graduated Summa Cum Laude with a BSN, while simultaneously working full time and raising four children. She also holds certification as a Public Health Nurse and in American Sign Language.   
2020 was a formative year for Jeanette as she and the rest of the world grappled with the COVID pandemic. She took inventory, assessed the situation on a personal and occupational level and resolved to fight for public health care on two fronts: (1) tirelessly working in the Intensive Care Unit (ICU) treating COVID-19 patients and (2) providing free nursing care to communities of color near the George Floyd Square and other underserved Twin Cities Communities
The latter set the stage for her volunteer work as a nurse at a pop-up medical tent amid the crisis through the non-profit organization 612 M*A*S*H (Minneapolis All Shall Heal).  612 M*A*S*H provides health education, health promotion, culturally competent basic care, and access to health services to underserved communities. Jeanette sees her work here as, first and foremost, a volunteer nurse, but also as a platform to improve health equity within the healthcare system.  Her goal is to be a tangible presence in these communities to inspire children of color to aspire to be healthcare professionals.
In a short two years, Jeanette has amassed a number of honors and awards including:
o Daisy Award Nominee

o 2020 Wilbur Thomas Community Service Award recipient
o Minneapolis/St. Paul Business Journal's first Health Care Heroes Award
o Inaugural ACHP Bernard J. Tyson National Health Equity Award recipient
o The Minnesota Twins' Health Care Worker Honoree
o The 2021 Major League Baseball and Fanatics grand winner for Front Line Health Care Workers
o NFL Vikings Hometown Hero Award
o Minnesota Nurses Association Sarah Tarleton Colvin Political Activist Award
Add to this long list of honors, North Hennepin Community College has recently named Jeanette its Distinguished Alumni of 2022. When contacted and notified of this honor, this altruistic, selfless hero commented that she was "speechless" and became deeply reflective of her NHCC experience. She then proceeded to methodically go through a list of faculty and staff at NHCC that inspired and emboldened her with a sense that a degree and a career in Nursing was attainable for her. She specifically cites professor Paul Geiser who told her she was "exceptional" but also challenged her to articulate what she wanted to do with her career. Another professor and mentor, Deane Newborg was singled out and recognized for a class in statistics that interwove social justice principles into the curriculum. Again, this professor gave her an affirming message of "you get this" that signaled to Jeanette that she was on the right path.  Jeanette sums up her NHCC experience like this, "there is no "I" in the culture of NHCC, because NHCC is definitely a family, and that family is with me to this day".
Jeanette also serves on several committees including the Minnesota Nurses Association as a steward, and with Health Partners, fostering evidence-based practice in clinical/nursing practices and working to improve diversity inclusion and antiracism culture in the workplace.
True to her humble servant-as-a-leader value systems Jeanette is a licensed minister, actively working alongside her husband (Marcus), mentoring youth and young adults.  She is now known affectionately as "Reverend Nurse" to all the stakeholders she serves.
Predictably Jeanette has become a highly sought-after community spokesperson by major news outlets including CNN, PBS, Fox 9 News, NPR, MPR, Good Morning Britain, and BBC News (to name just a few). And just recently the Attorney General of Minnesota, Keith Ellison called requiring her services in the Daunte Wright case.
Throughout all of this personal and professional success, Jeanette stays true to her roots, humble, and incredibly grounded. During our recent interview lunch her cell phone continued to buzz incessantly. She revealed that her phone was "blowing up" about Mel Reeve, the longtime Minneapolis civil rights activist who spent decades fighting for social justice and unfortunately became another casualty of the COVID pandemic. Jeanette was instantly reflective as she clearly tapped her minister training to be reflective, empathetic, and humble but thoughtfully commenting on the grief, shock, and brokenness people are now feeling about Reeves untimely passing. So yet once again Jeanette digs deep and does what she does best…. going where she is needed to help her community heal, process, and move forward.
For all these reasons and more NHCC celebrates this remarkable alum's achievements and proudly proclaims her North Hennepin Community College's 2022 Distinguished Alumni of the Year. Jeanette was recognized and celebrated at our BOLD Leadership Summit in February, an event dedicated to all NHCC alumni, staff, faculty, and community members who want to be inspired, engaged, and hear first-hand testimonials on leadership. This year a special edition of the BOLD Leadership Summit was dedicated to those in the healthcare industry who have presided over the health care crisis of our generation.