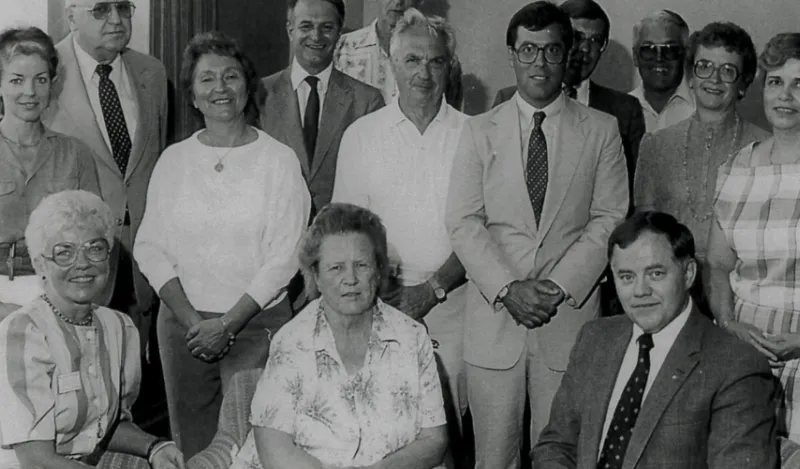 They wanted to make a direct impact on our community. Forty years later, it is evident they have and did so by inviting others to join them.
It was October 1981 when a group of local community leaders accepted NHCC President John Helling's invitation to join the impactful work of higher education.
These leaders established the North Hennepin Community College (NHCC) Foundation. The impact was three-fold:
Students with a college education would have access to higher paying jobs to support their families.
Local businesses would have an educated workforce to fulfill vital positions.
Donors would experience joy in their generous giving knowing the impact their gifts were making.
NHCC Foundation's 40th Anniversary
We commemorate those who had a vision to make NHCC truly a community institution.
John Bondhus
Philip Cohen
James Cook
Mary Jane Gustafson
Dr. John Helling
Al Kowalczyk
Lloyd Muehlbauer
Renee Nagel
Charlotte Nordby
Evelyn Schmidt
Eldon Tessman
Over the past forty years, close to 100 community leaders served on the Board of Directors for the NHCC Foundation. Thank you for your dedication to create educational opportunities and be a positive impact in our community.
We celebrate all those who have volunteered or given a donation over the past forty years. Donors have given between $8 and $9 million. Thanks to everyone who has generously given of themselves to make a difference in the lives of our students and our community.
We remember the years of dinner theatre, car raffles, golf tournaments, galas which some said were the community event of the year, and conversations over a cup of coffee. We remember the smiles and sometimes happy tears when students learned they have received a scholarship or emergency aid assistance. Each time a student crossed the stage at commencement, we smiled knowing students were one step closer to their career dream
The Invitation is Still Open
You want to join others in making an impact? You can!
Former and current NHCC Foundation Board members are inviting you to make a gift to the Creating Opportunities Fund.
The Creating Opportunities Fund enable the NHCC Foundation provide:
Scholarships – a majority of today's NHCC students work part-time to support their families. Receiving a scholarship means they can complete their education sooner.
Emergency Aid – unexpected situations happen in life and sometimes students need a financial random act of kindness so they can stay in college.
Food Cupboard – it is really hard to study on an empty stomach. Sometimes students need a helping hand until their next paycheck.
Academic Programs – unplanned opportunities for students happen throughout the year and sometimes financial assistance is needed for them to participate.
Alumni Relations – North Hennepin promotes life-long learning and with that comes staying in touch with alumni, recognizing their accomplishments, and providing networking opportunities.
Our goal is to raise $40,000 by June 30, 2021. You can donate today here. Thank you!