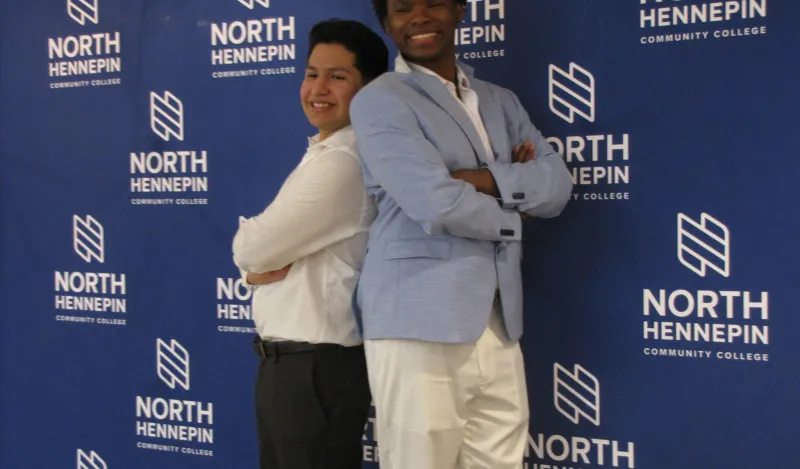 Last week, at the 2023 Student Life Awards Banquet, we celebrated the academic, leadership and service accomplishments of the NHCC students and employees who have made a difference on our campus. We enjoyed taking the time to recognize and reflect on the hard work and successes of our students this year!
The International Student of the Year Award
This award is intended to recognize and reward the accomplishments and contributions of current International Students.
Nominees: Addy S
Recipient (s): Addy Sharma   
Notes: "Our student worker is always so thoughtful and interested in learning. He has a smile on his face, even if he's tired, stressed, or feeling overwhelmed. He is a great asset to our office. He is very knowledgeable and is a great resource for some of our new student workers. He is always willing to jump in and help when needed and asks great questions. He recently changed his major and is so incredibly excited for the new direction life has taken him in! Thanks for all you do, Addy!"
Academic Achievement Awards
The Academic Achievement Awards recognize and honor academic excellence and exemplary achievement of current NHCC students within the different academic areas of the College. Five students were recognized at the event for their academic achievements.
Nominees: David Introwitz-Williams, Teresa Kemp, Hanin Moussa, Caden LeVahn, Jennifer C, Wahbo S, Shantell G, Booker Hodges and Megan Scheffe.
Outstanding Academic Achievement in Business, Technology & Career Programs. 
Recipient (s): Booker Hodges.
Notes: "His passion for understanding the law, something that very few people grasp, despite being so impacted by the justice system, is inspirational and contagious. His dedication to his education is reflected in his course work, he was also inducted into Phi Theta Kappa and is set to graduate as an NHCC Scholar. I nominate Booker Hodges for his commitment to his education and transforming his life toward positive change."
Outstanding Academic Achievement in Liberal Arts & Global Education. 
Recipient (s): Hanin Moussa                                                                                                      
Outstanding Academic Achievement in Fine Arts, Language, and Communication. 
Recipient (s): David Introwitz-Williams. 
Notes: "He is one of the most internally motivated students that I have had at NHCC. He knew what it was like to study something he wasn't excited about and this time, he is pursuing his music degree with great passion and dedication. He has taken advantage of everything our program has to offer with great enthusiasm: jazz band, piano lessons, volunteering and choir, to name a few. He is an inspiring example to the other students in his music classes. He deserves a huge BRAVO for stepping up and finding a new niche in his life. He is what I have called a student with fire in his heart for all the right reasons."
Outstanding Academic Achievement in Science & Mathematics. 
Recipient (s): Caden LeVahn                                                                                                                        Notes: "He is generous even with students he doesn't know yet, offering to meet with one from a lower-level course beyond a required assignment to collaborate. Besides the expected work, nearly every day he lingers at the end of class—has questions to ask, tries to extend the concepts and connect them to things he's observed. He has nearly endless curiosity! I am excited that he was also chosen for the Life Science Summer Research program at the University of Minnesota this summer. In this selective program, he will broaden his experiences as he develops more science skills and grows stronger as a biologist."
Outstanding Academic Achievement in Health Sciences and Nursing. 
Recipient (s): Megan Scheffe. 
Notes: "She has her hand in several different areas on campus, from exercise science and Anime & Game Club, to The Concert Band! Megan even started (a now annual) tradition on campus known as, The Japanese Cultural Fair, which raises awareness towards Japanese culture. She is an enthusiastic and outstanding exercise science advocate, both in and out of the classroom. She very much understands the scientific benefits of different wellness practices and looks for ways she can share this knowledge with others."
Outstanding Diversity Program of the Year Award
Nominees: Be Bold Break the Mold, International Women's Day, Stages of Equity
Recipient (s): The Stages of Equity Arts Festival, which was organized and produced by Dean Kathy Hendrickson in collaboration with the NHCC Department of Theatre.
Notes: "The multiple-day festival intentionally curated a variety of performances from hip-hop to dance to graphic design, supporting artists who identify as Black, Indigenous, and People of Color. These artists led amazing, interactive performances, rich Q&A sessions, and represented our student population on the stage. Even the food celebrated diversity, as guests were served global cuisine and supported local, BIPOC-owned restaurants."
Student Employee Excellence in Service Award
Nominees: Addy S, Avril GC, Heidi B, Huechee T, Julio AP, Nikita T and Pablo AP
Recipient (s): Heidi Bergman
Notes: "Some of her biggest contributions were updating our student worker handbook, creating a training manual and creating a completely new and efficient training process for onboarding work study students. She is a big advocate for on-campus services and she participates in many events, such as the L.E.A.D. series, and encourages other student workers to do the same. She goes above and beyond to help visitors feel welcome and supported not just within the library but throughout all of NHCC."
Outstanding Club Member of the Year Award
This award is given to a student who goes above and beyond to serve their club and fellow peers.
Nominees: Connor M
Recipient (s): Connor McCarty
Notes: "He's the person who asks, 'What's next?" He is direct and compassionate. He has the drive to do what he can to make his community better. When Environmental Club organized the formal clothing drive for the Winter Ball, he immediately found formal dresses to donate. When the Food Cupboard ran their competition, he was the top individual contributor. When a fellow club member's car was stuck, he was the first to offer help. This student is widely appreciated on campus for his exceptional generosity and unflagging ability to get things done. He's a member of the Student Environmental Association, Brother 2 Brother, PTK and Choir! He is Mr. North Hennepin."
Outstanding Club Officer of the Year Award
This award recognizes a student who makes significant and lasting contributions to the campus through their service and involvement.
Nominees: Connor M, Diego G, Dustin O'B, Grace S, Hanin M, Hozea K, Lynette R, Megan S, Zoey B and Pablo AP.
Recipient (s): Zoey Braaten
Notes: "She puts a boatload of time and investment into the Environmental Association. As club Vice-President, she keeps the group organized. She's been an exceptionally welcoming public face of the club, and she is responsible for the club's growth and inclusivity. Zoey is welcoming, fun, and makes sure all voices are heard. The club has had an unusually busy year of speakers, events, and activities. The secret to maintaining that pace has been the friendships that are the bedrock of the club. Zoey has been indispensable in making the space inclusive, vibrant, affirming and fun. It's been the club's best year yet!"
Advisor of the Year Award
The success of a club, or organization not only depends on leadership and active student involvement but also greatly benefits from the support, attention and care provided by their faculty or staff advisor. We are fortunate to have dedicated employees who advise 15 student groups and we thank all of them for their contributions. This advisor has been great to work with as a club/org advisor, and their students adore them.
Nominees: David M and Eve WJ
Recipient (s): David Mantini
Notes: "He is an encouraging and active advisor. He gives students the power to work out logistics, while he helps to guide and answer questions. He learns about students, helping build a strong team. His advising strategy is like learning to ride a bike without training wheels. It's up to us to pedal and pick the direction, but he gives that push and reassurance as we take off. He not only brings charisma to conversations, but the dad jokes are pure gold. He wants to see his students be the best they can be and achieve greatness. He wants to make sure that everyone he comes in contact with knows they matter and that he is there for you."
Outstanding Club or Organization of the Year Award
This award is given to a club/organization who's efforts support NHCC's mission and their activities and work have provided exemplary contribution in one, or more of the following areas: leadership, service, initiative, programming, education, diversity, outreach, campus, or community engagement.
Nominees: Anime Game Club, Salam Club, Enviro Association, Psych Club and PTK.
Recipient (s): Anime Game Club
Notes: "This large, thriving group has developed a close bond like a family, looking out for each other and motivating one another toward academic success. Even though they are close-knit, they live up to the club's motto, which is that 'everyone is already a member.' The club's inclusivity is reflected by their open celebration of diversity in all its forms. This club also hosted numerous events including Cosplay Contest, and have collaborated on events with other clubs like the Winter Wonderland Ball."
Staff of the Year Award
This award is given to an NHCC employee who has provided exceptional service, dedication and support to students. They also play a vital role on campus.
Nominee/Recipient: Ellie McDowell
Notes: "I have not had a single bad experience working with her in all of my time here. She is so caring and patient that some may say it is her second nature, I would claim it is her first. She works tirelessly on opportunities to fund and improve the campus food cupboard, including leading the remodel of the space and revamping our food distribution services. She has led food drives, trained student workers, revamped all of our training and procedure guidelines and continues to improve the area for students. She has also been great with our partnership organizations, such as Kitchen Coalition, Hennepin County, the Food Group and more!"
Faculty Member of the Year Award
Nominee/Recipient: Joel Jensen
Notes: "Every day I remind myself how fortunate I am to have this professor in my life. I would not be where I am without him. He has written letters of recommendation for me and countless others... He wants nothing more than to see his students succeed and will go above and beyond to do so. He even visit's campus while he's on sabbatical. He is welcoming and accepting of everyone and makes me feel safe and supported. He always has a smile on his face and will lend you an ear during your time of need. The best days are when I have the opportunity to see him and say 'hi'."
Student of the Year Award
This year's Student of the Year received numerous nominations that displayed their quality of work, power of impact and leadership on campus.
Nominee/Recipient: Abigail Raper
Notes: "This student is equal parts academic powerhouse and friend to all. They genuinely find something to be dedicated to in every course they take and subject they encounter… Beyond all the events and clubs that she is a part of, she is a dedicated student and strives to make everyone feel welcome and seen."
Friend of Student Senate Award
This award is given to an individual, or department who played a key part in the success of Student Senate, has volunteered their time towards helping the campus and their overall character has influenced others.
Nominee/Recipient: The Marketing Department
Notes: "This year's recipient is very open to assisting Student Senate. We discussed ways that we can work together to bridge the communication gap between the student body and Student Senate. Sylvester and I both have built a good foundation with them. We acknowledge and appreciate the work they put into partnering with Student Senate, to create a better experience for all students at North Hennepin. The Marketing department enjoys helping and supporting students and they are proactive and engaged in the community. We are very excited to continue our partnership with them going into next year promoting student engagement and a sense of community."
Outstanding Campus Program of the Year Award
Nominee/Recipient: International Women's Day Celebration
Notes: "This award recognized a group of women who represent different departments and programs across campus who all were involved with the International Women's Day Celebration Event, including HR, DEI, LEAD, Be Bold Break the Mold, & Beyond the Yellow Ribbon. The idea of the event was meaningful, and the breadth of speakers and panelists was wonderful to hear from. I was impressed with the caliber of distinguished alumni and speakers and the messages centered around empowering women to be the best of themselves. I walked away with tangible things I could do to support women and their businesses in our community."
Student Leader for Diversity Award
The Student Leader for Diversity award recognizes and honors exceptional leadership, service and contributions made by an individual specific to diversity, multiculturalism, campus climate change, or outreach to people and communities of difference.
Nominees: Hadijatou S
Recipient (s): Hadijatou Sanyang
Notes: "She is the nicest and busiest person I know! She is always volunteering while raising children and graduating from the nursing program. She has a passion for advocating for mental health and is always in great spirits! So supportive and wants to see everyone succeed!"
Resiliency Award
The resiliency award recognizes students who have, or are currently overcoming significant challenges and obstacles to be successful in their own capacity. One particular nomination was very compelling and gave an insightful perspective on the depths of what one student has had to overcome.
Nominees: Shantell G, Azah N, Diego G, Michael R and Teresa K.
Recipient (s): Azah Nde
Exceptional Growth & Development Award
This award is a celebration of the commitment to personal development and improvement that a student experiences throughout this year, where they have challenged themselves in new ways and stretched outside of what's expected to better themselves.
Nominees: Abigail R, Azah N, Connor M, Diego G, Hannh R and Zoey B.
Recipient (s): Diego Gonzalez
Notes: "Despite having such a challenging and sometimes debilitating fear, he always puts in the effort to come to school and interact with his friends and club members."
Friend of Student Life Award
The Friend of Student Life Award annually recognizes an individual or department that has supported and helped accomplish the mission of Student Life.
Nominees: IT, Facilities, Eddie Tang, CARE Center, Food Cupboard, Ellie M and Public Safety.
Recipient (s): CARE Center
Notes: "The CARE Center has helped greatly to enrich NHCC's programs and events. This team generously collaborated with us on several events including, the Gratitude Event, LEAD sessions: self-care & time management, Student Appreciation Day, a mental health first aid certification and the Student Study Break. The events they assist with are typically the most engaging events that we host."
Thank you to those who came out to celebrate last week and congratulations to all of the 2023 Student Life Award Winners! You make our NHCC campus better and brighter!