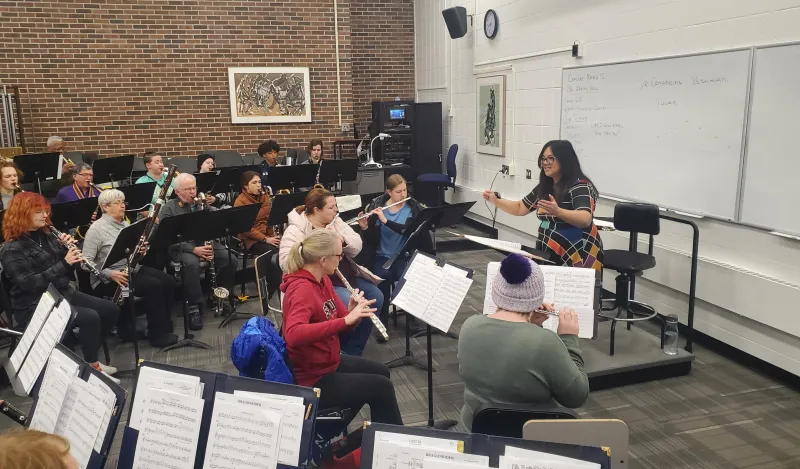 Save the date, Wednesday, March 15 at 7:30 p.m. for a joint concert performed by North Hennepin Community College (NHCC) and St. Cloud State University (SCSU) led by NHCC director David Mantini and St. Cloud State University director Dr. Catharine Bushman. The program, "Marches for March," will take place at NHCC in the Center for Business & Technology Grand Hall (CBT 195). Each group will perform a variety of works for winds and percussion celebrating the anticipation of spring and all the warmth and energy it promises to bring!
"Marches for March" Wednesday, March 15 at 7:30pm in the CBT Grand Hall
The NHCC Concert Band, led by David Mantini, will perform two movements from Gestures by Randall Standridge, Dragonrider by Steve Parsons and the marches Junk Man Rag by Roberts and Pageantry March by Karl King. From the composer of Gestures, "The third movement is a musical hug with rich lyrical lines, then the seafaring flavor of the finale gives expression to new ideas and suggests new adventures to be had."  Junk Man Rag will also feature an original tap dance from a member of the band, Anthony Van de Ligt.
The SCSU Wind Ensemble, under the direction of Dr. Catharine Bushman will open the program with Spring Festival by Chen Yi. Spring Festival incorporates the Chinese Folk song, "Lion Playing Ball" in a work that celebrates Lunar New Year and the promise of spring. The lyrical Nostalgia in the Air by Kelijah Dunton will follow and then First Suite in E-Flat by Gustav Holst. The March movement of the Suite is an energetic, motive spinning British March filled with strong punctuations in the brass and percussion. They will close with Salt March by Aakash Mittal, a new work for band that is inspired by traditional Indian folk drumming and melodies that tell the story of Mohandas Ghandi's leadership of the protests of the salt laws in India that led to the end of British rule in India.
The bands will also combine to perform two selections, "Tutued Toucan Can-Can" by Erika Svanoe and The Washington Post by John Philip Sousa.
Admission is free and all are welcome.