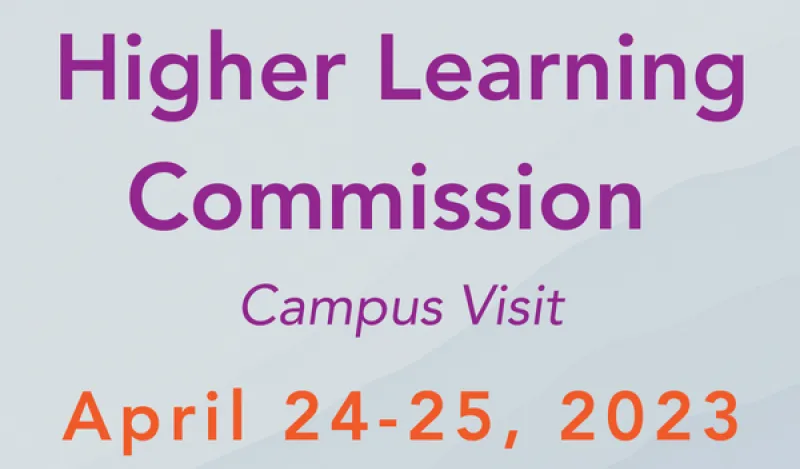 Why is the Higher Learning Commission (HLC) visiting the college in April?
NHCC is due for its 10-year reaffirmation of accreditation. As part of the Open Pathway Accreditation cycle, the college submits an Assurance Argument and corresponding evidence to demonstrate how we meet HLC's Criteria for Accreditation. Drafts of the text and the evidence for the 2023 Assurance Argument are available in the IRE Office SharePoint Public Library. A team of HLC Peer Reviewers will review that document and come to campus April 24-25 to validate the information and ask additional questions.
The college will also be required to submit a Federal Compliance filing.
Who will be involved in the site visit?
The HLC Peer Reviewers will establish the agenda for the campus visit based on their review of the Assurance Argument and our Federal Compliance filing.
NHCC needs to be nimble and responsive to the reviewers' requests for meetings with particular audiences which could include faculty, staff, leadership, or students.
Are there particular areas of concern?
In 2017, during the review of the college's Year 4 (Midterm) Assurance Argument, HLC had concerns with two core components within Criterion 4. Teaching and Learning:  Evaluation and Improvement. 
Core Component 4.B. The institution engages in ongoing assessment of student learning as part of its commitment to the educational outcomes of its students. 
Core Component 4.C. The institution pursues educational improvement through goals and strategies that improve retention, persistence, and completion rates in its degree and certificate programs.
At that time, we had only recently implemented the current Program Review process that included the Assessment of Student Learning as an annual requirement, and we had not yet pursued co-curricular assessment. In addition, we were not able to address thoroughly how the college's retention/completion/success data informed our work.
The college submitted an Interim Report in December 2019 that focused on what we were doing to improve in these areas. Reviewers felt we were making progress but cautioned that we couldn't lose momentum. The effects of the pandemic are undeniable, but we want and need to show that we are moving forward.
The college also chose to focus on these core components in its Quality Initiative project, an accreditation requirement during years 5-9. The reports and the HLC feedback for the Interim Report and the Quality Initiative are in the IRE Office SharePoint Public Library.
How can you assist NOW?
We need 100% participation in the Program Review and Assessment of Student Learning tasks relevant to your department's timeline. HLC believes that 100% participation is achievable (and so do we!). Has your department completed all of its Program Review and Assessment tasks assigned during Duty Days? If you are confused or having trouble, please seek assistance as soon as possible from the Program Review/Learning Outcomes Assessment (PRLOA) team and make sure your program is up-to-date (AA folders/SA folders) by December 2022.
Questions?
Find resources in the IRE Office SharePoint Public Library.                                                                           Send questions to dena.colemer@nhcc.edu.