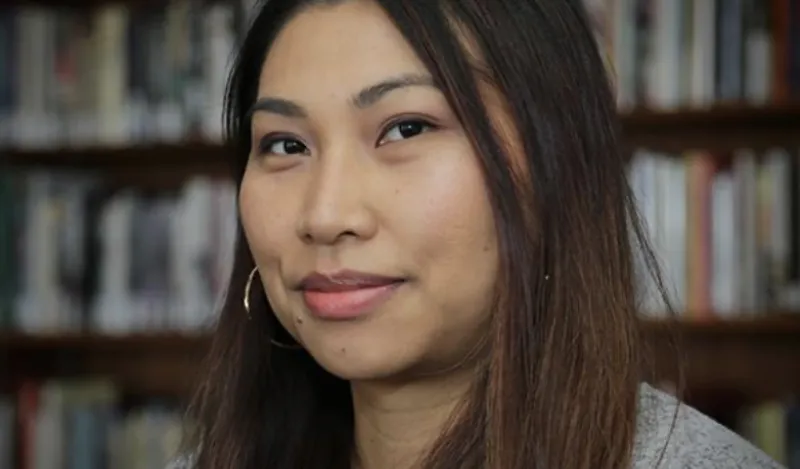 Saymoukda Duangphouxay Vongsay is a Lao writer, playwright and a Minnesota State Write Like Us program mentor, among many other things! Saymoukda recently had the pleasure of interviewing acclaimed author, Brit Bennett at Anoka-Ramsey Community College, view the event recording here, https://bit.ly/3LiJrej. You can attend the next Write Like Us event, featuring New York Times best-selling author, Kiese Laymon at NHCC this Thursday at 6 pm, (Saymoukda will be there too!) details here. 
Now, let's get into the Q&A below with Write Like Us mentor, Saymoukda Duangphouxay Vongsay!
How did Write Like Us first start out?
An English faculty member from Minneapolis College, named Valerie reached out to me by email. She explained what Write Like Us was and what would be expected from an author-mentor. I was completely onboard. I love mentoring. It is one of my favorite things to do, because I was mentored, and I still have mentors. I loved the idea of being able to give back, and to be in a formal mentor-mentee relationship.
Where did you find your mentors?
I found my mentors through the art world. I used to have a mentor when I first started out as a young writer. They mentored me mostly in poetry. We hardly ever talked about my writing. He did look at it and would give feedback. But he talked to me more about how to navigate the literary world. Then when I got started writing in theater as a playwright, I had a mentor who was a director. Over time, these mentors kept breaking up with me, which was fine, I understand sometimes you outgrow each other. I still cherish everything that they showed me and the resources they gave me.
Is this the first time you've been a mentor to student writers?
I've mentored others before unofficially. But this is the first time I'm mentoring with a literary focus. Usually it's about life, or how to navigate systems. My mentor style is mostly career-focused professional building, and not so much craft building. I like the idea of empowering other people to take up space. I think that's very important, especially as a woman. You know, sometimes men talk over us, or they repeat the exact same thing we say, and it gets really frustrating. Or we're told to not take up space, or people don't hear us right. It's important for me to mentor young people, and older people too; on how to be more confident in our bodies and discuss imposter syndrome. There's too many people telling us that we can't do things and we shouldn't be saying that to ourselves.
Did the Write Like Us program give you guidelines to use as a mentor?
I don't think we were ever given guidelines. We were asked, 'What are you looking forward to?' 'What do you want to impart on the mentees?' As mentors, we got to choose our own mentees. We had a packet of applicants, and we were able to look through them. I selected 12 that I wanted to work with, but we could only choose eight. I selected folks that wanted to focus on their craft, but also had a sort of quirkiness, or a quirky approach to the work that they were doing. I was drawn to students who had lots of questions about the type of work they wanted to create. I think it's so important to be able to find your voice as a writer. And of course, it changes over time. But as you're starting out, it is so important to be able to say, 'That's my voice, that's my aesthetic, that's what I want to talk about, that's what I care about.'
How many mentees do each of the mentors have?
We each have eight mentees. I think with this being the pilot program, maybe eight seemed like a good amount, but I would much rather work with a core three. Then I could have more time with them and go deeper with three instead of eight. But I understand that this is such a wonderful program, and you want to be able to have a wider reach. I told my mentees they can still contact me even after this program is over. We can still talk; you can still ask questions. I am your resource; it doesn't have to end here. If you want it to end, that's fine, but know I'm not going to disappear.
Do you meet with mentees individually, or as a group? Got any NHCC mentees?
We meet individually and we have our own time together. Yes, I do! I have two mentees from North Hennepin.
How many times do you meet and is it mandatory?
It's not mandatory. Last semester, I met with each mentee three times. This semester, I can only do one meeting per person. For about an hour and a half, to two hours per person. Then there's also in-person events that I'm already going to go to. For example, literary events and theaters shows. I tell them about these and invite them to attend with me and chat over coffee after. So, I also offer that option this semester, for them to connect with me.
When did you feel like you were ready to take on the role of becoming a mentor?
I don't feel like I ever have enough knowledge. But I think I'm a really good cheerleader and motivator. I think it is important to be a consistent source of support, especially for emerging writers. But also, to give critical feedback and understand that you're in service of this young person. They're still trying to find their voice. They're trying to figure out how they want to write and discovering what they like to read. you know. It's really important as a mentor, to empathize. I don't think mentoring is for everyone and I don't think everyone can do it. It takes patience and understanding, and I think that's more important than knowledge, or access to resources. People can just Google things now, or search on YouTube 'How to write a poem.' YouTube will tell you the answer. But what's really important, is that someone has consistent support. I'm the one that affirms everything you want to do and your goals and helps you create these action steps to get you to those goals. I'm that person. If my mentees want to make a career out of writing, then let's talk about what you need to do and who you need to send stuff to. They need to have a bio and a writer's resume. You need to have all these other skills if you want money and to sustain yourself while you work on a book. You've got to apply for grants, here's how you do it. Here's what a grant proposal looks like. Here's the difference between a bad grant proposal, a good grant proposal and one that'll help you win the money. Learning, that's what these mentor-mentee relationships are for. Every mentee has a different goal and I have to tailor the sessions to what they need. I made each student sign up for Submittable, which is an online bulletin board they can look to for writing opportunities and publishing opportunities. I help them find resources and once they've practiced submitting their work to a journal or magazine, it will feel like second nature to them. They won't be intimidated by the system anymore and they can thrive as they move forward.
Would you take part in the Write Like Us program again if it was offered next year?
I think I would, but I would change certain things. I really enjoyed the class visits. I would do it again, but it also depends on what commissions I have. That was one of the reasons I couldn't work with mentees as much this semester. It got in the way a little. But, at the same time it was good for my mentees to view me as the working writer I am. Hopefully this program has been useful to them! I'm always trying to come up with opportunities for my mentees. I was invited to be a guest editor for a couple months for this online literary journal, and they asked me to find four poets that I would like to publish in their next issue. I asked them, 'Can I have eight spots?' They let me use two months and I gave my mentees that chance to be published. I wanted to give them that leg up and special opportunity. I wanted them to be able to put something on their resume and say, 'I was published here.'
What do you wish people knew about the Write Like Us program?
This is a very significant program. Especially because of the classroom visits we were able to give. Students don't often get visits from writers and local artists. When you think about people who are creating work, it feels like they're very far away people. But no, we have a rich literary culture right here in Minnesota. So many wonderful writers, so many award-winning writers and nationally renowned writers live here. It's great that we get to do these classroom visits in order to show students you can have a viable living as a writer. Especially if you have everything here for you. Students have instructors that care about them and programs like this to set them up. They have writing centers and places to go to talk to helpful people. I think the WLU program is significant in that way. I didn't have a program like this in school. I would have loved a program like this. I would have loved having a mentor who understood what being a woman of color and being in the writing world is like. Oftentimes, if you go into an MFA program, or creative writing program, for example, the majority of it is made up of older, white men. They don't understand women, or women of color and refugees, sometimes. So, it's good to get this feeling of support and empowerment early on. The lineup of national artists that are coming in is amazing! People look at that lineup, and their minds are blown. They're wondering, 'How is this happening in Minnesota?' I tell them, 'Yes, it is happening here. So, go! Go to these events! They're free! Otherwise, you'd be paying like anywhere from $50-$80 to see these writers! Here they are, coming to our State! The Write Like Us program brought them, and it's free and all you've got to do is RSVP. Just click a link. You're already on Facebook, anyway, just click a link and sign up!
Do you believe critical thinking and creative writing are connected?
For sure! Especially if you're working as a novelist, you are essentially, world building. Especially if it's fiction, right? Even if it's based off of a real place, or real people, you are still world building. That requires a lot of critical thinking. If you write historical fiction, you need to be able to assess, analyze every little thing, and then interpret that. But in a way that makes sense and shows people that you're not crazy. You still need to impart knowledge and show your own opinions and ideas. You have to find different access points for people. Sometimes you have to use humor, or other times horror. I'm not saying every writer needs to write for everybody. But I think we're all creative documentarians and we can't be lazy with what we put out into the world, because this might outlast us.
Did you go to school in Minnesota?
I went to Como Park High School, then the University of Minnesota Morris and I got my master's degree in liberal studies, from the University of Minnesota. My focus was on public policy, arts, and cultural leadership. Which is what I'm doing now, with the City of St. Paul. I sit on the Cultural STAR Board, it is a great marriage of public policy, arts, and culture.