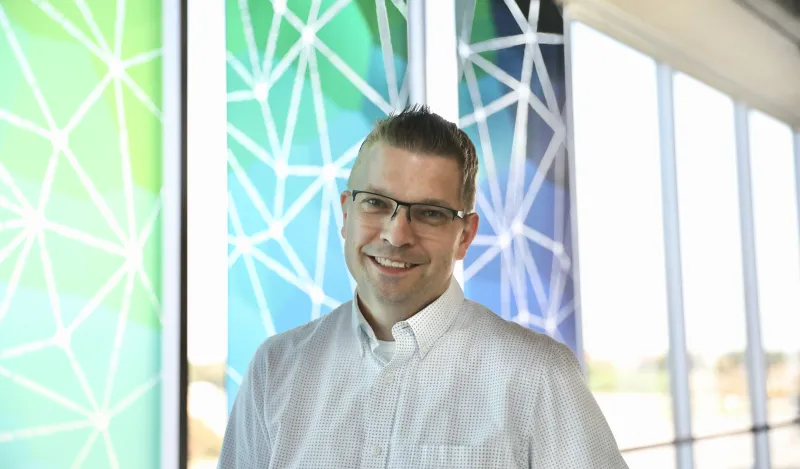 This fall, we extended a warm welcome to Dr. Derrick Lindstrom, the recently appointed Interim VP of Academic Affairs at NHCC! A few weeks into his role, we met up with Derrick for a Q&A.

Get to know your new Interim VP of Academic Affairs, below! 
Is this your first time being in an Interim VP of Academic Affairs role?
It is not. From fall of 21 through the spring of 22, I was the Interim Vice President at Inver Hills.
So, this is not my first go around, but every campus is super unique. Even though we're part of a system, each school sort of has their own personality and own culture. But it takes a while at a new school to figure out how things function and operate. Even just from the basic things, like 'Where do I find the academic calendar? Is it in a shared drive, on SharePoint, or is it in another place that the campus uses to store their documents?' There's a little bit of a learning curve.
Before NHCC, you worked at Minneapolis College and Inver Hills, correct?
Yes. I have a really weird resume in terms of, I started as a faculty member at Minneapolis in 2008.
I taught Communication Studies there from 2008 to January of 2014. Then, later in 2014, I got a job as an Academic Dean at Minneapolis. From the fall of 2021, through the spring of 2022, I was the Interim Vice President at Inver Hills, and then I returned to the dean role last year. I've worked in higher education administration for almost a decade, and that time went by quickly!
Do you miss anything about teaching?
The further away I get from students, the more I miss having an opportunity to be in that space and understand what it's like. I always try to keep a perspective on the classroom experience.
In some ways, I feel like the kid sitting in the back seat of the station wagon, looking out the window and watching it slowly drift away on the horizon. I do miss teaching a little bit, but I think within this new role of Interim VP of Academic Affairs, I still have opportunities to make a positive impact on students. I don't feel a huge gap between what happens in my office, and what happens in the classroom.
Did this role previously fall under the provost title?
Nope. This role is Interim Vice President of Academic Affairs. There won't be a provost. A lot of structure is dependent on the institution. In general, at two-year schools, the provost title is a
little complicated. I was the Interim Vice President of Academic Affairs, and I was also a provost at
Inver Hills. In that role, I didn't oversee student affairs, but at lots of other places, (including North Hennepin before I arrived) the provost oversaw both academic and student affairs. But, as long as you have a good working partner, (like I have in Julio) it's not problematic if you don't have a provost. We just continue to work together on initiatives. Every campus is unique in the way that they configure their administration to try and best support the institution.
What does an Interim VP of Academic Affairs, do every day?
A lot! It's complicated. Primarily, I'm the Senior Academic Officer on campus. My responsibilities are to oversee all curricular matter on the campus. I work in collaboration with faculty, and with the Academic Affairs and Standards Council (AASC) committee leaders, in terms of developing and updating curriculum. My office works with the deans to consult faculty, to produce the academic schedule, and to support teaching and learning for faculty. We have a STaR Center on-campus, (that stands for scholarship, teaching, assessment, and reflection) they do a lot of really good work in terms of faculty training and development. My responsibilities also include making sure we're doing what we need to do to stay accredited by the Higher Learning Commission. That's my purview. In contrast, the Vice President of Student Affairs is responsible for enrollment, recruiting, and things like that. A lot of it is curricular. Also in this role, I've been focusing on providing support and leadership to our three new interim deans as well.
When did you start at NHCC as the Interim VP of Academic Affairs?
I started on August 30th, with a yearlong interim appointment that goes until the end of June 2024. It is my understanding that they'll search again in the spring for this position, and I'll see what happens!
What interested you about this role and in NHCC in general?
That's a really good question. I spent a year doing this work at Inver Hills. The timing and fit wasn't right for me to apply for the permanent position, so I went back to being a dean. But I realized that I enjoyed the role, I believe in the fundamental transformational power of education, and I'd seen North Hennepin in really good positions before. I believe in this institution and the work that faculty and staff do. Having an opportunity to be a part of North Hennepin as we move out of the pandemic and move forward, that's what excited me the most.
You said in an interview, "After watching my father break his back on the railroad as a manual laborer, I knew I wanted a job that wouldn't lead me to a surgeon's table."
How do you think this realization impacted your overall career?
My dad did manual labor work on the railroads. He literally broke his back. He went through back surgery, and when I was around the age of 11, he recovered, and eventually piecemealed jobs together. He was great. He taught me a lot about hard work and determination, but he always made a point to tell my sister and I, 'You're going to go to college and you're going to get a good job.' At the time and frankly, even right now, I really didn't know exactly what that meant. But I did go to college, and I was a first-generation college student. (My mom took some Vo Tech classes, that was the narrative they told us. She studied bookkeeping and worked as a teller at a bank and the county courthouse). But, you know, my dad wanted me to go out and get a good job. That was part of my blue-collar background. My story is not necessarily interesting or unique. I think it's reflective of a lot of our student's experiences, making choices about where they go to school. I went to St. John's University, because I had this naive notion, I was going to play college hockey. I played one season on the fourth line of the JV team. I didn't have a huge background in terms of trying to figure out what made sense and what the future looked like. I was told, 'College is the place to go to get a good job. A college degree will lead to a good job.' In my case, I got married right out of college, then a couple of years later, I went back to grad school to teach. As a kid, I knew that doctors went to med school, lawyers went to law school, but I had no idea about grad school. I didn't learn about grad school until I was in college. After graduating, I worked in property management, and then I got a teaching job! I taught as an adjunct professor at a few places, and then I taught full-time for a year at St. Cloud State, before going to Minneapolis. I never planned on being a dean.
What would you tell someone who wants to work as a college administrator, do they need to be a teacher first?
Personally, I think it was really valuable to have classroom experience. I wrote a whole dissertation about what it's like to go from being a faculty member, to being a dean. Most people don't go into education thinking about working in administration. As a faculty member, I naturally gravitated towards certain things, like being chair of a curriculum council, or a department coordinator. I was the nerd with the spreadsheet when we were doing scheduling and thinking about ways in which we could spread our offerings out throughout days, dates, times, and modalities to better serve our students. Later, I considered going back to school to get my doctoral degree. I thought to myself, 'Well, I really like teaching at a community college, so I don't need a PhD in my field. But, if I want to move beyond being a faculty member in the future, this would be the next logical step for me within higher education.' With that in mind, I started a doctoral program in higher education administration! Shortly thereafter, my dean took a job with the Higher Learning Commission. I naively thought I should raise my hand and apply to be an interim dean. I told myself, 'Just apply for it! You don't know if an opportunity like this will pop up again! Go for it!' I ended up getting the interim dean position, then I applied for the permanent role, and I got that as well! For me, there was never an exit from teaching because I didn't like it. I don't think you have to be a faculty member, to be an administrator. I think it's particularly helpful if you're working on the academic affairs side, to understand the classroom experience. But there are great administrators that have come from student affairs that transitioned to the academic affairs side, institutional research roles and things like that. There are lots of opportunities to get into academic affairs and be an administrator. In my experience, it was helpful to come from the classroom. It was helpful to remember aspects of teaching, (like setting, pacing, and tone) because they also come in handy when supervising faculty. Same with understanding what you can expect of them, not in terms of output, but during opening days, they're really focused on building their classes. For example, I've had to reframe, what I think I can reasonably accomplish in an academic meeting with all 100 of my faculty on opening day. I had this rule that (unless it was an emergency, and the house was burning down) I wouldn't contact faculty, or schedule anything within the first two weeks of the semester. I know how busy faculty are, and that prior knowledge has been helpful to have as I've changed roles in my career.  
Did you end up getting your doctoral degree?
Yes, I did! I now have an Ed.D.
Do you like to be called Dr. Lindstrom?
No, not at all. But I do appreciate the recognition. I'm proud of the work I did to accomplish this. I did it while working full time, with two kids, and all sorts of other stuff. It wasn't easy, but I got a lot of support from many different people. For example, I supervised a few faculty that had their doctoral degrees, and they gave me great advice. People cheered me on; and my faculty surprised me with a cake at a school meeting after I defended. My family really stepped up. Every other weekend, for three years, they dealt with me not being there. As I walk into my office, I notice that the name on my door starts with Dr., and I'm immediately reminded of the community that got me there. I have a lot of gratitude. I'm proud of it, but I don't need it as status, I'd much rather be called Derrick! Though, I will say it's kind of funny when I do HLC site visits, they'll call me
Dr. Lindstrom, and it takes me a moment to snap into reality and remember, they're actually talking to me!
What are your goals in this new job?
My goals right now are working on improving climate on campus, continuing to follow up on our HLC work, and focus on budget. In addition to work goals, it's a personal goal of mine to really get to know the campus, the culture, the faculty, and the programs within my first three months on the job. This will also give me an understanding of where we sit before I jump into any sort of drastic decision-making.  
You got first place in the Fun Run 5K on Pathways Day! What was that like?
Yes, I got first place in the 5K. Ha ha! I was really grateful for Ben Mullen, who invited me to participate! At my Meet & Greet, Ben noticed my Apple watch; he asked me if I was a runner, and I said, 'Yes, I am.'
Do you have a proudest accomplishment?
That's a really good question! I'm most proud of my kids and being a dad. My most recent, proudest accomplishment, over the weekend in September, I taught my seven-year-old niece how to ice skate. That's a current accomplishment that I'm proud of! I used to coach hockey, my kids played up until recently, and I probably taught about 700 kids how to skate over that time.
My sister and I both played hockey, which is different in West Central Minnesota, than it is currently in the metro. But my sister said, 'Hey, we're going to need to teach my daughter how to skate before she does this hockey program, can you come help?' I said 'Sure,' and we knocked it out of the park in about 35 minutes. That's probably my most recent proudest accomplishment! (Derrick teaches his niece how to ice skate in the photo below).

How do you like to spend your free time?
I like to run. I get up every morning and I run. I find it's helpful and I'll do a lot of thinking about work and problems to solve. As a dean, I was stressed. I needed to find a way to figure out work-life balance, and I started running. For me, it serves as a good opportunity to process things that are going on. It is uninterrupted thinking time, because there's no email, there's no one knocking on your door. It is hard, but I try to read consistently, spend time with family, and listen to music. It's pretty boring in general. I'm an introvert, but a lot of my job requires being extroverted and working with people, so that takes a good chunk of energy. When I have an opportunity to wind down, it's more locally focused. My daughter's a senior, my son's a sophomore, so my role in the community is sort of changing. For a long time, I was coaching two hockey teams, and I was on booster club boards. But once they graduate, and move on, things will change in that regard.
Bonus Content:
This is my running story! My first marathon was in 2004, it was the Paris marathon. My wife had a friend who was in law school at the U of MN, and she was spending a semester in France. She said she was going to run the Paris Marathon and asked if we wanted to do it. My wife said, 'Absolutely not, this is insane' but I said, 'Sure.' That was my first marathon. I trained really, really hard for it. I was not a runner by nature, but I went there, and it was awesome! I didn't run as fast as I thought I would, because I didn't know what I was doing, but I finished it. The next year, I ran the Grandma's Marathon in Duluth, and that was June of 2005. We had our daughter in November of 2005. I didn't train very much for Grandma's, and I did worse than I did in Paris. My third marathon was the Twin Cities Marathon in 2006. I trained even less for that one, because I thought, 'Hey, I've already run two marathons, I can run a third.' My time was progressively worse. It was at that time when I said, 'I'm out. I'm done. I'm never going to do this again. This is stupid.' My son was born in 2008. Part of the reason why I wasn't going to do another marathon, was because it takes a lot of time to train. It felt really selfish to be like, 'Okay, I'm home for the weekend, but I'm going to go for a run while you deal with two little kids. See you in three hours!' In 2014, when I became a dean, I started running again at the gym. It was nothing regular, or consistent, but started to pick it back up. By 2016, I was running fairly regularly, and I thought, 'Oh okay, maybe I can do a marathon again.' So, I did the Twin Cities Marathon for the second time. And what do you know? I ran my fastest time! It was just crazy because I assumed, 'I'm not going to be in as good of shape as when I ran it last time. I'm 12 years older now.' In 2017, I did the Loony Challenge, which includes doing a 5K, a 10K and a ten-mile run in one weekend. That one was weird! I just was curious if I could do it, I had no idea. After that, I went back to doing regular marathons. I ran the Twin Cities Marathon in 2018. That turned out to be my fastest running time yet! In 2019, I ran the D-Day Landings Marathon in France. The route for that race went along the beaches of Normandy in France. That same year, I ran the Twin Cities Marathon, and made my fastest time ever! My entry turned virtual in 2020, because of the pandemic. I had to map out my entire marathon on my own, which was a whole new unique challenge. Even still, that was my fastest time up until that point! In 2021, I set another personal record at the Fargo Marathon. Last year, I did the Twin Cities Marathon again, making that my best time ever for Twin Cities, but not my fastest overall. (Derrick was set to run in the 2023 Twin Cities Marathon, before it was cancelled). Right now, I'm an international streak runner, which means I run at least one mile within each calendar day. I started running every day during the pandemic when we were working from home. I average roughly a 10K a day. I live in Bloomington and prefer to get out on the trails, which I'm really fortunate to be close to some great running routes.
Do you feel a runner's high?
Only a couple of times when I've finished has it felt like a runner's high. But, for me I don't do it to get the runner's high. This year, my goal is to not be a jerk to myself. Which I know sounds kind of crazy. But I set a time goal for myself last year, and I really fixated on it. Even though I made my fastest time running in the Twin Cities, it still took me awhile to be able to enjoy that, because I was so focused on the time goal I set.
Does it feel like you're competing with yourself at times?
Yes. Since I've progressively gotten faster as I've gotten older, now I will plateau/have plateaued, and we'll see after this year. It has been a competition with myself, but I've enjoyed it. Marathon's keep me motivated to stay in shape throughout the course of the year. They give me something to train for, and something to look forward to. Last year's marathon didn't end well. But the Fargo Marathon, where I set a personal record, that ended and felt really good. I've had a couple of marathons that felt good like that. A lot of the time, I'm just exhausted at the end, and it doesn't feel like a runner's high at all. But I do get a runner's high on training runs. I had a 16-mile run recently, where if I didn't have any other obligations for the day I probably would have run longer, because everything was going well that Saturday. One of my goals was to surpass my younger sisters fastest time from when she was 23 and a two-time college athlete. To qualify for the Boston Marathon, you have to submit a qualifying time, and it's basically a year and a half before you would run the event. I still have heartache from last year. If I would have met the goal I set for Twin Cities in 2022, I would want to shave 10 minutes off this year's time. But, doing that would allow me to qualify for Boston, because of that year and a half lag for the next age groups qualifying time. Every fifth year, there's potentially this window of opportunity to make it into the Boston Marathon, but qualifying times have gotten progressively faster. When I didn't hit the time I wanted to hit, it basically indicated that there's no way I'll qualify for Boston for the next ten years, because mathematically I just can't get fast enough. I joke that I have to maintain my current pace, and still be running at age 55, or 60 before I'll meet the threshold. Biologically speaking, from age 25 to 40 is about when runners hold their pace and then they get slower after that. It gets tougher from here on out to know if I can hit my peak time, because I'm 43, I'll be 44 in November. I don't know how fast I can get to that peak time, or if I can still hit that time. I was aiming for a 330 marathon, which I've run twice before, so, I know it's possible to do it. But I would have needed to hit 330 last year, to even think it would be possible to change my training to hit a 320. I'd need to get at least 320 to qualify as a 45-year-old for Boston. So, I know that's not going to happen, or it's not likely to happen, (based on the fact that I'm not a professional runner, who can devote an entire week to running, and strength training, and nutrition). But it's okay. It's been helpful to know the limits, because then I can change. Even though I may not qualify, I know these accomplishments are still really, really awesome. And this is the point I'm trying to make; I don't want to be a jerk towards myself. I got done at 340, which was the fastest time I've ever run Twin Cities. It was super hot out and my whole body started cramping up at mile 25. From there, things just completely fell apart and there was nothing I could have done differently to prevent it. I know that just happens sometimes, but it really tanked my last couple miles. I beat myself up because I didn't hit that 330 goal, and I should have enjoyed the fact that this was the fastest I've ever run the Twin Cities. I'm not sure if I want to do more marathons in the future. Who knows, maybe I'll switch and do something else completely different?! For me, part of being healthy and active is trying to stick around for a long time and maintain that energy.
Was it incredible to run the marathon in Paris?
Running the marathon in Paris was really cool. But I made lots of rookie mistakes. I'd love to do it again at some point if it worked out. We ran all over Paris! It was so cool, but I made such stupid rookie mistakes. The start of every race is claustrophobic, you're all packed in, and there's a bazillion people. The Paris Marathon had 30,000 runners, and Twin Cities has 8,000. We were running on a six-lane highway, near the Eiffel Tower, and I noticed a gap ahead, so I sprinted ahead. But I didn't know there was a gap ahead because the lanes narrowed! So, by the time I got to the visible gap spot, I was stuck running for a few miles at a pace I had no business running in a marathon. And that just wiped me out! I made a lot of mistakes, since it was my first attempt, but it was still cool! We ran by the Eiffel Tower, ran by Roland Garros Stadium (where the French Open tennis tournament happens) and that was really neat. I liked the D-Day Beaches Marathon as well! Those routes had all sorts of surfaces on them. We ran on highway, we ran on cobblestone, we ran basically in tractor ruts on a farm road. There was a guy running in full, authentic, heavy wool, French military gear. The only part of the uniform he didn't have on were the boots! He had running shoes on, but he ran the whole thing with the hat, and the backpack on too. I don't know how he didn't die from heat exhaustion! The D-Day Beaches Marathon taught me that it's much more mentally exhausting to run a marathon in a country where you're not fluent in the language. During the race, your brain is simultaneously trying to filter out what's being said around you, and whether or not it's valuable. If I'm running the Twin Cities marathon and there's a pothole on the route, runners ahead will say, 'Head's up, pothole!' You can hear them give you tips. If the runners next to you are having a conversation, you can just use that as background noise. I do speak some French, so that came in handy. But while we were racing, I heard fellow runners speaking in French and I had to ask myself, 'Is what they're saying important for me to know, or not?' My brain was translating nonstop and trying to understand what was going on. That was an interesting experience!  
If you could, would you run in the Paris Marathon again?
Yeah, I would definitely do the Paris Marathon again! There was so much I didn't know the first time around, because it was literally the first time I'd ever done anything like this. Everything was new, and I didn't know what to expect. One of the inherent advantages of running the Twin Cities Marathon, (besides being able to sleep in your own bed, and get dropped off at the starting line) is the fact that you know the route! You know what to expect, you know when the hills are coming up, and when you should back off a little to conserve some energy. It makes things more fun when you know, for example, Alan Page will be around this corner, right after we get past the Walker Art Center! It's just great to know the layout!
We enjoyed getting to know you, Derrick. Thanks for making the time to answer our questions!