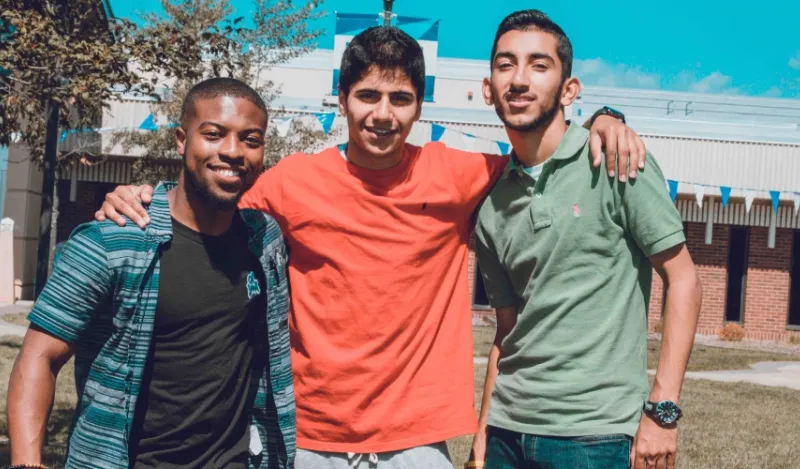 The Journey to NHCC
Not long ago, Mallory Harris found himself working at a McDonalds in Southern California questioning his decision to leave home and attend Santa Monica College. It wasn't homesickness, the weather, or the lifestyle that fed Mallory's doubts, but the severe financial burden it placed squarely upon his shoulders.
A graduate of Park Center Senior High School in Brooklyn Park, Mallory left home to create an opportunity for himself. But, he quickly found that success was hard to come by in his current circumstances. At the time, he was paying out-of-state tuition costs and more than $750 per month for a shared a dorm room. Bound to make it work, he wrote his situation off as the cost of pursuing his dreams.
"I remember thinking," he said, "I'll go to whatever college, obtain this debt, and do this and that because I can possibly pay it back later."
Mallory wasn't alone. Like many high school seniors, he was drawn to the allure of an opportunity he believed existed elsewhere.
"I placed all my value in an entertainment capital," said the aspiring professional photographer. "But, I was struggling. And, for what? I remember thinking, 'I could be doing this at home right now, where I'm comfortable.'"
And then, in a moment it all changed. On his way to work, Mallory saw what he believes to have been a sign beckoning him home.
I was riding the bus one day and I saw back-to-back Minnesota license plates," he recalled. "I knew, it's time to come home."
The Return Home
In Fall 2016, Mallory returned home and began taking courses at North Hennepin Community College. It was a decision, he claims, that freed him of the financial burden and re-positioned himself on a clear path to success.
"I began utilizing the TRIO program and the scholarships they provide," he said. "I also looked into other scholarships. There's a lot of free money out there if you look." Today, Mallory is completely debt free. In fact, he didn't even have to work his first year at NHCC, allowing him to focus solely on his academic progress. This is something, he says, that is attainable if you take the necessary steps toward financial responsibility.
"I learned that I can make it in my own community first, and how important community is to success."
Today, Mallory is pursuing a double major in Communication Studies and Photography, both a part of NHCC's liberal arts program. He feels strongly about his choice to pursue both degrees, as he is learning skills vital to his future success in the workplace.
"There are so many aspects to communication," he says. "No matter what field you go into, communication is so vital. I think employers really covet those skills."
In his one year at NHCC, he has already begun to seen the real-world applications of his coursework. Through courses like public speaking, he has been tasked with learning how to capture an audience, keep them engaged and communicate his points effectively.
It is skills learned in, and outside of the classroom, that have created opportunities for him on campus. In the past year, he has been asked to participate in multiple speaking engagements for which he has been paid, including a trip to Southwest Minnesota State University where he spoke about students with disabilities and how employers can implement strategies in their human resources department. However, he's not done. This year, he will be a member of a panel set to speak to local corporate executives at the University of Minnesota.
"Being [at NHCC], it helped me see how many things are possible when you apply yourself," he said. My desire to succeed exploded when I came here. Transitioning into college, I was used to acting solo and not inputting anybody. I didn't know how important a community could be to succeeding.
Today, Mallory's can see that his dreams of becoming a motivational speaker and professional photographer are within reach, and he's realized he didn't have to travel thousands of miles to make them a reality.
"I learned that I can make it in my own community first, and how important community is to success."
So, what advice would Mallory leave to other students?
"Take chances on yourself at home."