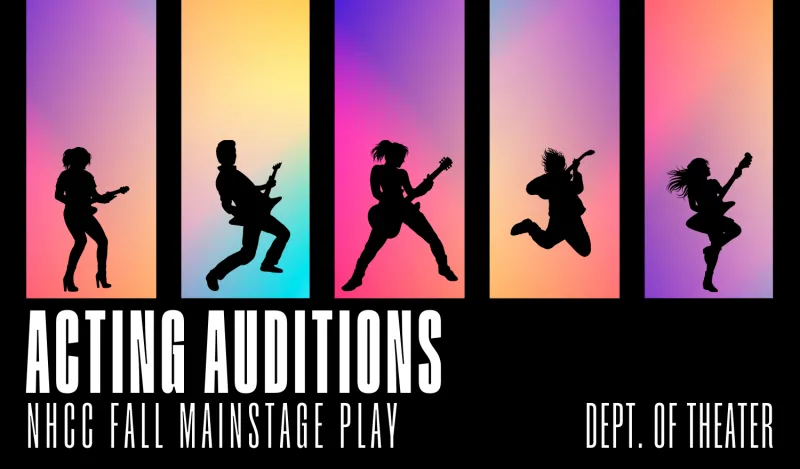 MAINSTAGE PLAY AUDITIONS FOR   
"AIRNESS" a play by Chelsea Marcantel
A comedy about competition, completion, and finding the "airness" inside yourself. 
"Airness" = that magical moment when all the elements of a performance, a competition, or a moment transcends the preparation, the song, the movement, and all of those elements to becomes something new, complete, and memorable into itself.
AUDITION DATES
September 6th | 3:00 – 6:00PM (Wednesday)
September 7th | 3:00 – 6:00PM (Thursday)
September 8th | 2:00 – 5:00PM (Friday)
September 9th | 12:00 – 2:00PM (Saturday)
*If you cannot make one of these times, please reach out for arrangements. We're happy to work with your schedule!
ABOUT THE PLAY
Where do air guitar fanatics go to express their inner shred genius? They're found in dive bars and cramped stages across the nation as they battle it out in competition in order to qualify for the National Air Guitar Championship!
When Nina enters her first air guitar competition, she thinks winning will be easy. But as she befriends a group of charismatic nerds all committed to becoming the next air guitar champion, she discovers that there's more to this art form than playing pretend: it's about finding yourself in your favorite songs and performing with raw joy.
Will Nina be able to let go and set herself free onstage as an air guitar competitor? Following her mission to shred or be shredded, Airness is an exuberant reminder that everything we need to rock is already inside us. A comedy about competition, completion, and finding the "airness" inside yourself. 
* * *
This play is a comedy.
We seek an ensemble of 7-8 actors. 
* * *
The NHCC Department of Theater does not discriminate against persons auditioning on the basis of race, national or ethnic origin, age, gender, sexual orientation, marital status, religion, creed, or ability.
We strongly encourage and invite all NHCC students of all ages, abilities, and gender/racial/ethnic identities to audition. There are roles in this production for all identities.
REHEARSAL DATES
Rehearsals are super, super, SUPER FUN! But there are many rehearsals that actors need to attend in order to prepare for a theatrical production.

Rehearsals will begin around September 13

From September to the end of October, you can expect to rehearse 2-4 days a week. Rehearsals are typically 2 – 3 hours long.

In November, we ask student actors to rehearse 4 days a week for about 2 weeks (Nov. 1 – 15)

Our rehearsal schedule is a collaboration with cast members: we pay attention to your class schedule and work schedule to create the overall rehearsal schedule. We do our very best to help take care of you.

We make use of mostly late afternoons & evenings for rehearsal meeting times. We will make use of Friday & Saturday afternoons because folks tend to be free at these times. 

Please don't be put off by the rehearsal schedule. Remember: rehearsals are fun because the focus is on YOU!
PERFORMANCE DATES
This show will be performed on:
November 15, 16, 17, & 18 @ 7:30PM
(This is the week before Thanksgiving Break.)
Four Performances Total.
AUDITION LOCATION
NHCC FINE ARTS CENTER (FAC) #178
Room #178 is the main NHCC theater in the FAC, directly across from FAC 119 & 120.
On the day and time of audition, the lobby area in front of the theater will have a table with audition forms and information on it. There are chairs and tables in this lobby...grab an audition form, grab a seat & fill in the form when you arrive. We'll be in the lobby to help you.
WHAT TO EXPECT FOR AUDITIONS
No Sign-up necessary. Drop-ins are welcome!

BUT, if you'd like to book a time because of your schedule, email irma.mayorga@nhcc.edu, and we'll set you up with a scheduled time

You will need approximately an hour of time for your audition (including potential waiting).
We need you to fill out a form at your audition that will ask information about:

Your NHCC course schedule
Your work schedule (if applicable)
Your contact information
Any skills or talents you have​

You are encouraged, but not required, to prepare a monologue. There will be selected readings available on the day of audition for those who do not have any material prepared.
If you have any physical talents to demonstrate (gymnastics, dancing, juggling, tumbling, or perhaps perform a short sample of your air guitar finesse!..) please come dressed to demonstrate. Mats will be provided.
MEET THE CHARACTERS
1. Astrid "CANNIBAL QUEEN" Anderson (female-identifying)
Tough and wise. One of the only female-identifying competitors on the circuit. A very, very good air guitar competitor
2. Nina "THE NINA" O'Neal (female-identifying)
New to air guitar competition. Looking for her community. A novice competitor
3. David "D VICIOUS" Cooper (male-identifying)
Heaps of charisma & stage presence. The reigning national champion air guitar player. An exceptionally good air guitar competitor
4. Ed "SHREDDY EDDY" Leary (male-identifying)
Artistic. An experienced air guitar competitor
5. Gabe "GOLDEN THUNDER" Partridge (male-identifying)
Idealistic and wise. An experienced air guitar competitor
6. Mark "FACEBENDER" Lender (male-identifying)
Wise. A warm father figure. A very, very experienced air guitar competitor
7. ANNOUNCER/HOODED FIGURE (any gender)
8. SPRITE EXECUTIVE/BARTENDER (any gender)
DO I NEED TO SIGN UP FOR AN APPOINTMENT FOR MY AUDITION?
No! You do not need to sign-up in advance. Auditions are on a "drop-in" basis. We will see people as they arrive. If you come at the start of the audition time, you'll be able to audition right away! 
BUT, if you'd like to book a time because of your schedule, email irma.mayorga@nhcc.edu, and we'll set you up with a scheduled time
More Questions? 
No problem - send an email & we'll help you find an answer.
Director: Dr. Irma Mayorga (NHCC Theatre Faculty)
Email: irma.mayorga@nhcc.edu