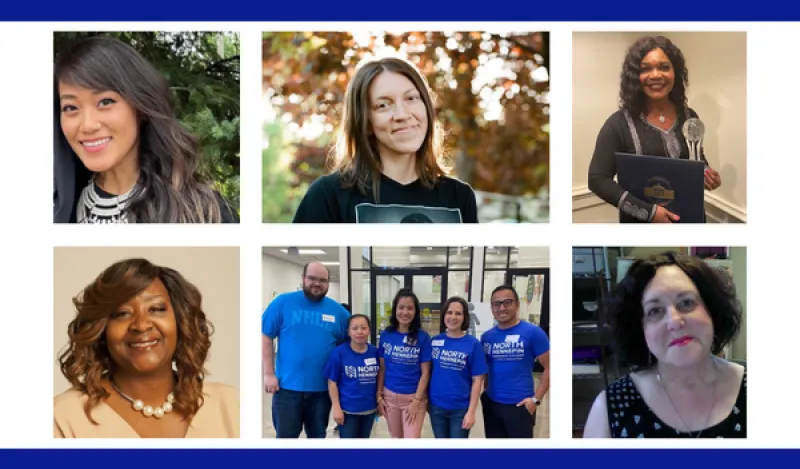 The successes and accomplishments of our NHCC faculty and staff help us to be more vibrant as a community. In this issue we highlight the accomplishments of Áila K. O'Loughlin, Nou (Sunny) Vang, Nerita Hughes, Barbara Wiener, the NHCC Financial Aid team, and more! 
Philosophy Faculty member Receives Research Program Fellowship
Áila K. O'Loughlin, one of the faculty members in NHCC's Philosophy department was recently awarded a fellowship from the Mellon/American Council of Learned Societies Community           College Faculty Fellowships program to support a research program throughout the next year. This fellowship recognizes faculty at two-year institutions for the vital contributions they make to scholarship, teaching, and local communities.                                                                                             Learn about Áila's project here: https://www.acls.org/fellow-grantees/aila-k-oloughlin/, and find fellowship program information here: https://www.acls.org/programs/community-college/.
NHCC's Own Barbara Wiener Honored with Pollen's 50 Over 50 Award
Congratulations to NHCC Film faculty member, Barbara Wiener for being honored by Pollen Midwest and AARP as a 50 Over 50 award winner. Minnesotans from all over the state nominated leaders from their communities in one of five categories: arts & culture (Barbara's winning category), nonprofit, business, community building, and disruptors of the status quo. The list was then narrowed down by a sincere, distinguished group of peers and those who remained on the list were crowned as 50 of the most inspiring and accomplished leaders in Minnesota. Regarding the 50 Over 50 arts & culture honorees, Pollen, the Twin Cities-based media arts nonprofit commented that, "The skill and ability to express yourself and the world around you does not diminish with age but rather is enriched with new and unexpected perspectives. From guiding dozens of voices in song to capturing ephemeral moments in film to giving history a fresh breath, these honorees are helping create a richer, more visceral world for those around them, for years in the past and for years to come." Read the accolades they gave Barbara and her fellow honorees here: https://www.pollenmidwest.org/stories/2022-50-over-50/. 
Exciting News from the Records & Registration Office
Congratulations to Nou (Sunny) Vang for obtaining her master's degree in Organizational Leadership from Concordia University. Sunny works in the Records and Registration department as the Assistant Director of Integrated Services & Weekend College. The Records and Registration team kicked off fall semester by taking this photo in their matching tie dye t-shirts. Looking groovy! 
NHCC Hosts the African Immigrant Professional Development Conference
Dr. Nerita Hughes sponsored the African Immigrant Professional Development Conference that was hosted at NHCC on October 1. At this well attended event, Wokie Daboh, ESPN's Director of Diversity, Equity and Inclusion was the keynote speaker. Thank you Nerita, for helping to make events like these possible! 
Former NHCC Dean Receives the President's Lifetime Achievement Award
It is with great excitement that we share this news! Dr. Julia Ugorji, (previous Interim Dean for the School of Nursing and Health Professions at NHCC) was recently honored in Washington D.C. with the President's Lifetime Achievement Award. Signed by President Biden himself, this award recognizes Dr. Ugorji's global humanitarian leadership and lifelong commitment to building a stronger nation through volunteer service. Congratulations to you, Dr. Ugorji!! 
The Financial Aid Team Assists with Hunger Relief
In June, for part of a staff retreat, NHCC's Financial Aid department volunteered at Second Harvest Heartland in Brooklyn Park. For two hours, they worked together packing onions to be distributed to local food shelves. The team found it fun and rewarding to help support the community in a way that extended beyond providing financial aid for school. During those two hours, their volunteer group packed a total of 9,798 pounds of onions, which will provide 8,165 meals!         Bravo to the Financial Aid crew! 
Thank you to those who shared faculty and staff accomplishments with us! We TRULY enjoy celebrating you!