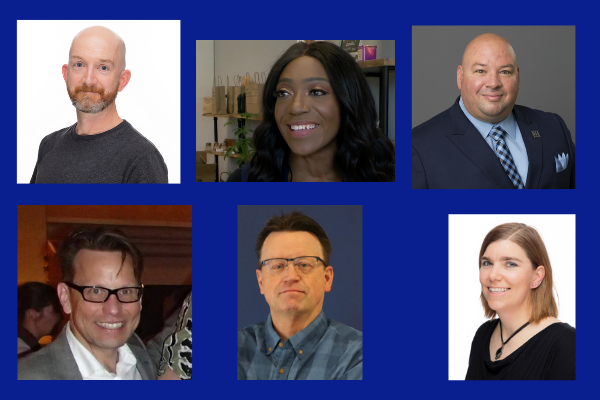 The successes and accomplishments of our NHCC faculty and staff help us to be more vibrant as a community. In this issue we highlight the accomplishments of Paul Melchior, Sara Van Asten, Kent Duryee, Paulette Bonneur, Joel Jensen, Dr. García, Miranda Evans and more!
Minnesota State Awards Two NHCC Faculty as Outstanding Educators
In late April, the Board of Trustees of the Minnesota State Colleges and Universities recognized individuals with Awards for Excellence. NHCC faculty Paul Melchior and Sara Van Asten were both named as Outstanding Educators for 2022!
These awards are conferred annually to college and university teaching faculty and university administrative service faculty to acknowledge and provide systemwide recognition for consistently superior professional achievement and to encourage the ongoing pursuit of excellence. Congratulations to Sara and Paul!
NHCC Staff Wants to Help Ease Us Back into Biking
NHCC Librarian, Craig Larson is a member, ride leader and board member of the Twin Cities Bicycling Club (TCBC). Ease Into Biking is a ride he assists with every year. Another ride leader for the club is, NHCC psychology professor, Debra Matchinsky. Our first few rides are 'C' level rides, aimed at newer riders, or those just getting back into riding (the average speed is 10 mph, and the distance varies between 15-20 miles. The rides began on May 7 and continue on May 14 and 21. Then start up in June again on June 4, 11, and 18 (the first 3 rides will be 15 miles and the last 3 will be 20 miles). These rides begin from the Holiday gas station store at the northeast corner of Douglas (Zane) Drive and 109th Ave in Champlin. The rides leave at 9:30 am each Saturday and riders should plan to arrive 15-20 minutes early to allow time for preparations (filling tires, water bottles, checking bike, etc.). Currently, TCBC rides are only available to members of the club—membership is $30 per year for individuals and $45 per year for households. More information on registering can be found at: www.biketcbc.org.
Craig notes, "This would be a great way for anyone at NHCC to try out the bike club and see what our group rides are like, as well as "easing" back into bicycling and/or just enjoying a group social ride in the general vicinity of the college. A rider's first ride with the club is free. You can come on a ride and decide if you like it enough to join the club, without having to sign up. We'll be riding to the Coon Rapids Dam, along the Rush Creek bike trail, and the Elm Creek Park Reserve (pictured, below)."
Did You Know?
NHCC Accounts Receivable staff, Miranda Evans is a proud gecko owner and breeder. She sells geckos, snakes and supplies through her hobby business, Sweet Scales Reptiles, (NHCC staff Brittany Kiser also designed Miranda's business logo!) For more reptile adventures, you can follow the Sweet Scales Facebook page if you'd like. https://www.facebook.com/SweetScalesReptiles. 
NHCC Staff's BIPOC Mentored Girl Scout Troop Makes the News
NHCC Director of Student Life, Paulette Bonneur's BIPOC Mentored Girl Scout Troop was recently featured on WCCO News. These girls are passionate, driven and even though they're young, you can just tell they're going to do big things! See for yourself at this link, https://minnesota.cbslocal.com/2022/03/20/girl-scouts-mentored-troop/.
History faculty, Paul Jentz was published in ABC-CLIO
Paul Jentz, member of the NHCC history faculty, will have the following six essays published in ABC-CLIO's Religion and World Civilization: How Faith Shaped Societies from Antiquity to the Present, forthcoming in late 2022:  
"Religious Translations: Jesuit and Protestant Missionaries and Sixteenth-Century Christian Conversions of Native Americans,"
"Native American Religion: an Overview," 
"Religious Visions of Tenskwatawa," 
"Ghost Dancing and the Wounded Knee Massacre," 
"The Great Awakening," and 
"The Second Great Awakening."
An additional achievement of Paul's was being asked do a video interview for his 2018 book, Seven Myths of Native American History, here is the link: https://apholt.com/2017/12/18/seven-myths-of-native-american-history-an-interview-with-professor-paul-jentz/
NHCC IT Staff Co-Authors a Children's Book
By day, Kent Duryee works in NHCC's IT department on Specialty Technology Support, but on his spare time, he recently co-authored and published a children's book. The book is titled, Queen Vernita Visits the Land of Little Rain. Kent wrote this book with his longtime friend, Dr. Dawn Menge.
Dawn has a PhD and works with students who have learning disabilities. This book is part of a larger series, with 13 books in total written and published by Dawn. The main character is Queen Vernita, and she was named after Dawn's grandmother.
Kent and Dawn first started talking about this book 15 years ago, just after Dawn had her first book published. They'd sit down and write a little together, here and there, then they'd go off and do other things with their lives. Writing sessions for the book did happen occasionally over the years, but finally, last summer Kent and Dawn sat down for real and finished it! 🙂 
Themes of Kent and Dawn's book focus on the desert, specifically the desert around Tucson, Arizona. One of the book's central locations is at a real bed and breakfast outside of Tucson, Arizona. Kent and Dawn know the actual proprietors and they were excited to be included in the book.
For one year Queen Vernita stays at the Hacienda Linda and each month she has an adventure and learns more about the desert and the history of the area. The native Indian tribe, the Tohono O'odham, (formerly known as the Papago), are an important part of the region and are featured in the book. Each chapter is titled with the native name for the month; and throughout the book native birds and desert animals secretly observe the queen's adventures, spreading the word far and wide that a queen is in their midst. Camels are also mentioned in this story, along with a scene that covers Diwali, the Festival of Lights from India. In every book Dawn writes, she includes at least one true adventure from her own life and likes to mention her friends, students, and co-workers as well.
Kent and Dawn aimed to write their book for a slightly older children's audience, think middle school/young adult readers. Queen Vernita Visits the Land of Little Rain was published by Rushmore Press and is available in Kindle, paperback and hard cover formats on Amazon, and paperback, Nook book and hardcover formats at Barnes & Noble. 
Receiving Recognition at the Annual LeadMN Awards!
Students, advisors, instructors, and more were honored at this year's LeadMN Scholarship Gala and Annual Awards ceremony in April. A member of NHCC's Executive Team and an NHCC faculty member both won awards at this event! Congratulations to Dr. Rolando García and Dr. Joel Jensen for receiving LeadMN awards!
Dr. García was awarded with College President of the Year! This award goes to a College President who is supportive of student advocacy and empowers student voices in all they do. LeadMN wrote, "Dr. García is a compassionate and welcoming leader who cares deeply about the student experience. He listens to students when they voice concerns about food and housing insecurity, and mental health concerns that have only been exacerbated due to the pandemic. Thank you for listening to students, Dr. Rolando García!"
Dr. Joel Jensen was awarded with Instructor of the Year! LeadMN presents this award to an instructor who goes above and beyond to support their students. Their nominator wrote, "Dr. Jensen is the most outstanding professor, amazing club advisor, and fantastic student mentor I've ever had. He has truly been transformative for me in my college career, as well as for many others that I know at my school."
Well done and congratulations again to Joel and Rolando!