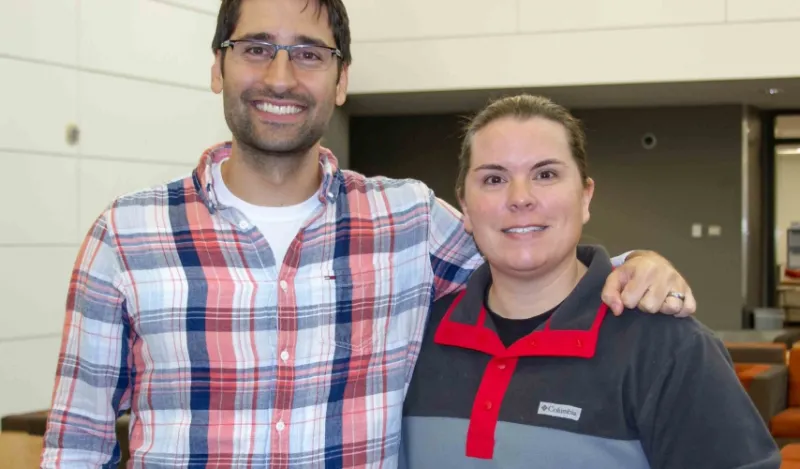 Last fall, NHCC's exercise science program brought students to the Northland Regional Chapter of the American College of Sports Medicine (NACSM) annual meeting in Mankato, Minnesota. They came back with a mission – to implement Exercise is Medicine on the NHCC campus.
Exercise is Medicine (EIM) is a global initiative with the purpose of promoting physical activity as a vital sign of health – much like body temperature and blood pressure. After all, today's research points to physical inactivity as the leading preventable cause of death; yet doctor's rarely ask patients about it, much less offer any sort of prescription or recommended exercise program. This left the students wondering, how can I help?
At the conclusion of the meeting, students approached faculty members, Melissa Lott and Daniel de Moraes, about the possibility of bringing Exercise is Medicine to the NHCC campus. Both agreed, marking the unofficial beginning of the program.
A year (and lots of planning) later, Lott, de Moraes and the students saw their work come to fruition. President Barbara McDonald proclaimed the month of October Exercise is Medicine Month at North Hennepin Community College.
To kick off the month, Lott and de Moraes planned a week full of multidisciplinary activities aimed to increase awareness of physical activity and its health benefits on campus. Activities included cardio and strength classes, yoga, a nursing health fair and resource fair, as well as speakers on stress and proper nourishment. The week was so successful, it qualified for the EIM recognition program.
Today, NHCC is 1 of 9 community colleges worldwide to have an approved Exercise is Medicine program on its campus.